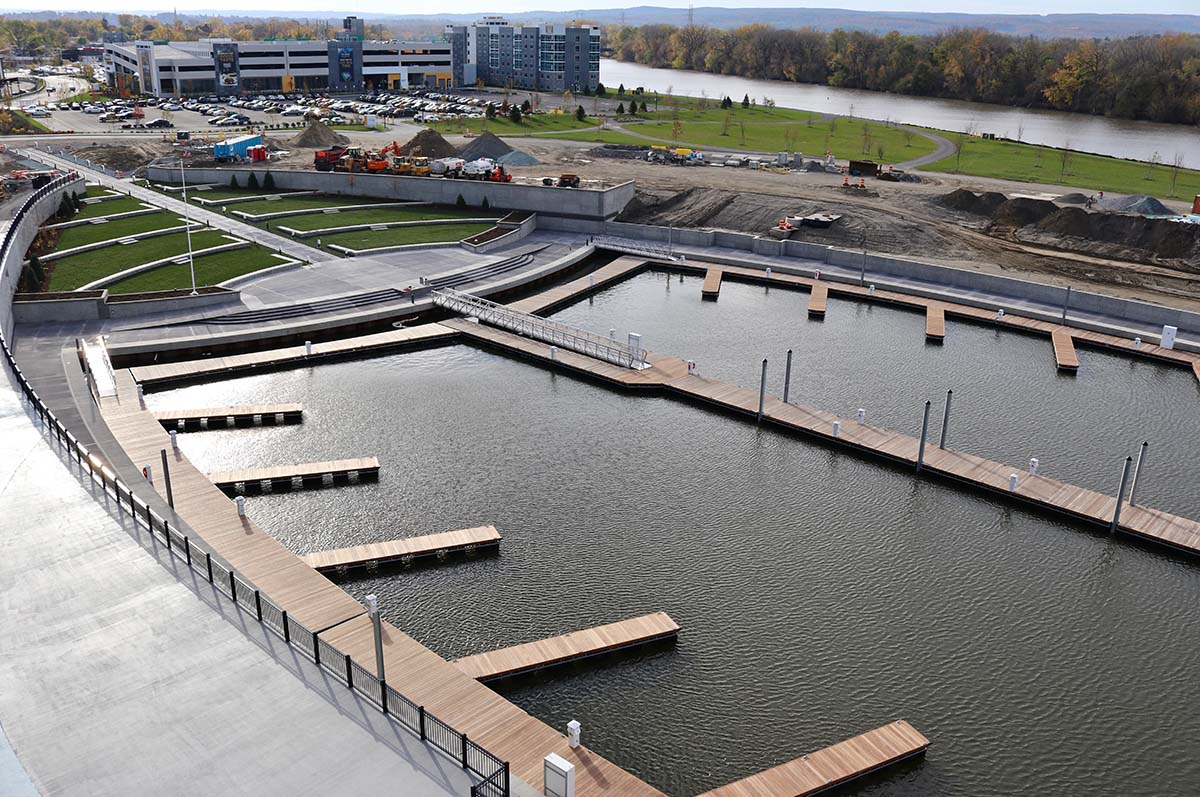 Mohawk River Facility in New York to Open New Transient Docks
Published on January 19, 2018
A former industrial site in Schenectady, New York, is now home to a mixed-use development and, most recently, a 50-slip marina for transient boaters.
The Galesi Group is developing Mohawk Harbor, a 60-acre master planned community that will include offices, restaurants, apartment and retail along a mile of the Mohawk River. "The Galesi Group acquired the brownfield site in 2010, and had to demo more than one million square feet to prepare the site," said Brooke Spraragen, director of project planning. To make room for the marina, the company built an artificial harbor along the Mohawk River.
The Dock Doctors built the marina, which will also include an amphitheater and kayak launch. The floating docks are made of galvanized steel frames, with premium Ipe wood decking. Each slip has potable water hookups and metered electrical service with 30 or 60 amps available.
Spraragen said the marina will welcome its first boaters next spring when the New York boating season begins.
The marina offers high and dry rack storage for 80 vessels, outside rack storage for 200 vessels and a full-service yard with a 50-ton Travelift for pulling boats from the water.
Golden Boat Lifts is supplying its 4-post boat lifts for 50 of the smaller, 36-foot covered slips on the marina's west side. Houston-based Orion Marine Group will be installing the lifts, which have capacities ranging from 20,000 to 24,000 pounds.
The marina is operating on a limited basis while construction is going on. All the work should be completed third quarter of 2018, according to Hicks.