MTA/NJ Inducts Commissioner Bob Martin Into Hall of Fame
Published on January 5, 2018
Commissioner Bob Martin of the New Jersey Department of Environmental Protection (NJDEP) has been inducted into the Hall of Fame of the Marine Trades Association of New Jersey (MTA/NJ). The award was presented at the MTA/NJ's Annual Christmas party.
Started in 1995, MTA/NJ Hall of Fame honors an individual, group or organization who has shown dedication, trust and professionalism, as well as extraordinary achievement, in furthering MTA/NJ's objectives of promoting and protecting the marine industry.
Commissioner Bob Martin has been leading the DEP for nearly eight years. Right from the very beginning he began to transform the department into a more efficient and customer service oriented agency that worked hard to support the boating industry," MTA/NJ Executive Director Melissa Danko said.
"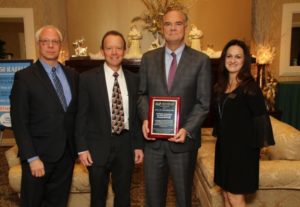 Commissioner Martin and his team tackled many important issues that impacted our industry including public access at marinas, the devastation of Hurricane Sandy, regulatory reform and permitting relief, the health of Barnegat Bay and most recently Summer Flounder. Having someone like Commissioner Martin willing to address our concerns, understand the importance of our industry and proactively work to make a difference is the leader that we need to ensure a healthy, prosperous and growing boating industry in New Jersey."