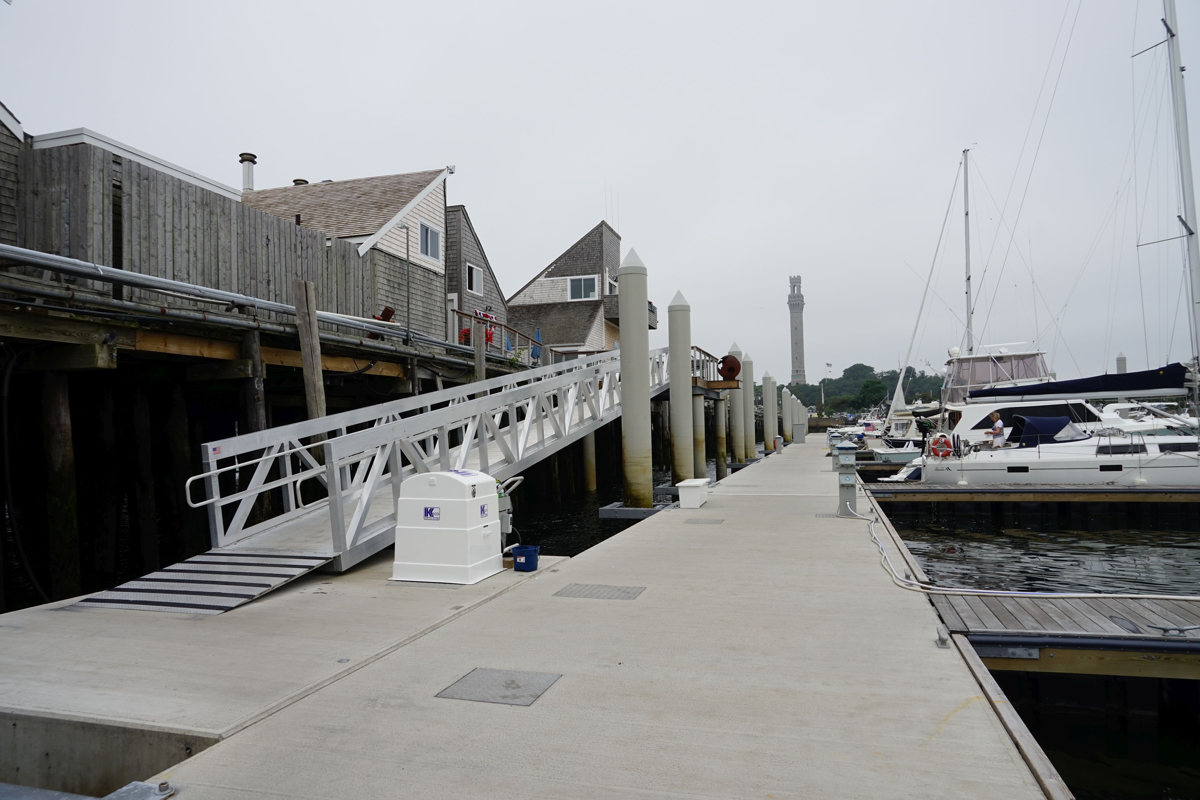 A New Aesthetic at Provincetown Marina
Published on December 1, 2017
A decade ago, Ann and Chuck Lagasse, owners of Charlestown Marina in Boston, made a bid on the family-owned Fisherman's Wharf Marina in Provincetown, Massachusetts. But the owners, who had run the marina for four generations, weren't yet ready to sell.
Fast forward to 2015 and the Lagasses made another attempt to purchase the property, and this time it was accepted. They became owners of the marina—which they renamed Provincetown Marina—on January 1, 2016.
"We had been watching it for over 10 years," Ann Lagasse said.
"Provincetown itself is such a beautiful town. The built environment is great in terms of restaurants and shops, and the natural environment is beautiful, too, with the beaches and the marshes and the dunes. We just knew from a boater's perspective it would be a great destination to go to by boat, but the marina itself was in such disrepair that people were bypassing it or if they went, they didn't like it. So we thought, let's try to build a very nice marina and see if they will come—and they have," Lagasse said.
The Lagasses started the marina renovation in 2016—their first season—by removing all the docks on the north side. SF Marina Systems USA then installed new concrete floating docks. The first to go in during late April were docks with 14- to 16-foot walkways and a high freeboard of 25 inches to accommodate high-end yachts. In late August, the company began installing a new 20-foot-wide floating breakwater with a draft of almost six feet. This created a new protected marina basin as well as berthing for yachts of up to 300 feet.
Meeco Sullivan built timber finger docks for the floating breakwater. "On the side within the pier basin, the docks were built for larger boats, but they also had to be designed so that they could be easily removed in the winter," said Matt Beechinor of Meeco Sullivan. The solution was an extra-heavy-duty timber frame dock with removable internal pile guides. The docks are hinged into a recessed track, so that the gap between the concrete and timber docks is very small, making it comfortable walking for people using the slips. On the other side of the attenuator, Meeco Sullivan built 8-foot by 80-foot permanent finger docks designed to be in the water year-round.
The Lagasses created 60 new slips with this first round of renovations. In 2017, they embarked on a project that expanded the number of slips.
SF Marina Systems incorporated its massive floating breakwater into this project. The 20-foot-wide breakwater is more than 650 feet long and has a 6-foot draft at its deepest point. The system is moored on 30- and 36-inch steel piles—installed by Patriot Marine out of Boston—and also has the 25-inch freeboard to accommodate the larger boats. In total, SF Marina systems delivered more than 2,000 feet of breakwater in 14-, 16- and 20-foot wide floating docks. All the new concrete floating docks were built in SF Marina System's plant in Sweden and delivered via ship.
For the inside of this newer breakwater, Meeco Sullivan built five 8-foot by 80-foot permanent floating timber docks and one 8-foot by 60-foot dock. These brought the total number of slips in this newly expanded section of Provincetown Marina to 100-plus, if the tie-ins on the breakwater's outer side are included.
Calming the Waters
Provincetown is one of several marinas that have added wave attenuators in the past few years. The Lagasses had already installed one at their Charlestown Marina in Boston. "There's a lot of commercial boat activity in Boston Harbor, so we thought that was very important. So many people are using their boats for second homes, and they want a comfortable setting when they hang out on their boats," Lagasse said.
"In Provincetown, our property line comes right to the through way, and there's a lot of ferry business, so again we thought it important to protect the inner harbor," she added.
"There are a lot of floating attenuators and breakwater docks going in the water as older facilities upgrade their marina docks," said Mason Sears of SF Marina Systems. Although marinas may have had other systems like a fixed pier wave fence, the new floating attenuators work better than the fences and also provide a standard freeboard in areas that are affected by tides.
"The attenuator takes up less of the water column because the portion of the structure that's blocking the wave is always at the water level as water levels rise and fall. A fixed wave fence, on the other hand, requires the structure to be as tall as the maximum anticipated storm surge," he added.
Attenuators have another benefit as well. "A fixed wave fence doesn't have the potential to land a boat on the outside like a floating attenuator does," he added. Since the attenuators are usually long and located out in deeper water, they serve as the perfect landing area for yachts and megayachts.
"I think we are the only marinas now that can handle boats over 200 feet in Boston and Cape Cod," Lagasse said. "We had a 250-foot boat there this summer." Owners of these boats prefer to be on docks rather than to moor their ships because it's more convenient for them.
More Welcoming

The Lagasses pay close attention to the aesthetics of their marinas when choosing the colors, finishes, lighting and even flowers for their marinas. "It's always been that way, with all of our real estate," Lagasse said. "We want to create very pretty destinations, so that when people come to our marina they know it's ours because of the quality of the finishes and the maintenance of the properties." She recalls one woman who came to their Charlestown facility and instantly recognized that the Lagasses were the owners because of those special touches.
"We are boaters, and we like nice environments; to us, these are people going on vacation and we're their hotel, so you want to make the marina pretty and comfortable and functional," she added.
At Provincetown Marina, the floating timber docks feature an ipe deck, and the piles and pedestals are painted gray to complement the concrete floating docks. The three, five and 10-ton stainless steel bollards add a shine to the marina.
Marine Electrical Equipment installed the new power pedestals, which supply electric service up to 480-volt three phase. Keco Inc. supplied a new product—hidden, in-slip pump out valves. Until they are needed, the pump out assemblies are out of sight under custom aluminum deck plates, embossed with the marina's logo. "They are not an obstruction, and you can roll a cart over them and you won't trip on them," said Sears.
Provincetown Marina also has an outdoor captain's lounge and has installed new showers, bathrooms and laundry facilities.
Now that the marina slip renovations and additions are complete, the marina owners have new plans. "We're going to continue to improve the pier. We are working with the town and the state to create a harbor walk along the whole pier in Provincetown. We also have a loft building—an old commercial fish processing plant on the water—that we will convert to a restaurant in the future," Lagasse said.
That may attract even more boaters to the marina. "All of the new docks are for transients," Lagasse said. That could change in the future, however. "Prior to us doing these renovations, nobody wanted to be seasonal guests. Now, we are getting requests."