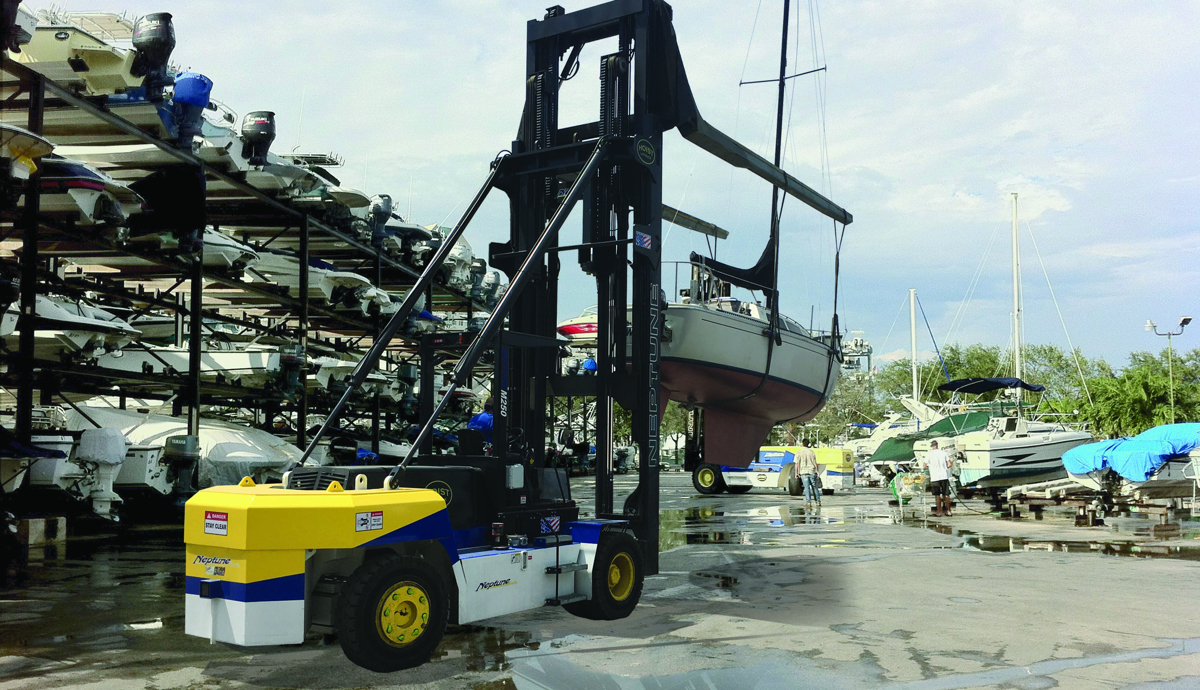 Boat Trends Drive New Forklift Designs with Focus on Safety and Technology
Published on December 1, 2017
The marine industry has seen many changes over the years and as a result marinas and boatyards have had to adapt and evolve to serve their customers and communities. Marine forklift manufacturers have also adapted to the new demands of their customers and are offering new technologies and forward thinking forklifts. These new advances are allowing marina operators to lift heavier, longer and higher than ever before and do so in less space and with less emissions than thought possible in the past.
Larger, Longer Boats
With the increase in popularity of center consoles, which are also getting longer and heavier with multi-engine installations and elaborate tops and rigging, the need for forklifts that can handle these craft has placed new demands on forklift manufacturers. Jason Johnson, director of sales for Marine Travelift, confirmed that since its introduction into the marine forklift business in the 1990s, the company has seen a continuous demand for forklifts that can handle larger and larger boats. His company has responded by growing its line from a capacity standpoint to better handle these larger craft.
The popularity of these center consoles, as well as the increasing demand to lift these, express cruisers and other types of craft, has created a need for forklifts that can not only lift more in weight but also handle a differing center of gravity or "center of the load," as it is placed on the forks. Johnson said there is a poplar misconception that in order to handle these popular craft, there is a need for a more powerful forklift that can lift the heavier weights. While this is true there, the forklifts also need to handle a greater center of weight load. Unlike boats of the past, the center of weight or load center on many newer crafts has moved forward away from the mast, demanding new wheelbase and counterweight capabilities and requirements. Forklift manufacturers have tackled this trend by offering multiple wheel base options on each of their lifts, as well as increasing their offerings to provide different weight capabilities through new engineering from mast configurations to counterweight options. Another trend Johnson noted is the need to lift these larger boats into higher locations in dry storage racks, requiring greater lift capabilities and further exacerbating the load center challenges.
Drive Systems
Trends in improving drive systems aboard marine forklifts have also caused technology advancements and a greater range of options. Colleen Burke, marketing coordinator for Hoist Liftruck, and Jentry Prine, director of marketing, said their company has a history of powering lifting equipment across many industries with electric power going back 120 years. The company has released five electric-powered forklifts just this year alone. Burke describes the Hoist Liftruck machines as "power neutral," meaning that multiple power options are available for each forklift based on a customer's requirements. Hoist Liftruck can provide traditional combustion engines for marine forklifts, as well as Electric AC drive motors with battery or hydrogen cell options. With Tier IV regulations becoming effective in 2018, Hoist Liftruck is already providing clean, efficient zero emission power options for marine forklifts.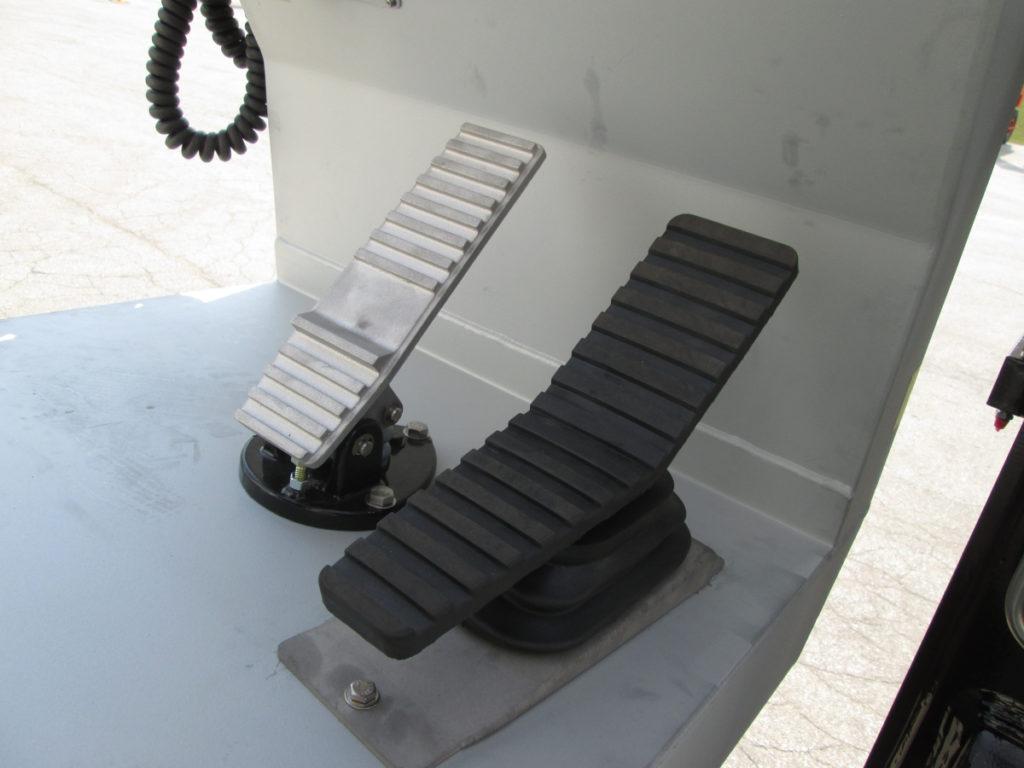 Marine Travelift's answer to improved powertrain requirement trends is its Hydro M Drive series. The hydrostatic drive system was derived from the company's line of hoist lifts and eliminates the need for transmissions and differential axles. The drive powers a hydraulic pump, which in turn provides fluid pressure to the drive system. This allows the operator to have smooth continuous control of the speed in both forward and reverse and allows for an automatic parking break – when the operator's foot is off the pedal, the forklift will not move. Apart from the maintenance cost saving of eliminating a transmission and differential, Johnson said this design makes operation of the forklift simpler and safer and can handle high-duty cycles.
Forklift Safety
Marine forklift safety is a serious and growing trend in the marine industry, as is evident with Marine Travelift's automatic parking break. Johnson said that Hydro M Drive lifts may soon see remote diagnostics capabilities through their displays, similar to those available on Marine Travelift hoist lifts. While all this technology fills the requirements of today's customers, Johnson also wanted to point out that while his company is focused on technologically advanced forklifts, the machines should be mechanically sound by nature. Johnson describes its design principle as "mechanical systems with electronic enhancement."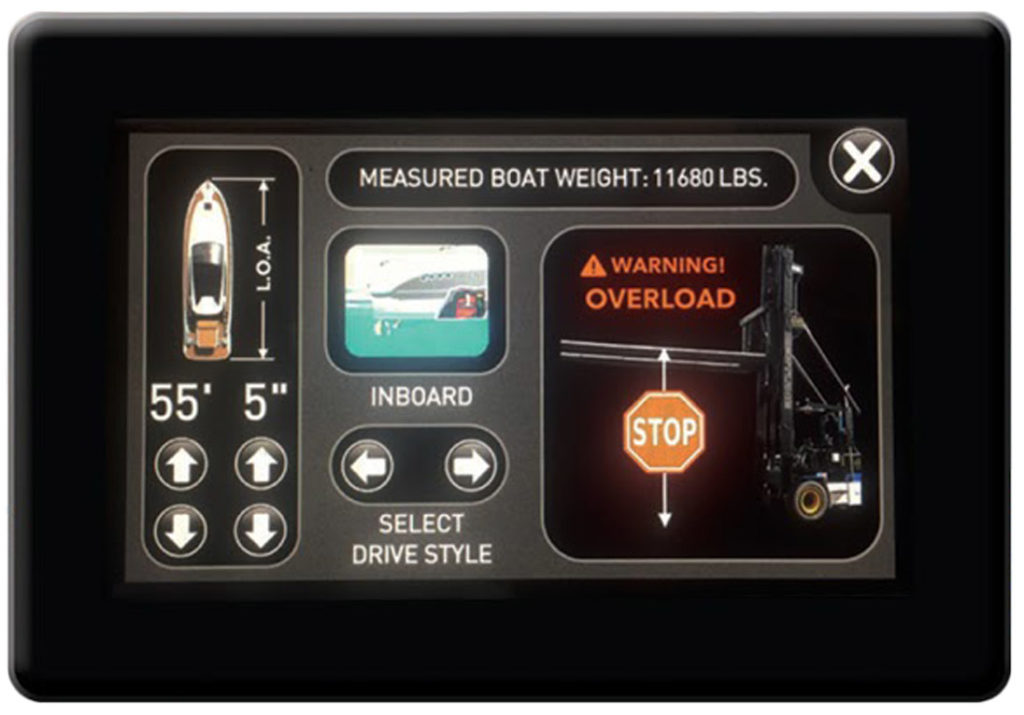 Hoist Liftruck also offers smart screen technology, a multifunction touch screen that can display all pertinent gauges and operation parameters. It also provides a rack height calculator, which gives the safe lifting height of the boat onboard. Weight is determined via the onboard scale and operators enter the length and drive style of the boat, and the system will calculate the safe height. It also has an onboard camera display that will indicate proximity to obstructions via a color and intensity coded border. Onboard checklists and diagnostics also help with day-to-day operations and service.
The Right One
With changes in marine forklifts and a greater range of lifts and options, choosing what is right for particular business is more important than ever. In order to be assured of making the right purchasing decisions Johnson, Prine and Burke all agree that a thorough consultation is necessary, including a site visit and walk-through with the manufacturer's representative. Measuring aisle space and exporing lift requirements will assure the proper lift capability for the application.
Johnson also points out that it is important for clients to work closely with the product representative and use that person as a resource and a consultant, not just a sales rep. Johnson also recommends that facilities visit other sites with similar equipment and get feedback from those users.
The ever-wider range of lifts available today provide increased capability and many technological advancements to fit every application.