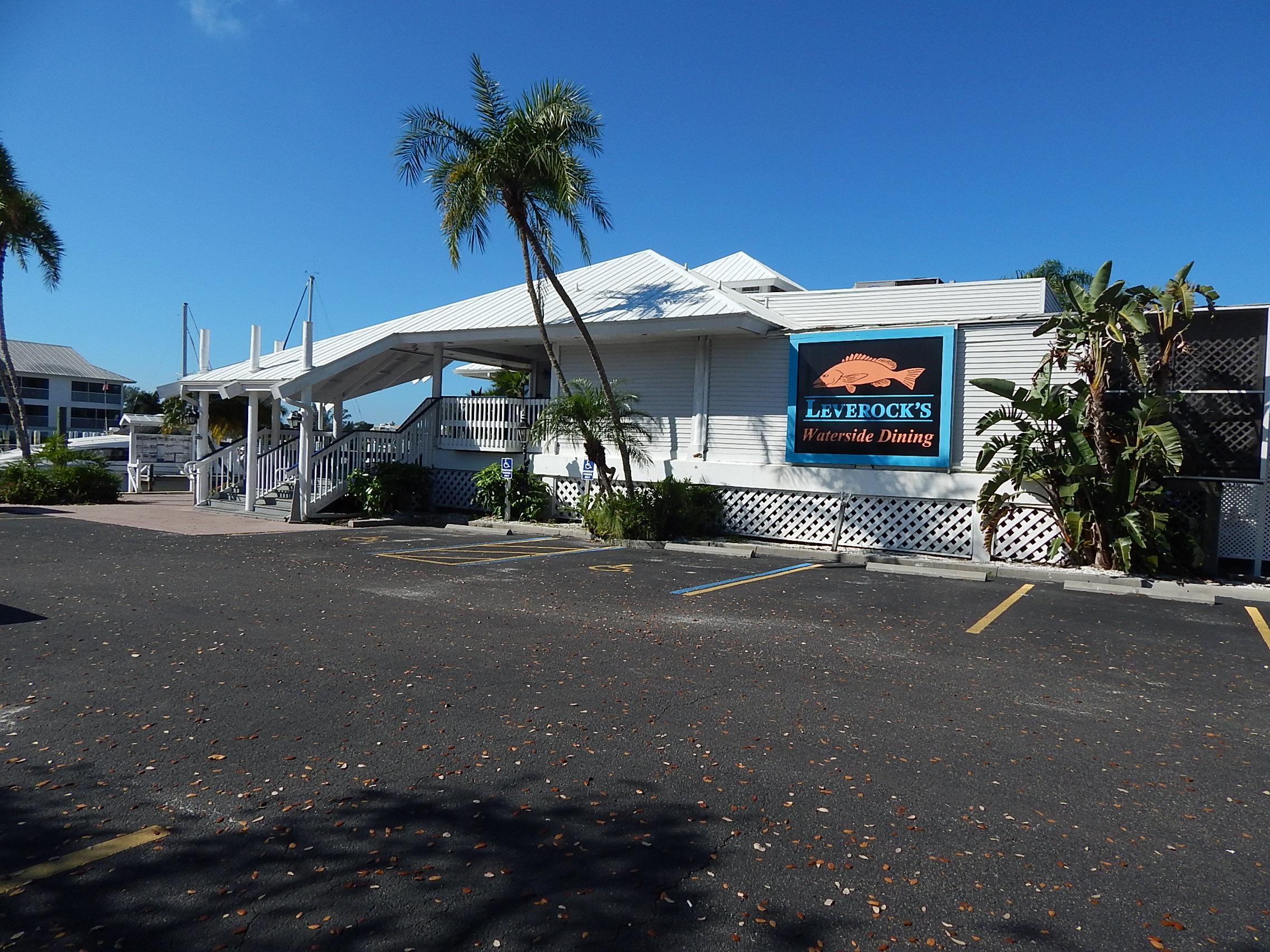 Marina Restaurants: Serving Up Good Things for Customers and Communities
Published on March 1, 2018
Restaurants are phenomenal amenities for a marina, said Andy Sturner, founder and CEO, Aqua Marine Partners. "You're trying to create a full experience for your customers and give them the ability to enjoy the property. What better way to do that than offer food and beverage operations?"
Two of Aqua Marine Partners' six marinas have restaurants. Johnny Leverock's Seafood Restaurant at the Palm Harbor marina in Cape Haze, Florida, is a full-service, 200-seat restaurant that attracts the marina's customers, area residents and visitors from a nearby destination resort. It's a year-round restaurant that offers indoor and outdoor dining.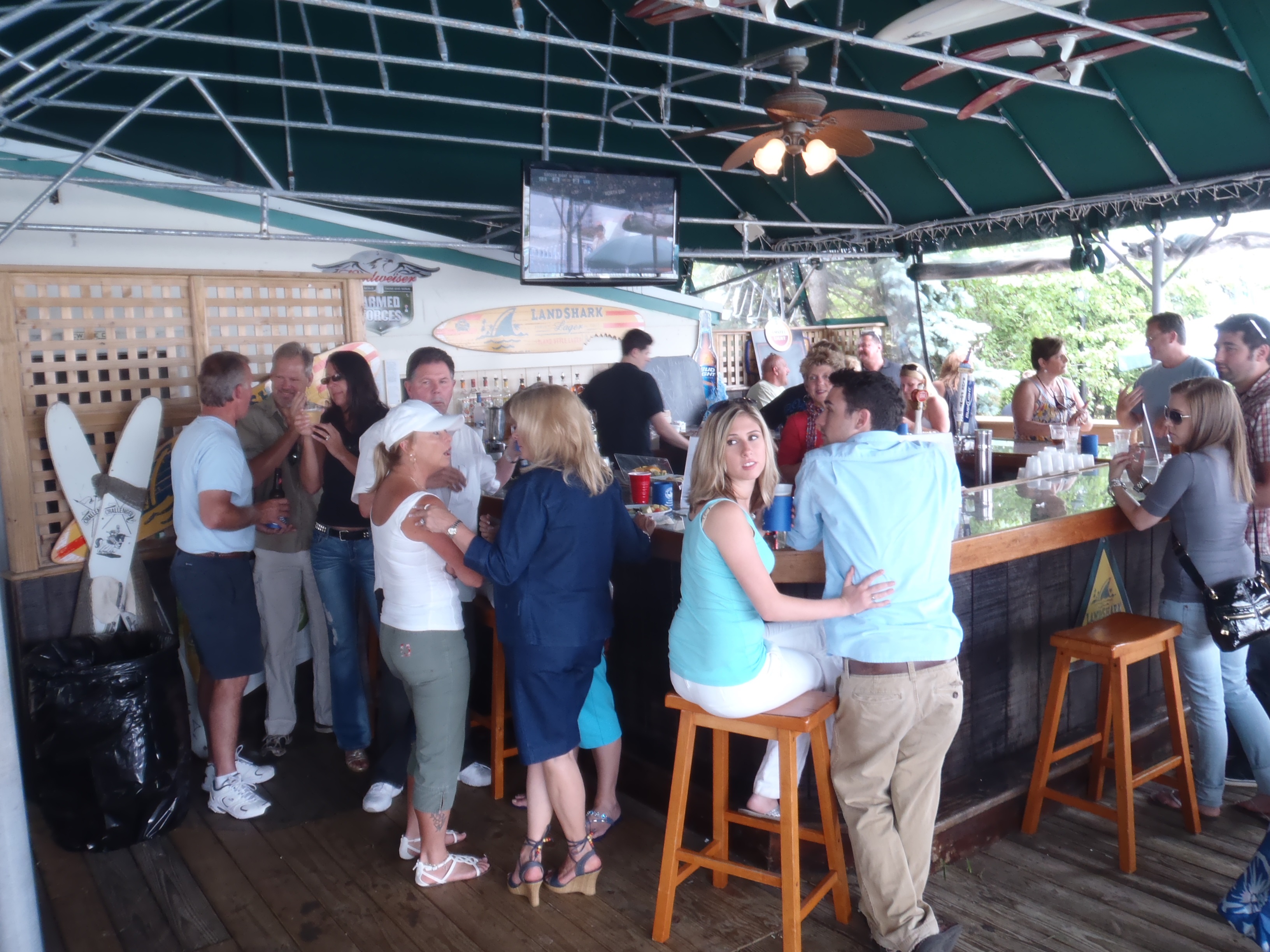 In contrast, Aquamarina Sunset Harbour on Long Island in East Patchogue, New York, offers the more informal Dockside Grill and Tiki Bar, with 90 percent of its customers coming from the marina. It operates Wednesdays through Sundays, only during the marina season. "There is a swimming pool and some other amenities there; sometimes we have bands that play. The idea is really to create a very festive environment at the marina; it's all about the experience there," Sturner said. The marina sometimes holds big events at the adjacent catering hall, also run by the restaurant operator.
The current operators at Palm Harbor and Long Island were running the restaurants when Aquamarine Partners took over. Now they lease the space from the company. "We are not experts in the restaurant business, so we try to stick to the aspects of the business that we know, which is boat service and boat storage," Sturner said. The restaurants are cooperative when it comes to menu suggestions from the marinas' customers, and they appreciate the extra business they get when the marinas hold special events.
Sturner prefers straight lease agreements rather than percentage rents, which are based on a percentage of a restaurant's monthly or gross annual sales.
"When you start getting into your tenants' business, it can cause some stressful times; it puts you at odds a little bit. The way that we structure our relationships, because they are straight tenants, we tend not to have a lot of challenges with them," he added.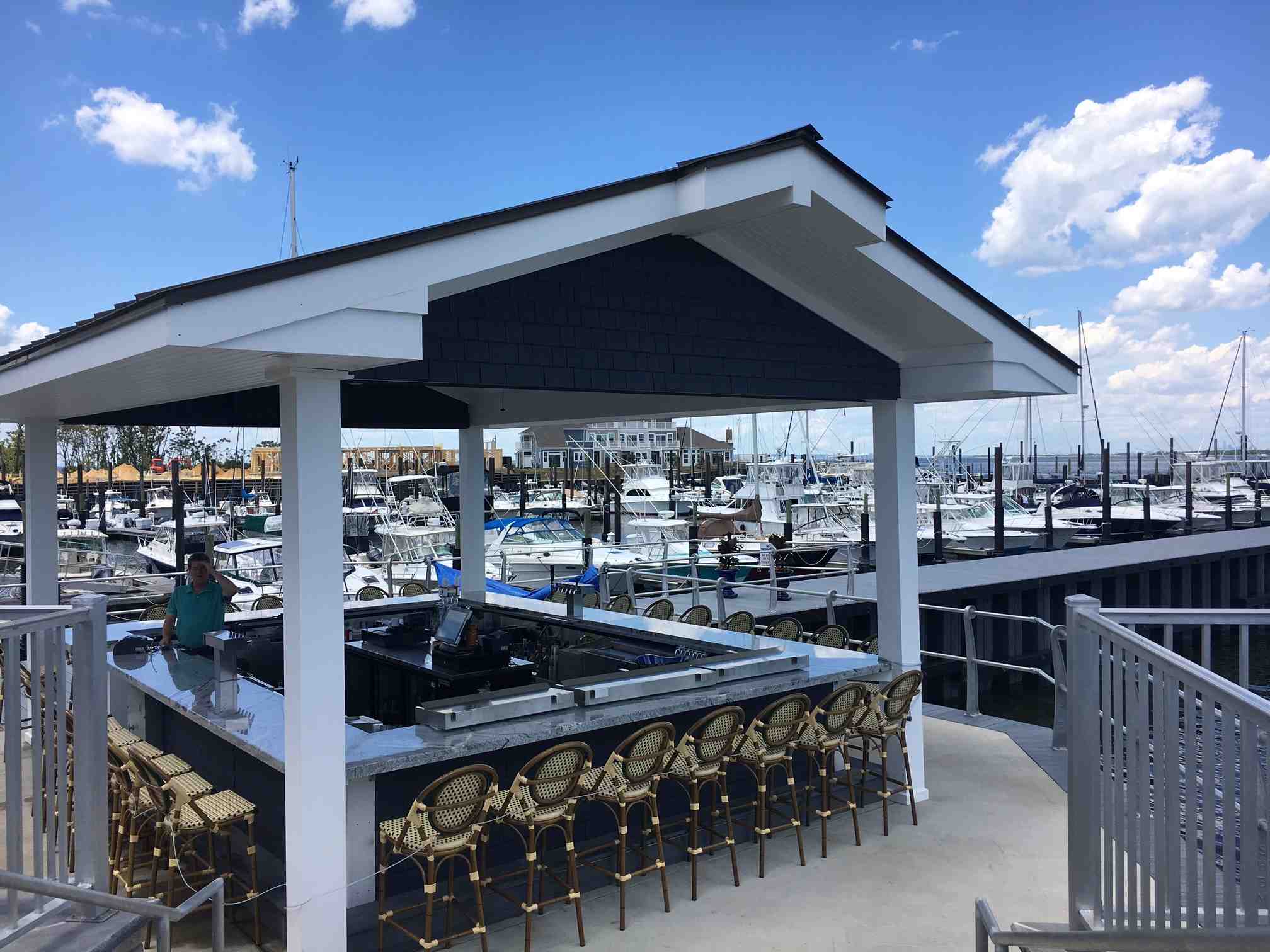 Sandy Hook Bay Marina in Highlands, New Jersey, offers three restaurant options for its guests – an interior space with bar and about 130 seats, a 75-seat patio for the summer months, and the Captain's Bar (seen here), open during good weather.
Keeping it Local
Suntex Marinas currently has 20 marinas with restaurants. Most are full-service, including the large, multi-themed concept restaurant called Marina Jack in Sarasota. "We also have other operations at all price points and themes," explained Tom DeLong, vice president food and beverage. They range from Key West casual to luxury lunch and dinner cruises.
"Diversification for different customer bases is key to fulfilling the market needs in a market region," DeLong said. "It's important, if you have the space and the resources to do it, to offer multi-price points and themes at a single location, but that will depend on the size and the needs of the local market." At Marina Jack, most customers are tourists or local residents because the restaurant is large and located in a major metro area. "At our other marinas, we meet our marina tenants' needs, but we have to look at the big picture; they are always open to the public," DeLong said. Some restaurants have foot traffic in excess of 1,000 people a day.
Suntex manages seven of its larger marina restaurants. In these year-round restaurants, "We want to control the customer experience for consistency reasons, and the only way to do that is to operate it yourself," DeLong said. "We also like to have a local presence and to feel that the marina's food and beverage operations reflect the local flair, local culinary talent. We try to decentralize this to each location, so that the restaurants really do reflect the look and feel of the community." They adjust both meal and drink menus seasonally, depending on what local seafood and produce are available.
For the other restaurants, the company leases the space directly to the operator. "We like to pick operators that have good references and a good pattern of building successful businesses in other locations. That is very, very important," DeLong said.
Building a good relationship with a restaurant operator starts with picking the right operator. Suntex reviews any potential tenant's business plan, looking for those that target both the marina tenants and the local communities. "We want to make sure that the price point, the cuisine, their management and their capabilities—their past history—reflect that they can step up to the challenge," DeLong said. "It's never easy, so you need to find tenants that are willing to put the extra effort in." Tenants must also provide adequate parking and signage that lets people know they're open to everyone.
Marina restaurants should make money for a marina, DeLong added. "We definitely consider all of our restaurants profit centers, and they all contribute to earnings. You could also say if it's not a good profit center, then it is probably not a good amenity. We want the demand to be there, and the only way to create that is to have a first-class product and service," he said.
Sharing the Vision
James Bollerman, owner of Sandy Hook Bay Marina in Highlands, New Jersey, calls its restaurant, Joe Amiel's Bay Pointe Inn, the best amenity the marina has. "We learned that lesson the hard way," he said. After being devastated by Hurricane Sandy, the marina opened in 2016, but the restaurant was still under construction. "There wasn't a day that went by that [our manager] didn't tell me that we couldn't get a transient or that boaters were concerned about when the restaurant was going to open.
"A restaurant really is the top amenity that you could introduce into a marina, bar none, especially from a transient perspective," Bollerman said.
The Bay Pointe Inn is three restaurants in one. The interior space is upscale, with a 30-seat bar and 130 seats, all with window views. In the summer months, a more casual patio seats about 75 people. The third area, Captain's Bar, is open during good weather and suits the needs of those looking to eat or drink in flip flops and shorts.
Bay Pointe Inn's customers are primarily people from the surrounding area, with just 15 percent coming from the marina or dock and dine on an annual basis. But marina slip holders do get a discount at the restaurant. "The idea was to make sure that the people who are there often don't feel like they are paying a premium every time they walk in the restaurant. They get treated a little bit differently. That has been a successful program that makes all the boaters happy," said Jack DeSantis, assistant dock master.
The marina and the restaurant also work closely together on several co-branded events each year.
Bollerman said they looked at the pros and cons of operating a restaurant themselves. When the marina also runs the restaurant, the managers can more immediately respond to any boater's concerns. It's also easier to schedule and hold special events when the marina owns the restaurant venue as well.
But leasing the restaurant space to Joe Amiel, a well-known and experienced restaurateur, has worked out well for Sandy Bay Point Marina. "When you're looking at these projects, you have to decide if you want the restaurant to be an extension of the marina, so that it's one identity in the marketplace, or whether you want it to go out on its own and have its own identity. That [second approach] has worked well for us," DeSantis said.
Community Feel
Amiel had operated restaurants at a few other marinas previously, so he understands the unique relationship that the boaters have to the restaurant. "You need a restaurateur who is sensitive to that fact that the marina is like a club, and has a kind of membership identity. You need to do certain things to work with that group successfully," Bollerman said. For example, when boaters walk into the restaurant, the managers and staff know them by sight and often by name. "It really adds to the opportunity for success."
To build a solid relationship, the marina must identify the market it wants to serve, and the restaurant operator must understand and share this aim. "In our lease agreement, there is a whole prologue where we talk about shared visions, positioning in the marketplace, and some generalized standards. So there is a common starting point as to how the restaurant is going to compete in the marketplace," Bollerman said.
"No matter where you start, it's very important to keep a good relationship," he continued. "There will always be, especially in the restaurant business, challenges and issues. You really need to circle back sometimes to the fundamentals, what are we trying to accomplish and why do we think positioning this restaurant this way will make us successful. It's really important to focus on that," he continued.
Regular communications between managers of the marina and the restaurant is the key to excellence for both operations, added DeSantis. "How can we improve things, and how can we cross pollinate in a more effective way? We are both, in our respective roles, pushing for the shared vision."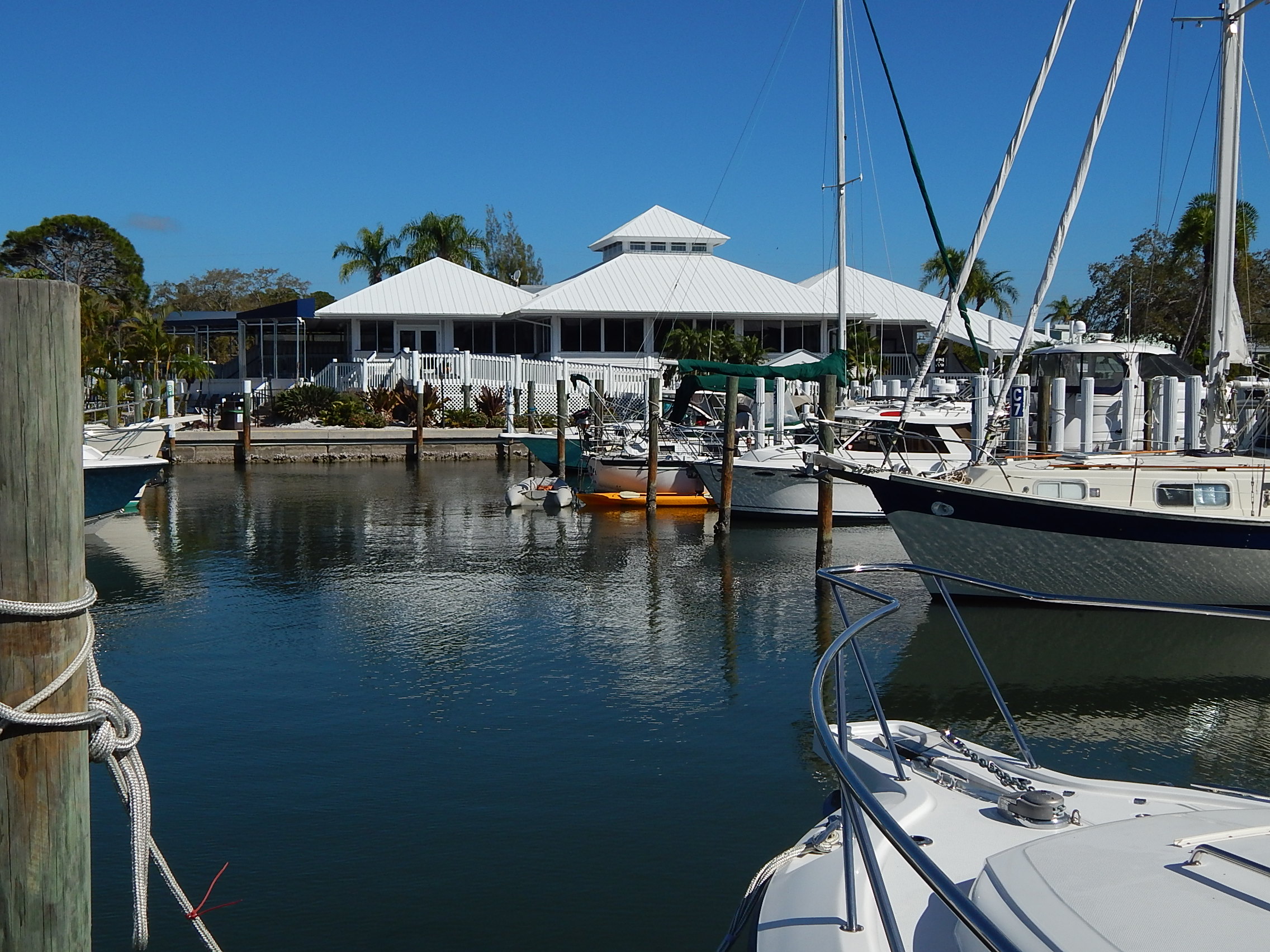 Johnny Leverock's Seafood Restaurant at the Palm Harbor marina in Cape Haze, Florida, is a full-service, 200-seat restaurant.