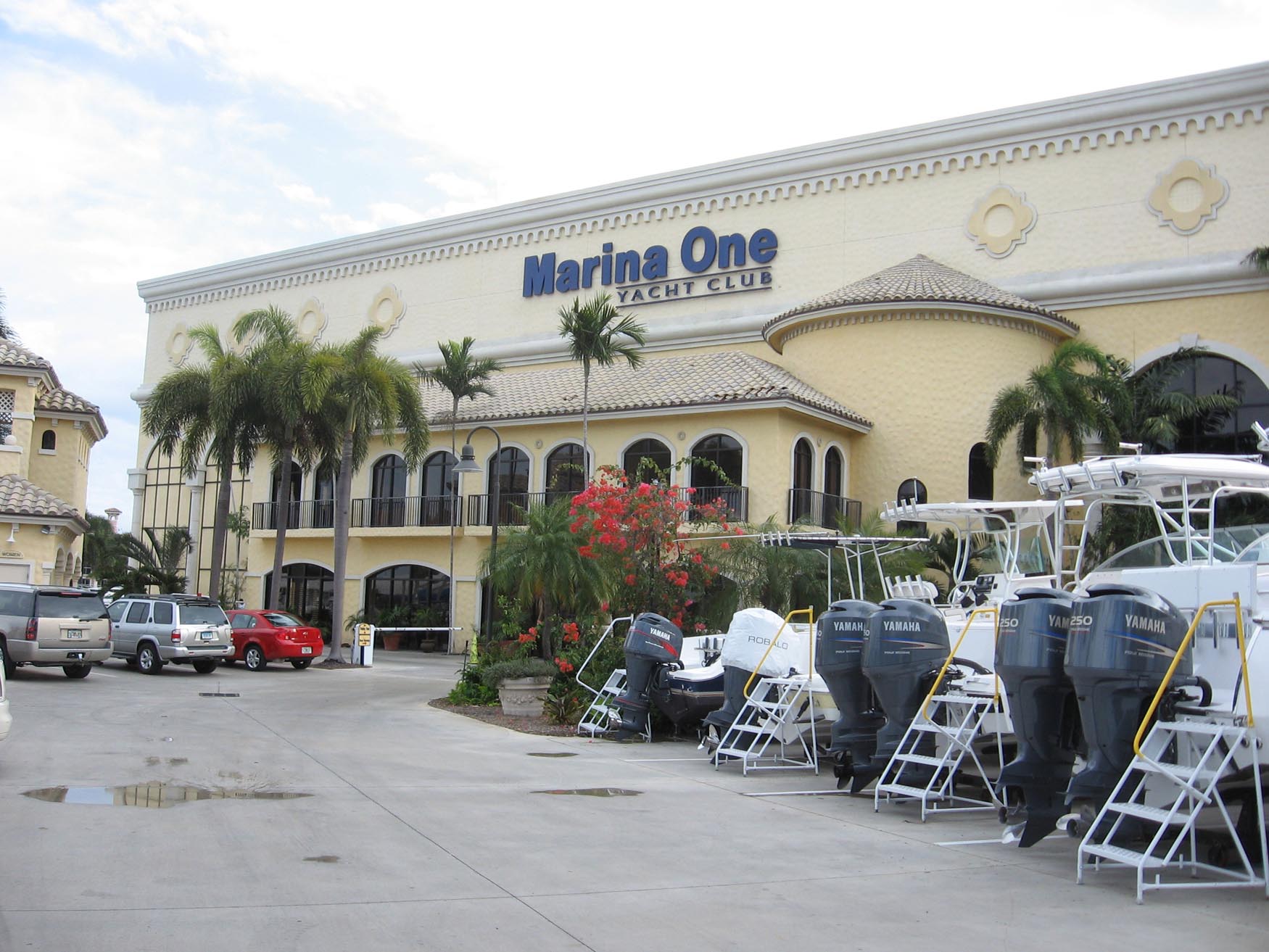 On The Waterfront – Drystack vs. In-Water Storage
Published on March 1, 2018
There are basically two ways of berthing boats, one is in the water and the other is upland. If you stop for a second and think about it, the matter-of-factness of that statement is a fair testament to just how far the upland or drystack storage of boats has come in the past 30 or so years. Years ago the boating public was not overly enamored with rack storage, and it was limited to relatively small light-weight boats, typically not more than 25 feet long. Most marinas at that time looked at it as an additional source of revenue when there was no more in-water room available and maybe there was some open land available. The racks were mostly two to three boats high and uncovered, and facilities discounted their pricing to gain boater acceptance. So what has changed?
Newer and Higher
A whole bunch of things. Today, marinas store boat with a fly bridge up to 50 feet or longer. Some facilities exceed five boats high through the use of specialty cranes, and some facilities operate forklifts with four boats high or less. The technology for transferring the boats from the racks to and from the water has dramatically improved … albeit along with the costs. Designs for enclosed facilities have also changed dramatically, from the traditional airport hangar look to those with more architectural features as well as, in more cases than not, having wings for offices and shops.
What is perhaps most intriguing are the technical advances in rack construction for heavier, longer, taller, and various different types of boats. In its embryonic state is the relatively recent use of technology from other industries to allow the moving of racks, more efficiently using space and similar in concept to pallet storage and accessing technology for warehousing. Some of these new systems have now moved from the concept and patent stage into the construction stage. There have been major improvements in the design of the traditional forklifts, as well as overhead cranes and similar mechanical devices that have radically changed the concept of moving boats in and out of racks and from the land to the water, reducing the amount of time required, as well as the skill requirements of operators, and in a number of cases the aisle width needed between racks. If you have not seen the Wiggins Marina FLX, check it out.
Changing Perceptions
Public acceptance of dry storage has also changed from early resistance and skepticism to desire in many locations. Consequently, pricing has changed from below in-water to near equal, or equal pricing. There are even some with premiums compared to in-water berthing. At the same time, construction requirements and equipment costs have increased significantly. There are also limitations to rack storage. Presently, technology will not allow vertical marine storage of mega- or superyachts and in most cases boats more than 50 to 60 feet. The larger and the heavier the boats, the more the associated limitations and higher costs.
Some of the perceived advantages of rack storage by boaters include: boats are sheltered from the sun and fading; boats are kept cleaner; the boat bottoms do not need antifouling paint; the boats may not have to be uncovered to use or covered when being put to bed; someone else has to handle the basic preparation (starting the motor) and checking the basic electrical systems; and someone else is usually flushing the engines and/or draining the water from the boat after usage. As buildings become more robust, they are also increasingly touted as safe harbors during major storms – which can be a particularly attractive benefit for absentee owners.
Some of the perceived disadvantages of rack storage include: limitation and being able to just sit on and enjoy the boat and the views at the dock; having others handle the boat; having to arrange a schedule and timing for having the boat in the water; concerns about another boat stored above yours draining water or other onto your boat; and being able to drive to the marina and just look at or show off the boat. To get around the disadvantage of sleeping on the boat or even just hanging out, some facilities are offering the perk of available dock time – ability to spend time on the boat at a dock, including being able to sleep aboard. This can be particularly attractive for those hoping for a very early start or who may live farther afield from the facility.
In-Water Advantages
Of course while rack storage has been undergoing significant advances in technology, there have also been improvements for in-water storage, including float stability, aesthetic treatments and wave attenuation. And one needs to keep in mind that boats keep getting longer, wider and deeper with more accoutrements. Just a short time ago the main demand for boats was in the 28- to 35-foot range. Today, the sweet spot has moved to more than 38 feet and up to 50 feet.
So, if you are looking to build or improve a marina today, which should you choose? The answer, as is so often the case, is it depends on the site and your operation.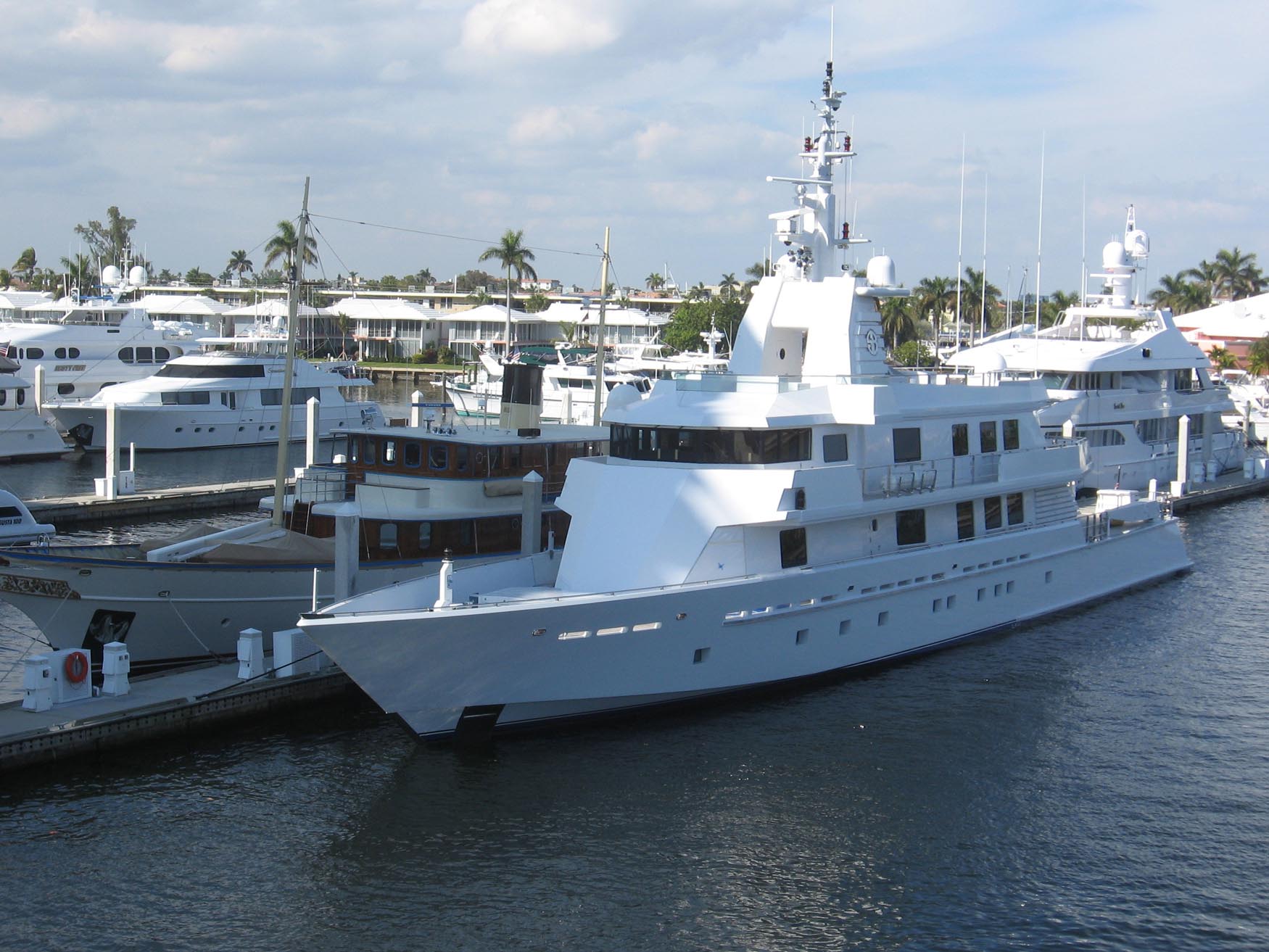 One advantage of fin-waterslips and a necessity in areas that cater to large boats, is the ability to fit mega-and super-yachts at the facility.
For rack storage, many local governments have or are adopting regulations specifically limiting heights of buildings, and there are growing local concerns regarding scenic vistas and the interruption of views. Many waterfront access land areas are over less stable grounds than inland areas, adding stability costs. On the other hand, technology has improved, allowing for narrow travel/turning aisles, more flexibility in the height, width of racks and the weight the racks can hold. There are facilities today that are entirely rack storage due to lack of water frontage and in-water areas able to be used.
In water storage, depending upon water depths, can accommodate a variety of larger boats; and the boats can be used at the docks or actually out boating. Floating facilities tend to foster more of a boating community comradery, encouraging people to spend more time at the marina, as well as helping bring in new boaters; and boaters can tinker with their boats at their leisure, which can increase sales at the ships store, restaurant and service shop. In addition, because boats in-water are more vulnerable to weather, they will tend to be visited by their owners more often – also increasing time spent at the facility. For some boaters though, this may contribute to the "hassle" of owning a boat.
Rack storage can have a greater density per square foot than in-water but cannot accommodate many of the overall heights of the boats in the sweet spot and definitely cannot accommodate even larger boats. And of course even the nicest looking rack storage building does not have quite the same ambience as most floating facilities, which tend to be a magnet for boaters and non-boaters alike.
What's the Market?
Bottom line –– there is a demand and there are compelling reasons for both racks and in-water. If one has enough upland and in-water area to do both, that can be a meaningful approach. But the single most important factor one needs to consider is what your market is –– not just today but what is anticipated 10 to 15 years from today. River and shallow lake usage differs greatly from boating on major lakes and coastal facilities. Each has varying development needs, operating costs and potential revenue streams. Many in-water facilities are aging and suffering from designs that are no longer the most efficient for maximizing revenues with today's boats and boaters. Redesigning in-water areas for larger boats can be financially rewarding. Undertaking rack storage where the local community will allow it can also be financially rewarding. Combining the two with a thoughtful design in a growing market can be particularly rewarding.
Many new or redeveloped facilities are part of an upland real estate development –– esidential and/or mixed use –– which can make it more challenging to efficiently include the rack storage. A high rack storage facility may block views, which can reduce or impede the market value of the upland development. The preference to have the building close to the waterfront also can put it in competition with other uses for the most prime waterfront space, but moving the racks farther away can unfavorably impact handling time and increase opportunities for things to go wrong while the boat is in transit. It can become quite the balancing act, so it is always critical to keep priorities in mind – and you may just find something you want to hide (say a neighboring sewage treatment plant), which an attractively executed rack storage building can excel at. In contrast, modern in-water slips almost always have a desirable real estate value enhancing effect.
In the end, prudent planning should consider the past, current development trends and what is anticipated for the future.
Lastly, the recreational boating industry is continuing to go through a transformation from a place to park one's boat to a full hospitality industry. So regardless of drystack or in-water storage or combination thereof, perhaps the most important thing to keep in mind is that boaters are looking for hassle free use of the facility, being catered to and experiencing true hospitality.
---
Dan Natchez is president of DANIEL S. NATCHEZ and ASSOCIATES Inc., a leading international environmental waterfront design consulting company specializing in the design of marinas and marina resorts throughout the world. He invites your comments and inquiries by phone at 914/698-5678, by fax at 914/698-7321, by e-mail at dan.n@dsnainc.com or on the Web at www.dsnainc.com.