2019 Boaterz 'n Bikerz: Hull of a Tour Heads to the Great Smokey Mountains
Published on February 11, 2019
In 2013, a group of boating industry executives and their friends launched Boaterz 'n Bikerz: Hull of a Tour, a 3000-mile cross country motorcycle riding tour with several pre-planned boating adventures staged along the route.
The inaugural launch became the first in a series of similar trips that included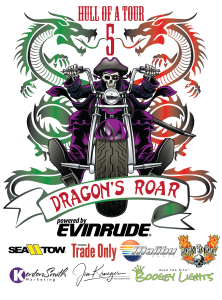 of "The Freedom Ride" from Florida to Washington, D.C., concluding in the million-bike, Memorial Day weekend event, Rolling Thunder; "Pacific Coast Rush" featuring a scenic run via Pacific Coast Highway from Seattle to San Francisco, with a leg to Big Sur; and the most recent four-state New England expedition dubbed "The Lobster Roll."
Boaterz n Bikerz: Hull of a Tour 5 returns May 5  to 11 with "The Dragon's Roar," a five-day excursion in the Great Smoky Mountains including the Tail of the Dragon. The group will headquarter at the Iron Horse Motorcycle Lodge & Resort in Robbinsville, North Carolina and conduct day rides throughout the tri-state region.
Marine industry companies promoting and supporting the tour include: Evinrude/BRP as title sponsor and Soundings Trade Only, Sea Tow and Kenton Smith Marketing. This year's boating sponsor is Malibu Boats. Additional sponsorships include Jim Krueger Photography, Boogey Lights and Born to Ride motorcycle magazine.
Sign up for the Marina Dock Age newsletter.
Our newsletter delivers the latest news straight to your inbox including breaking news, our exclusive content covering the marina and boatyard industry, new products, and much more.
Boaterz n Bikerz of America Hull of a Tour is limited to members of the boating industry and their sponsored guests. Group motorcycle riding experience is recommended. Other than a rider's own expenses and provisions, there is no tour fees to participate. Advance registration is required.
For more information about this year's Hull of a Tour 5 "The Dragon's Roar," email Wanda Kenton Smith – wanda@kentonsmithmarketing.com, visit http://www.kentonsmithmarketing.com/hull-of-a-tour.html or join the private Facebook Group Page at  https://www.facebook.com/groups/HullofaTour/