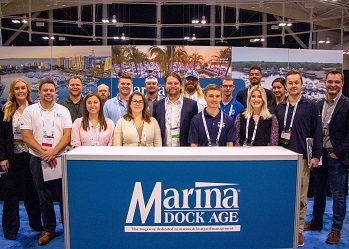 2021 Young Leader Awards
Published on January 17, 2022
Marina Dock Age and the Docks Expo also recognized 20 men and women under the age of 40 for their dedication and ongoing efforts to improve the marina and boatyard industry at the 2021 Young Leader Awards ceremony on Wednesday, December 1. This year's award winners are:
Corinne Ashford, Business Development Specialist, K&R Dock Accessories
Geoff Butts, General Manager, Glade Marina
Captain Ryan Coffin, Lead Technician, Yarmouth Boat Yard
Sign up for the Marina Dock Age newsletter.
Our newsletter delivers the latest news straight to your inbox including breaking news, our exclusive content covering the marina and boatyard industry, new products, and much more.
Laura East, Dockmaster, Strouts Point Wharf Company
Matt Fradette, Cofounder, Dockwa
Dan Grovatt, Managing Director, Leisure Property Advisors/Colliers International
Kevin Harvey, Marketing Manager, Oasis Marinas
Charlotte Jacunski, General Manager, NorthShore Marina
John Judice, General Manager, Marina Bay Harbor Marina
Matt Kier, General Manager, Anclote Village Marina
Matt Maasen, Assembly, Installation, and Service Manager, Poly Lift Boat Lifts
Kenny Mass, Sales Business Development Manager, Scribble Software Inc.
Hunter Miller, Rental Manager, Cottonwood Creek Marina
Kyle Morley, President, Dock and Marina Services
Marissa Neely, Business Manager, Safe Harbor Ventura Isle
Kathryn Ross, General Manager, Marina Jack Yacht Basin (Suntex Marinas)
Matthew Ruffolo, Owner/Operator, Dockhand Services LLC
Mallory Smith, Assistant General Manager, Loggerhead Marina/Fish Tale
Pack St Clair III, Owner, Summerset/DuraTek Boat Lifts
Marisa Tranghese, Director of Underwriting, Maritime Program Group/ Division of One80 Intermediaries