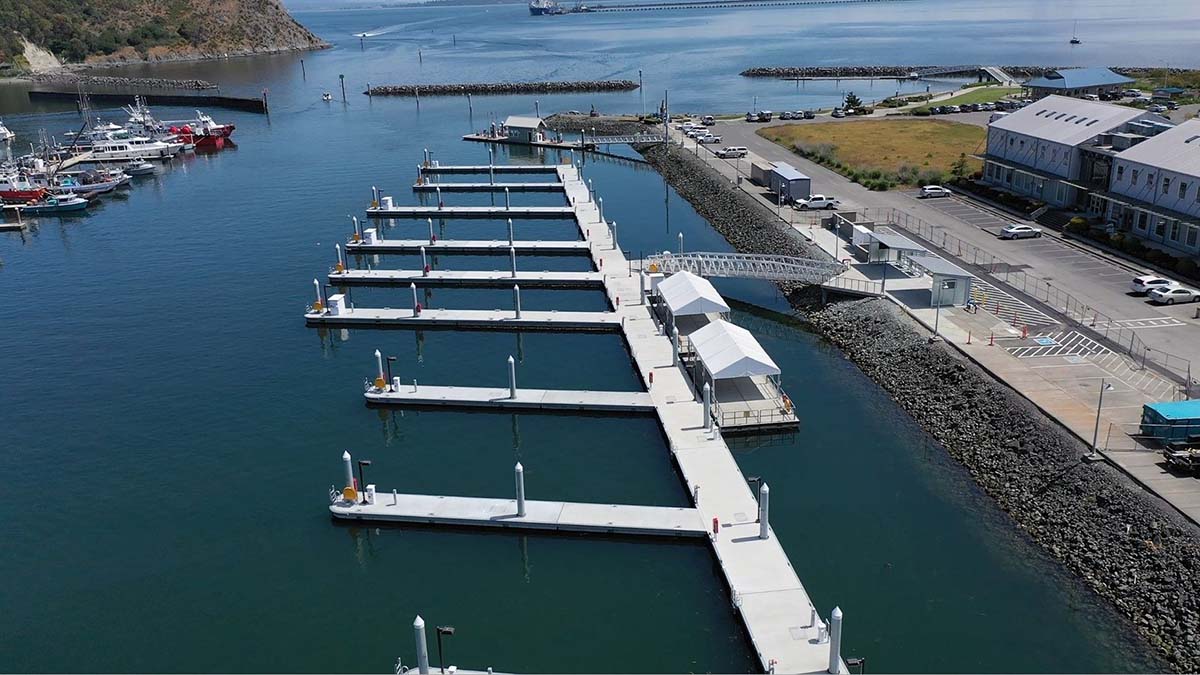 A Dock Open Again at Port of Anacortes Cap Sante Marina
Published on September 28, 2021
With the opening of the new A Dock, the Port of Anacortes Cap Sante Marina has completed a multi-year project that replaced several docks.
Bellingham Marine initially built the replacements for C and D docks around 2005, then E and F in 2011-2012. Work on the new A Dock began last fall.
"A Dock is a commercial dock; they have whale watching tours and tug services out of there, and it is right next to their fuel dock," said Jim Engen, manager of project development at Bellingham Marine.
The existing concrete and timber pile dock, which dated from the 1960s, had 22 slips, each 65 feet long, that were placed at a 90-degree angle to the walkway. "On the new dock, they've angled the slips to make it a little easier for the big boats to come in and out," Engen explained. That configuration also enabled the marina to fit longer slips into a footprint very similar to the existing one. "They have four slips that are 60 feet, four that are 80 feet, four that are 90 feet, and eight that are 110-feet," he said.
The permitting for A dock took almost two years, due to Washington State's requirements that new docks include grated panel sections that let light through. (The light helps protect the young salmon, because the predator fish that go after them have fewer places to hide.)
Sign up for the Marina Dock Age newsletter.
Our newsletter delivers the latest news straight to your inbox including breaking news, our exclusive content covering the marina and boatyard industry, new products, and much more.
"The marina didn't want to do that, because they wanted to make this a heavy-duty dock," said Engen. "They ended up having to do some shoreline mitigation work in order to get the permit to put in the solid dock."
Bellingham Marine started construction of the docks in the fall of 2020, and delivered them to the marina. It is a Unibolt system, with the concrete sections running 40-feet to 60-feet long. "They were all broom concrete finish, and we had a crown on the finish to allow for positive drainage and keep water from pooling on it," said Engen. The finger boat floats also had to support some larger transformers that supply substantial power to the big commercial boats.
American Construction, the general contractor, drove the new metal piles and then installed the dock sections from Bellingham. The grand opening for Dock A was held in late spring 2021.