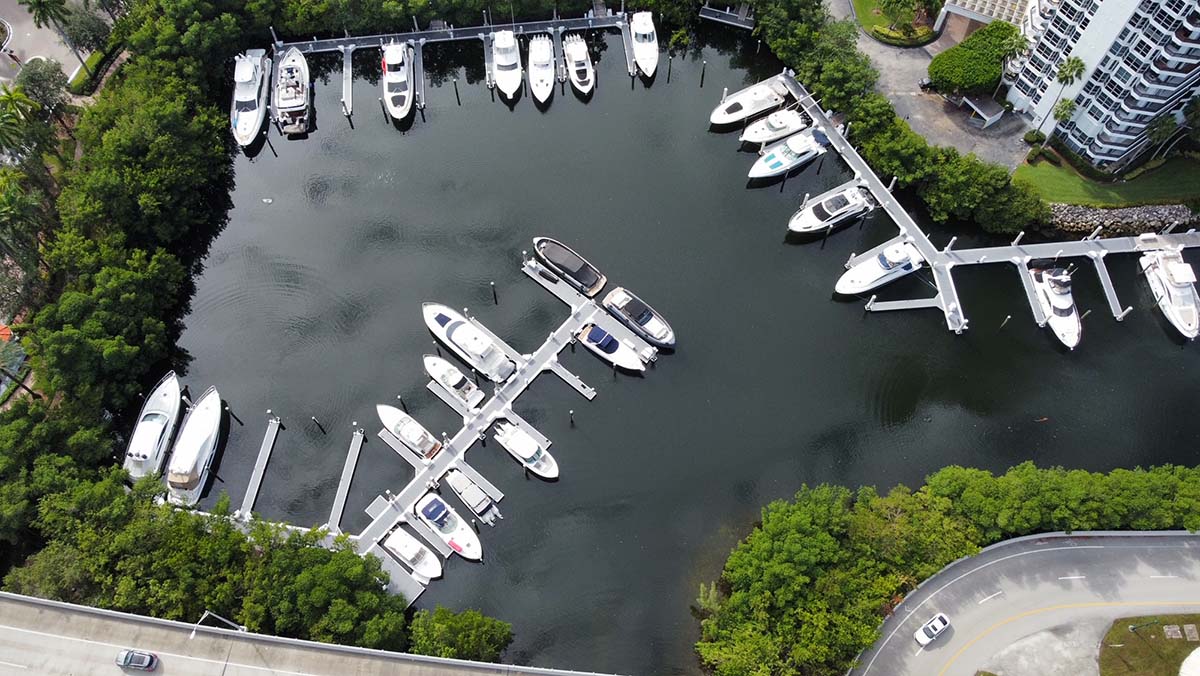 Aventura, Florida Marina Undergoes Improvements
Published on April 26, 2022
Mystic Pointe Marina in Aventura, Florida, has recently completed the first wave of improvements as part of an overhaul to their docking system. The existing docks, made of wood and over 30 years old, had long since passed their projected life of 25 years. "Not only was the exterior deteriorating visibly, but all the utilities were in need of repair and failing from corrosion," said Todd Tennen, marina HOA president.
The new aluminum dock system, manufactured by Golden Marine Systems of Fort Meyers, Florida, incorporates their 950 Series double track system for the main docks and their 850 Series single track docks for the finger piers. The docks allow for adjustable cleats, pile guides, and include utility troughs that allow for easy topside access to facilitate the installation and maintenance of in-slip utilities. Tennen noted that since the upgrades, the utilities are more reliable and have safety features the old system never had. Tennen was quick to praise the stability of the new docking system. "Walking on our new dock system feels more like walking on a fixed dock or a concrete floating dock, a tremendous improvement in stability and appearance over our old natural wood docks. Phase One is now complete and that section looks better than ever," he added.
Construction of Phase Two will include an additional 47 slips and is slated to begin in June 2023. Michael Shanley of Golden Marine Systems explained that manufacturing of the second phase docks is set to begin in the fall of 2022.
This time between the two construction phases, where elements of the original wooden docking system co-exist with the new docks, has allowed the opportunity of comparing the old system with the new. "Since the completion of Phase One, you can see the contrast of quality and appearance. It is like night and day and no doubt, one of the reasons sales of slips have been at record speed and at the highest prices ever," Tennen said.
Sign up for the Marina Dock Age newsletter.
Our newsletter delivers the latest news straight to your inbox including breaking news, our exclusive content covering the marina and boatyard industry, new products, and much more.