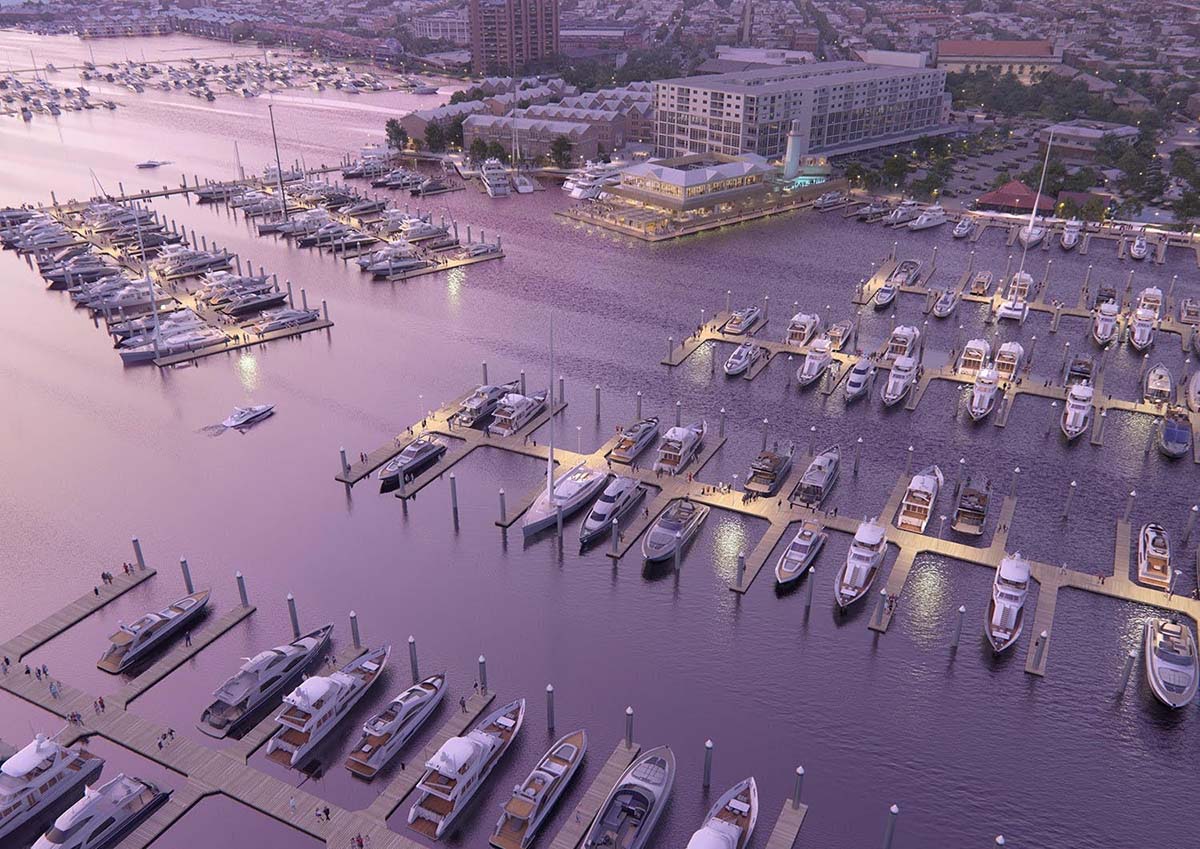 Baltimore Marina Undergoes Upgrades
Published on October 2, 2023
Following a multi-million-dollar renovation carrying through this winter, Lighthouse Point Marina in Baltimore will cut the ribbon on their state-of-the-art facility in spring of 2024. The upgraded marina, which is operated by Oasis Marinas, will accommodate vessels up to 300 feet in length with high-quality composite, non-skid floating docks, and full-length finger piers. Slip-side amenities will include 50- and 100-Amp power, potable water, hassle-free pump-out, and marina-wide WiFi.
"The marina, divided into the West Basin and East Basin, offers a total of 400 slips with over 14,000 linear feet of dockage," said marina general manager, Joel Schlossberg. West Basin is made up of 150 slips and 3,000 linear feet, while East Basin features 250 slips and 11,000 linear feet of dockage. The marina is currently open at half-capacity as construction continues.
"Every detail is state-of-the-art and designed with the highest level of safety; features like fire suppression systems, ladder and life ring stations. and overall structural integrity of the docks," said Schlossberg.
Boaters navigate the campus with a unique smartphone integrated security system, ensuring secure 24/7 access without any extra key or fob to carry. CCTV security cameras positioned throughout the premises ensure clients and vessels are secure. Annual slip rental includes onsite garage parking, a crucial amenity given the marina's downtown location.
Sign up for the Marina Dock Age newsletter.
Our newsletter delivers the latest news straight to your inbox including breaking news, our exclusive content covering the marina and boatyard industry, new products, and much more.
Located on the Patapsco River in Baltimore's Canton neighborhood, the marina is steps away from numerous restaurants and attractions. The marina has already opened its own floating dock bar, Drift. The marina is also renovating the former Bo Brooks Restaurant, which will re-open as "Taste" in spring of 2024. Other upgrades include a new boater's lounge, on-site laundry facilities, on-site gym, and boater's only pool, among other state-of-the-art amenities.