Best Management Practices: How Marinas are Providing Great Customer Service While Increasing Profits
Published on July 1, 2022
Editor's Note: These tips of the trade highlight innovative practices taking place at marinas and boatyards across the country. These ideas serve as examples of best management practices other facilities may draw inspiration from or choose to implement.
Boat Rentals and Entertainment
The last five years have been transformational for Fairfield Bay Marina on Greers Ferry Lake in Fairfield Bay, Arkansas. John Conry came on board as marina manager in 2016 and decided to test the waters with some out-of-the-box ideas in order to increase customers and profits. "For us it has been about the little things," Conry said. "My philosophy is 'little hinges swing big doors' and that belief has definitely worked well for us."
Some of those "little hinges" include:
Demand for slips: Five years ago there wasn't much of a waiting list and there were 15 empty slips. "That wasn't acceptable to me," Conry said. "We have the advantage of being a marina owned by a club. We are located within a resort community, surrounded by ATV trails, hiking trails, two 18-hole golf courses, and timeshares. We had to take advantage of our location and change the perception that this place is where you come to have fun."
Within four months, after adding amenities and promoting the marina, they had a waiting list of 75 people. That list grew to 100 in one year. It grew to 275 people waiting for a slip to become available until the new slips were constructed.
Sign up for the Marina Dock Age newsletter.
Our newsletter delivers the latest news straight to your inbox including breaking news, our exclusive content covering the marina and boatyard industry, new products, and much more.
Last fall, the marina added 132 slips, bringing the total number to 580. Forty two of those slips are rented to residents who live in the surrounding community, the rest own vacation homes in Fairfield Bay or are non-owners who visit and boat on the weekends. "I handle our waiting list a bit different," Conry said. "If a slip becomes available, I call a boater on the list but they have to decide in the moment, and pay the rental fee with a credit card over the phone. Otherwise we move on to the next person on the list."
Boat rentals: The first year Conry joined as marina manager, Fairfield Bay Marina spent $120,000 on new boats for the rental business. They kept the boats for five years and usually had to recycle between two and four boats per year. In addition, they were spending nearly $60,000 on repairs. In order to trim down some of those costs, Conry entered into an agreement with H2O Sportz & Marine in Little Rock to lease the rental boats, rather than purchase them outright. The marina leases 10 boats and presells them before the end of the year. "The first year we had all 10 boats presold by June and we got to keep using them as rentals through the season," Conry said. "This has been a godsend. Now, I have boat dealers coming to the marina, asking us to lease their boats. We pay depreciation, we don't deal with breakdowns or repairs, and our customers get to rent new boats every season."
Events and food: Fairfield Bay Marina has become synonymous with entertainment. After a two year hiatus due to the pandemic, events such as BoatiGras, Surf the Bay, and Hawaiian Luau are returning and expected to bring thousands of people to the marina. During peak season, live bands perform every weekend on a barge that was repurposed into a floating stage and bar. The marina also leases space to a restaurant so customers can order food on the weekends. "On our six live band weekends we might have 200 boats anchored and 1,000 people on the dock. We tell our guests that they don't have to own a boat to come here and enjoy the lake, the music, and the food," Conry said. "We see our profits from the ship's store and the restaurant soar on those weekends."

The marina also offers the only shuttle to Sugar Loaf Mountain Island. The island, located in the middle of Greers Ferry Lake, stands 1,000 feet tall and includes panoramic views of Arkansas. Conry increased the shuttle trips from twice a day, every other day, to every two hours seven days a week. Today, Fairfield Bay Marina's shuttle takes nearly 6,000 people per year to the island. "By adding all of these services and amenities, Fairfield Bay went from being a fishing-based facility to a recreation-based marina," Conry said.
Future plans: Boaters will see additional changes coming to Fairfield Bay Marina in the near future. Work will begin soon on making the marina ADA compliant. In addition to a handicap accessible entrance to the docks, there will be 10 ADA compliant slips available to rent. We understand nothing happens without our clients, our focus is helping them create lifetime memories.
Warm Storage
Winter Harbor Marina, located on the Oneida River in Brewerton, New York, has been offering indoor heated boat storage for more than two decades. Lifelong boater and marina owner Tom Pirro opened the facility after growing tired of traveling to find heated storage for his boat. "I didn't want to winterize my boat, and my crew said they would abandon me if I didn't come up with something more convenient," Pirro said. "So, we found this piece of farmland property along the river and opened Winter Harbor Marina."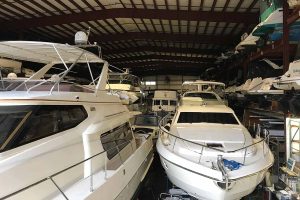 Rather than winterizing and covering their boats, customers have access to 90,000 square feet of heated storage space within two buildings. The marina can store boats up to 80 feet and 70 tons. The facility offers main floor storage as well as a two-tier racking system. A 24-hour fire and security alarm, temperature alarms, and backup generators offer peace of mind for customers looking for safe and secure storage. "I vowed when we opened that I would only offer the best service possible and be accommodating to our customers' needs."
Being one of very few marinas in the State of New York to offer heated storage, Winter Harbor has an extensive waiting list. Each year, Pirro and his staff try to secure the customers who want storage the following season. "We give the first opportunity to people who stored their boats the previous season," Pirro said. "If they aren't willing to commit to the following year when their boat goes in the water in the spring, we move on to the next person on the list because we don't want to keep people hanging."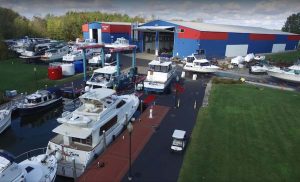 Since Pirro has a lot of customers who travel the Great Loop and need to make their plans several months in advance, this process benefits the marina and boaters. "This year, we sent our contracts out early," he said. "If they don't commit, we put them on the list and call them back after we contact everyone else."
About two years ago, Pirro purchased two parcels adjacent to the marina where they added two more bathrooms, a laundry facility, a gazebo and green space, as well as 1,200 more feet of dockage for transient boaters. Property has also been secured for additional heated storage, but Pirro referenced manpower as the current obstacle. Since Winter Harbor also provides repair service, brokerage, and transient services Pirro doesn't want to put a strain on the existing staff. "We don't want to take on more than we can handle and I don't promise what I can't deliver," Pirro said. "We take pride in our work and we hope people understand that we try to give them the best of everything we can."
Boat Club
Long Bay Pointe Marina, located in the heart of Virginia Beach and just five minutes from Chesapeake Bay, has a long history with Carefree Boat Club. The members-only club has been operating out of the 215-slip marina since 2001. "We currently have 25 boats at the marina," said Kevin Bonnema, general manager of Carefree Boat Club. "Our members come to the docks, take out one of our boats for the day, and also take advantage of all the amenities the facility offers, which leads to a dramatic increase in profits for the marina's operators."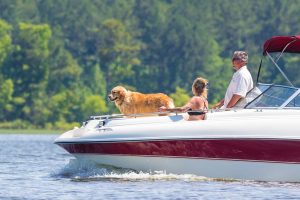 The marina offers a variety of services, including a fuel dock, pumpout station, restrooms, showers, a bait and tackle shop, and a restaurant. "Each of our boats are launched twice a day," Bonnema said. "So, that means two families each day are purchasing fuel at the fuel docks. They might also be buying boating and fishing supplies in the bait and tackle shop and eating lunch or dinner at the restaurant. All of this adds to additional revenue for the marina."
In addition to the revenue stream generated from boat club members, Carefree pays rent for each slip, purchases parts from the service center, and rents office space for their staff. Long Bay Pointe Marina is one of 110 locations around the world that has a Carefree Boat Club operating out of its facility. "We develop a mutually beneficial partnership with each marina we work with," Bonnema said. "The marina doesn't take on any additional responsibilities other than providing services to an additional group of boaters. We manage our staff and our customers."
Bonnema believes the stigma around boat clubs is disappearing. "Our club members are vested and well-trained to handle boats. A boat club membership is an investment and each member wants access to nice, well-maintained boats at welcoming marinas where they can feel comfortable and have fun on the water," he said. "Partnering with a boat club automatically transforms into a profit center for any marina."