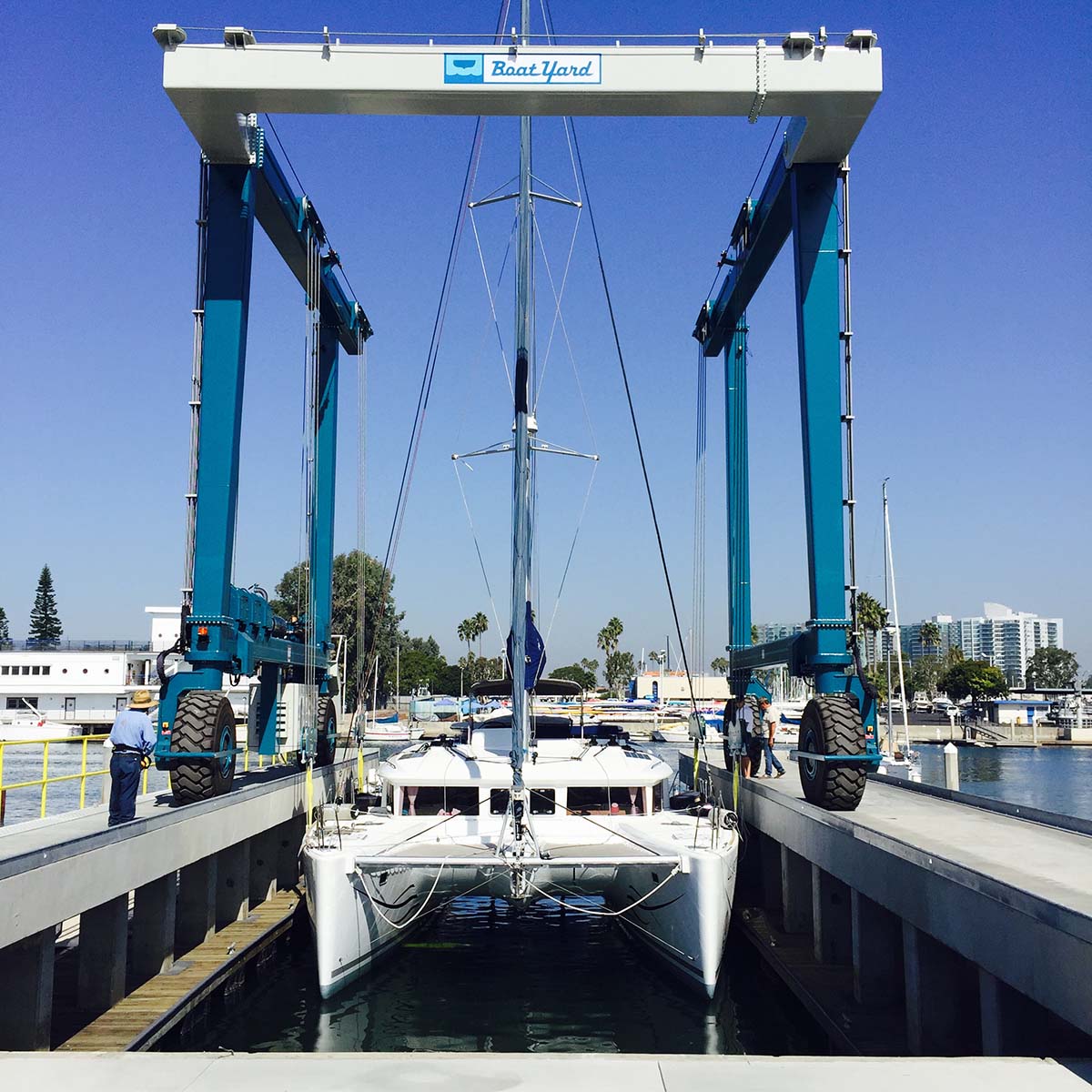 The Boat Yard in California Prepares for Larger Vessels
Published on January 19, 2018
Greg Schem, president and CEO at Harbor Real Estate Group said the lift was necessary to keep up with market demand. Boats are getting larger and wider and service yards need to accommodate this need. "A 25-foot slip is a dinosaur and impossible to lease. Those boat owners use dry storage or trailers," Schem said. He estimates the move toward larger vessels really began 20 years ago and said the change is a combination of boaters wanting more comfort and stability in their personal vessels, but also the surge in shared ownership, which increased the likelihood that a vessel would be taking out a larger group of boaters at one time. Schem said shared ownership seems to foster group outings instead of single family use.
The want of larger and wider boats sparked a rise in sales of catamarans over the past several years. This has caused problems for marinas and boatyards that generally have slips to accommodate boat widths of around 15 feet, not the 27 feet of a catamaran. This has left dockmasters with no options but to put catamarans on end docks, which greatly limits the number of these vessels that they can accept. Servicing catamarans is also limited by the number of launch areas that can accept a boat of that width. For these reasons, Schem anticipates seeing the catamaran trend die down. "If a boat owner can't find a place to keep his boat, or accommodate it when he's in transit, he's quickly going to turn to other options," he said.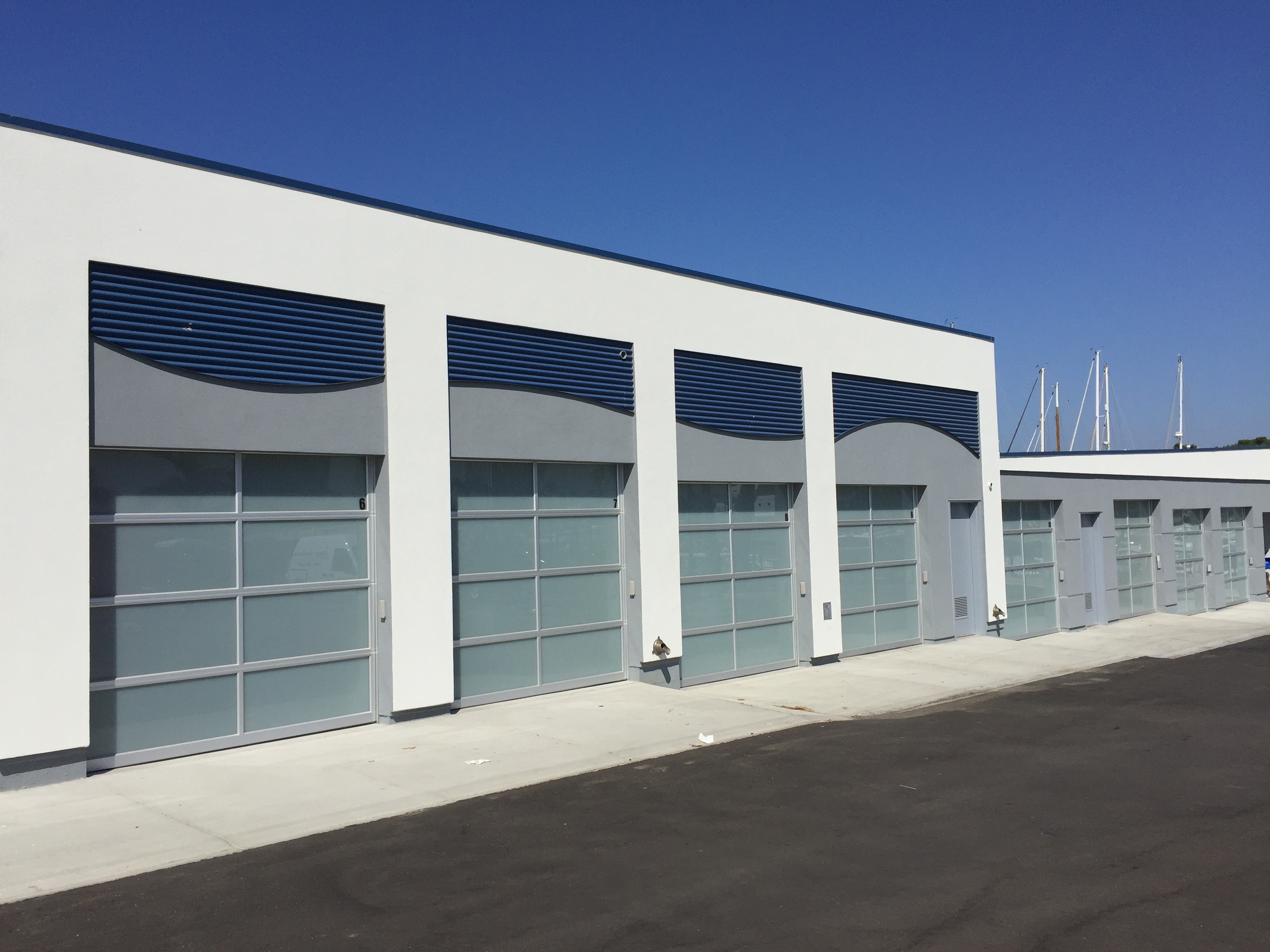 New lockers and garages provide extra storage for boaters at The Boat Yard.
Larger, Wider Equipment
Catamarans or bigger boats have changed the way that boatyards look at their operations. Not only do larger lifts need to be purchased, but a larger lift requires thicker concrete and a wider haul-out area to safely travel over. Past that, stands, blocks, ladders and related equipment also have to become more substantial. The slips that boats sit in have to be reconfigured from widths around typically 17 feet to ones with widths of 28 feet or more. In short, boatyards will have to spend some money to handle the growing fleet of growing vessels.
Sign up for the Marina Dock Age newsletter.
Our newsletter delivers the latest news straight to your inbox including breaking news, our exclusive content covering the marina and boatyard industry, new products, and much more.
The Boat Yard at Marina del Ray is a full-service repair yard and marina. To keep expanding its customer base, Schem knew a larger lift was needed, but also knew he wanted to keep his existing customers. Now the facility has lifts of 35-tons, 60-tons and 100-tons. The purchase of the larger lift was part of an overall renovation at the yard that included new concrete docks, haul-out ways, boater restrooms with showers and laundry, a new state of the art environmental clarifier system, and private enclosed storage garages and storage lockers.
The storage garages and lockers were introduced because of demand from customers, but they are also open for public use. Storage lockers are about 20 square feet while the garages come in sizes up to a 360-square-foot double door unit. There are seven storage lockers and 14 garages, with lockers renting for about $4.25 a square foot and garages for $3.00 per square foot.
"The storage/garages have been very well received. They are primarily rented by our marina and boatyard tenants mainly for storage of non-essential boating equipment and parts, as well as for auto and motorcycle parking. The demand is clearly there for boaters with nice cars. They want to keep out of the elements when away, as well as for those wishing to store boating equipment not currently needed, such as fishing poles, wake boards, wet suits, dive gear, etc. Customers love them, and they look great," Schem said.
The modern lift fit right into the overall renovation. "The large top beam extension for sailboats, the wireless remote-control unit, extremely quiet motor, and the extensive exterior lighting for emergency night haul-outs are among the most important features we depend upon on a daily basis," Schem said. He said the change he's seen in lifts over the years has been considerable. Still he hopes to maybe someday see more.
Schem said he hopes future advancements in equipment might develop a flexible travelift that can be used on boats from 35 tons up to 100 tons, so he doesn't need five lifts on-site. While he's looking into the future, he also hopes to see a lift that can operate like newly introduced driver-less cars, with no person involved and sensors to avoid collisions.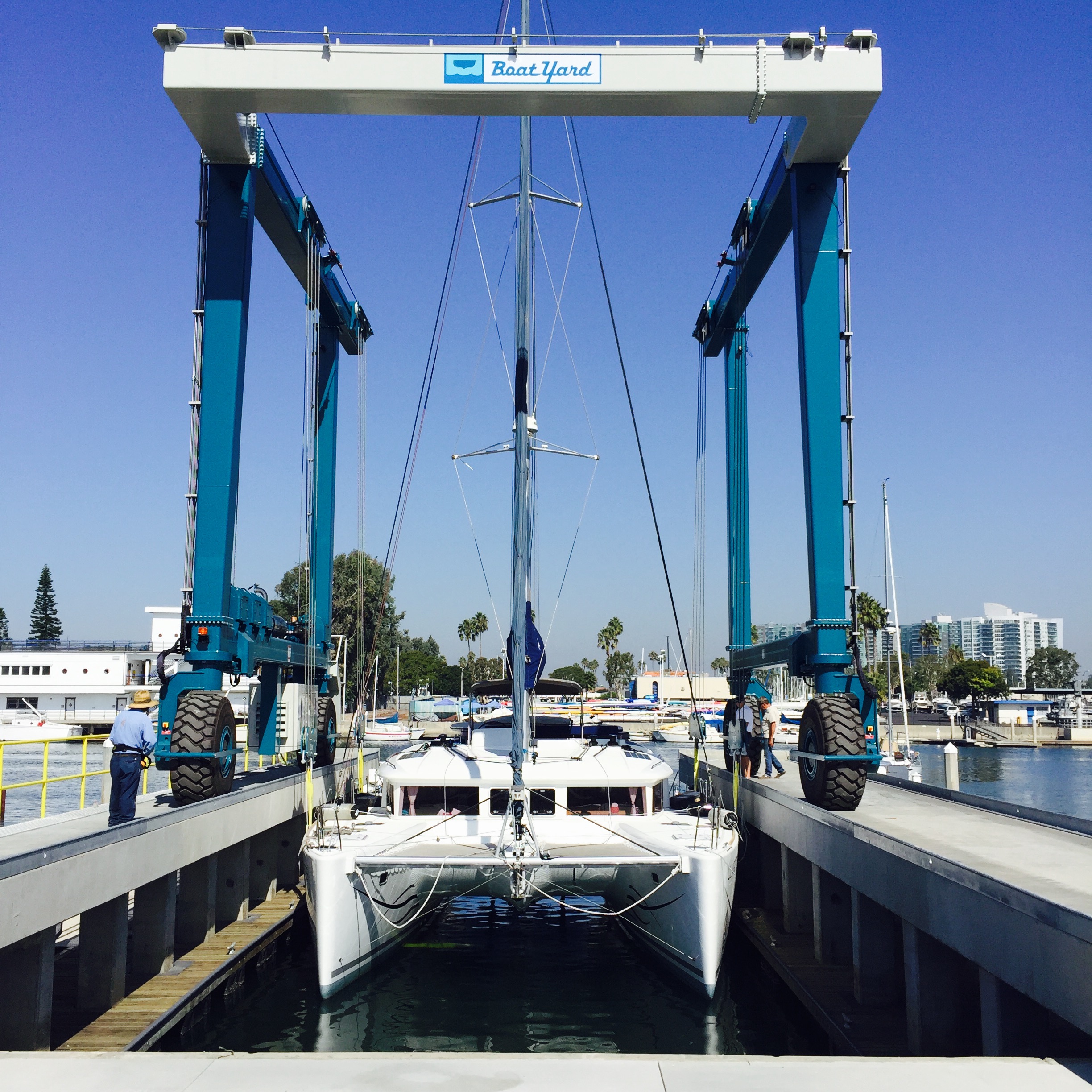 The Boat Yard of Marina del Rey, California, has a new 100 BFMII mobile boat hoist with a lifting capacity of 100 metric tons. This is the yard's fifth Marine Travelift and its largest providing a 28-foot beam capable of lifting larger mono-hulls and catamarans.