Deadline Extended for Hurricane Ian Derelict-Vessel Owners to Apply for FWC Salvage Help
Published on November 9, 2022
Acknowledging the significant challenge facing many recreational boat owners who are unable to pay salvage costs for their Hurricane Ian- wrecked vessels, or who may still be assessing the extent of the damage, the Florida Fish and Wildlife Conservation Commission (FWC) extended its Hurricane Ian waiver program through the end of 2022.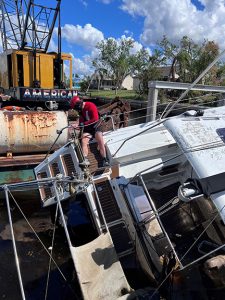 The waivers, which require boat owners to release ownership of their vessels, are for the removal and destruction of Hurricane Ian-damaged vessels in public waterways. The waiver program's grace period was formerly Nov. 15.
Owners must apply by calling the FWC Hurricane Ian Vessel Hotline at 850-488-5600 and request to turn over their derelict vessels. An FWC representative will then explain the waiver process and facilitate the potential turnover of ownership.
Derelict vessels cause environmental and navigational hazards, not to mention being a blight on the state's pristine waters. "It's a winning program for our waterways, all responsible boat owners and the state," said Boat Owners Association of The United States (BoatUS) manager of government Affairs David Kennedy.
Sign up for the Marina Dock Age newsletter.
Our newsletter delivers the latest news straight to your inbox including breaking news, our exclusive content covering the marina and boatyard industry, new products, and much more.
If a derelict vessel is not brought into compliance by the end of December, it will be treated as any other derelict vessel, according to FWC, which could bring fines or other legal action.