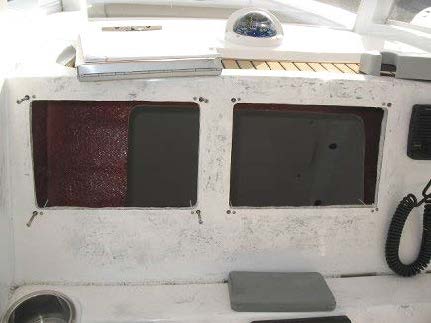 BOLO – GPS Thefts, Outboard Thefts and Your Responsibilities under Bailment
Published on April 29, 2021
Each year, marinas and boatyards suffer what amounts to hundreds of thousands of dollars in theft. Don't let this happen to you, or your customers.
According to Lt. Nancy Alverez of Florida's Monroe County Sheriff's Office, organized thieves are targeting boat storage yards for high-end GPS units and Four Stroke Outboards (primarily Yamaha).  These crews conduct counter surveillance on the business and boat.  Marinas should be alert to subjects 'posing 'as potential customers or subjects taking photos while walking through the marina.  Marinas should also be alert to suspicious vehicles in their parking lots or neighboring properties for long periods of time.  These organizations conduct counter surveillance and have well placed lookouts.  What originally started as a South Florida phenomenon is now up and down the I-95 Corridor and beyond. There are no jurisdictional boundaries confining these crimes as these organizations have traveled from Florida to Maine and west to Texas and California.
Preventative Measures
In the recent few weeks, unknown person(s) gained entry into two different indoor rack storage buildings in South Carolina and stole a total of over 80 GPS units (primarily Garmin) leaving very little evidence of their visit other than large empty holes in the consoles of their unsuspecting victim's boats. Police are stymied and the investigation of these crimes is difficult. While serial number tracking is possible, it usually yields few results.
The thieves target both customer boats as well as new inventory boats. So, what can you do to protect yourself and your customer's boats?
No one wants boatyards and marinas to look like a prison with razor wire around the perimeter, gates, fencing, guard dogs and armed guards. We want our marinas and boatyards to be enjoyable, beautiful, and natural open spaces.
Sign up for the Marina Dock Age newsletter.
Our newsletter delivers the latest news straight to your inbox including breaking news, our exclusive content covering the marina and boatyard industry, new products, and much more.
Unfortunately, that is what the criminals want as well. Fences, like chain link, are no barriers to a thief intent on gaining access to a property. Bolt or wire cutters are in every tool bag of every dirt bag. Here is what they love… fenced in property that is dark, out of site from the roadway, not patrolled, and filled with millions of dollars of high value boats equipped with the latest electronics and outboard power. They don't like lit properties along highly traveled roadways. I used to think they didn't like indoor rack storage buildings, but recent events have proven me wrong.
If the indoor rack storage building is not locked and lit (inside and out) 24/7 with security cameras and motion detection, it is just a petri dish waiting for the bacteria to arrive. Surveillance cameras are strongly encouraged with data storage plans.  The problem with just having a security camera without motion detection is that a video of some dirt bag in a hoodie and sneakers doesn't get law enforcement any closer to identifying a suspect after the theft has occurred. Motion detection is the key to success. Is it a pain? You bet. Do you get false alarms? Yes, you do, if you don't set the system up properly. But if you get together with your security company and plan out a good strategy using good quality equipment, that can be minimized. Bottom line, you want to make it as clear as possible to any crook casing your facility that you have solid and active security protocols in place. Keep your yards well lit and make it painfully apparent that you have motion detection in addition to surveillance cameras. Alter your routines for entry and exit, opening and closing, and set up random spot checks between you and your staff.
The Responsibility Factor
So, what do you do if you and your customer's become victims? Contact the local police department or Authority Having Jurisdiction (AHJ). Don't clean up or touch anything. Don't let your marina staff walk through the area or disturb the evidence in any way until the AHJ has been on scene and cleared the scene or released the scene to you. If your customers' boats have been hit, notify each customer as soon as possible and advise him or her to notify their own insurance carrier. They should individually contact the AHJ and file a report. They should gather any information that they can regarding the identity of the stolen property, such as model and serial number, and provide that to the AHJ.
Are you responsible? This is where your insurance partner comes in. Report your claim to your insurer as soon as possible. If the loss is to your own inventory or business personal property and you have insurance coverage for that, perfect. But you think about your customer's property. You feel responsible. You feel awful that this happened to your customers. I get that. But are you responsible? Most often, the answer to that question is, NO. Let me explain.
Coverage under your Marina Operator Legal Liability (MOLL) policy follows your "legal liability." When you take in the property of others (in this case their boats) and you charge them a fee (rack storage, yard storage, dockage, repairs) you are creating a bailment. That bailment is usually one for mutual benefit. That is to say, you benefit by getting paid something for the service you are providing, and your customer is benefitting from that same service (getting a place to store his or her boat). In layman's terms, this is called Care Custody and Control (CCC). In the case of a bailment for mutual benefit, the bailee (you) owes the duty of reasonable care for the protection and safeguarding of the property being bailed. But what is reasonable care? What is your legal liability? Well, that depends on many things including where the property is bailed, the fee for services rendered, the specific contract terms, the value of the property bailed, and why the property was bailed. Without limiting language in a contract, in essence, your legal responsibility is to provide the same or better care than other similar businesses in your local area. In some states, that is defined as "that care which the ordinary prudent property owner would provide for his or her own property."
Let me pick on my old hometown waterfront of Philadelphia. You would expect that your security measures would be a bit more robust on the waterfront of South Philly than they would be in, say, Booth Bay Harbor, Maine, and I would agree. I would not think that any standard would require the marina or boatyard in Booth Bay (or any rural town USA) to erect cyclone fencing with razor wire, guard dogs and security patrols, but that may just be the standard needed in South Philly. So, your first defense to an adverse liability judgement is maintaining your property in keeping with your peers around you.
Your second defense is making sure that you have no uninsured boat owners. Uninsured boat owners are your worst nightmare. Everything that happens to their boat IS YOUR FAULT whether or not it really is. Each time we handle a claim for losses to our insureds' customers' boats it is the ones that are uninsured that are the hardest, or should I say "most difficult" to handle. That is because they have nowhere else to turn other than to you and your insurance policy. Some boat owners insure for liability only (P&I) and that is fine, but it will not cover them for theft or physical damage, so beware.
Lastly, and perhaps most important, is there signage and exculpatory language in your storage, dockage and repair order contracts? No property of others should be on your property in your care unless you have a signed agreement.
To repeat: no property owned by anyone else should be in your care without a written agreement limiting your liability. That agreement must have language in it that is clearly marked (bold or italicized) that limits your responsibility for things like fire, storms, theft, etc., or anything that may cause damage to the bailor's property. Every state is different as far as this language is concerned, so I would recommend you consult legal counsel on this, but essentially, you are saying that you are not responsible for things outside of your control. It must be signed by the Bailor (the owner of the property) and dated. Post signs at your service desk and around your marina advising your boat owners and guests that you are not responsible for loss due to fire, theft or whatever (recently it was collapse of covered docks due to a severe snow and ice storm). It is unfortunate that we live in a world of warning signs (I'm old enough to remember Five Man Electric Band singing "Signs, signs, everywhere signs"), but that is because we live in a world where it is always someone else's fault.
Additional Safeguards
Some marinas are moving in the direction of having them listed on their customer insurance policies as "additional insureds" which limits the ability of the boat owner's insurance company from subrogating against the marina. This may be a good tactic but it is a nightmare to manage and many insurers are pushing back against this policy. I personally like the approach that some facilities are taking these days by telling their customers that they are leasing a blank space for them to put their boats in leaving the responsibility for the space up to them, but this is not always a possibility. In my opinion, the best protections are a solid hold harmless agreement in a signed contract with each boat owner and then doing your best to "Take a Bite Out of Crime" by executing good security measures and safeguards around your property.
The takeaway here is that theft is on the rise. Cartels are targeting high-end outboards and GPS units. Long gone are the days of happy go lucky marinas and boatyards. Unfortunately, we must all realize that boats and marine equipment are high value targets, and we must act accordingly. In lieu of razor wire, make sure that your customers are keenly aware that even though their personal property is on your property and it may be in your care, that you are not responsible for losses due to theft, storms, acts of God and other things beyond your ordinary control.
Daniel Rutherford is director of Claims and Risk Management for Maritime Program Group, a One80 Intermediaries Company. MPG insures thousands of marine facilities nationwide. He is a Certified Marine Investigator with over 40 years of marine investigation experience. He is a licensed by the New Hampshire State Police as a Private Detective.