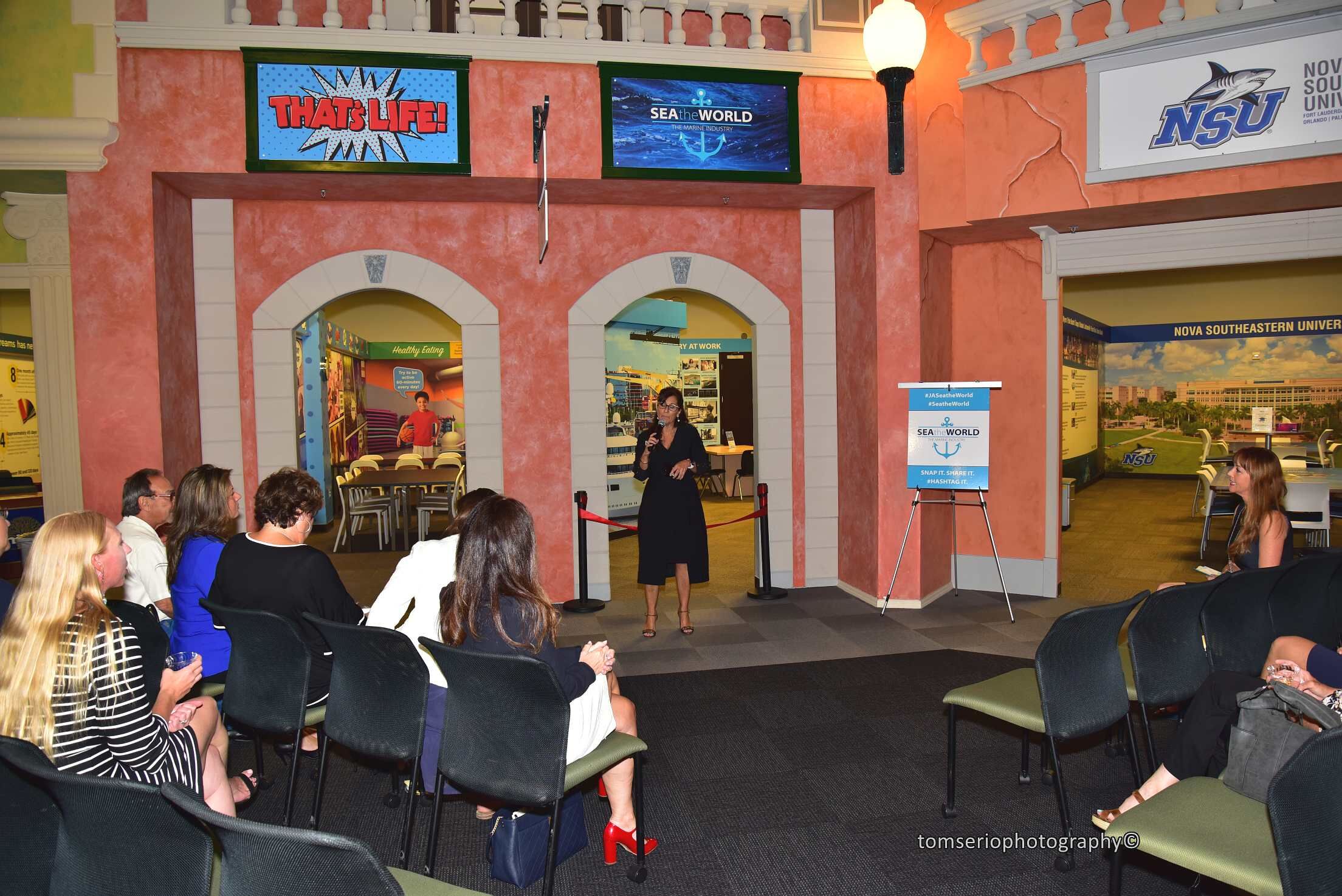 Building a Marine Workforce from 8th Graders to Career Changers
Published on June 28, 2019
The marine industry, like many industries in the U.S., is facing a glut of qualified and skilled employees to fill jobs in everything from boat design to engine repair. To combat the problem several organizations and states are finding creative solutions to not only train students for careers, but also to expose them to the marine industry. Whether it's outreach to high schoolers or curriculum development for post-secondary students, industry leaders are on the move to ensure a future workforce for recreational boating.
Student Outreach in Florida
The Junior Achievement (JA) marine industry storefront, Sea the World, was unveiled on May 1, to introduce students in Broward and south Palm Beach Counties to the careers available in the marine industry and the education requirements for each. But getting the storefront installed in the JA World Huizenga Center at the Lillian S. Wells Pavilion was not an easy task.
JA is a national program for students in kindergarten through grade 12. For students in 8th grade the goal is to teach them life skills and financial literacy, providing knowledge of the working world. The program provides 20 hours of in-school time before they visit the JA center, which is set up as a small town with storefronts representing a variety of businesses. Once the students arrive at JA, they are assigned a job, income, marital status, and more and tasked with making that "life" work.
Upon attending an event for JA, Christine Battles, chief administrative officer of Advanced Mechanical Enterprises (AME) Solutions (a Florida engineering firm) and Megan Lagasse, marine director at Pier 66 Hotel & Marina, realized the marine industry was not represented. While the facility featured many other businesses, from construction to banking to grocery stores, there was nothing related to the marine industry, no opportunity for students to get a job in that industry, despite it being a major economic engine for Broward County and Florida as a whole.
The two women spearheaded an effort to pitch the marine storefront to JA, which was a success, and then to raise the needed $130,000 to get a marine industry storefront installed at the JA facility.
They held an initial meeting for the marine industry and attracted 19 businesses, but lacked representation from shipyards, electronics and some other key industry leaders. After another meeting, 24 businesses agreed to contribute $6,000 each, as well as time and resources to put the storefront together. A core group from AME and Pier 66, along with representatives from IGY Marinas, Marine Industries Association of South Florida (MIASF) and Palladium Technologies, do the initial vetting of any plans and projects and then information is presented to the entire group of 24 for final support.
It took 16 months to complete. The storefront is composed of nine walls representing engine room specialists, yachting professionals, shipyard trade workers and other areas like marina management, boat sales, boat building and more.
"It has the front end and back end. We have office managers, marine lawyers, marketing coordinators and admin along with the skilled jobs," Battles said.
While many workforce training programs focus more on the technical jobs of engine repair, boat building or boat design, the women felt it was crucial to have all jobs represented.
"We're a tight knit community, so if we don't have good people working on the boats at our marina then we're not going to get the customers. We would be nothing without the support. They (boaters) may like the pilots that bring them in or the engineer that works on the boat or the great electrician, who all make Fort Lauderdale and Broward a great support group for the industry including marinas," Lagasse said.
Another value of the storefront is to introduce the students and the 7,000 volunteers at JA to recreational boating and raise awareness that the industry is thriving in Broward County. According to Lagasse, many people right in Fort Lauderdale have no idea the marine industry exists or what it encompasses or they view it as just for the wealthy.
Looking forward, the group hopes to improve the space and extend the outreach.
"We want to add elements to the storefront to increase excitement in the space. We want to make tables that look like boats with bow, stern, shaft, prop, flag—just making it more exciting. We want to add piling and rope, fishing fighting chairs, fishing rods, to make it more visual. We're discussing a two-week marine summer camp for 2020. JA is in full support, but we need to raise more money and the structure needs to be laid out. The kids would visit a shipyard, electronics company, machine shop, take a water taxi tour–doing all things to expose a full array of what the industry encompasses. The storefront brings excitement, but the camp would allow the bonding needed with the industry to create lifelong connections," Battles said.
JA is located in every state in U.S., and Battles hopes other programs in areas where the marine industry thrives, will pick up the marine storefront concept to expand its reach.
Massachusetts Marine Trades
The Massachusetts Marine Trades Association (MMTA) also believes that exposing younger students to careers in the marine industry is a crucial step to securing a future workforce. MMTA has been working to spread the word and ensure that sufficient training programs are in place for interested students.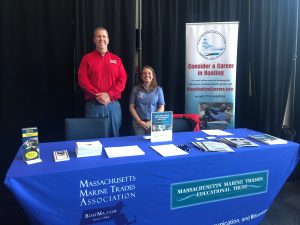 Under the leadership of Randall Lyons, executive director of the MMTA, the association has taken on several activities to support both students involved in the marine trades already and those that are looking for careers.
In September 2018, MMTA secured a $100,000 Workforce Solutions budget amendment from the state that runs through June 2019. The money is targeted to help the Massachusetts recreational boating industry resolve its workforce challenges, including what they identified as the key areas of concern: educational and school support, summer jobs support, recruiting and retaining employees, marketing initiatives and administrative support, and growth.
Over the last year, MMTA has helped develop new marine training programs at Nantucket High School, Essex Agricultural and Technical High School, Greater New Bedford Technical High School, and New Bedford Community Boating.
Nantucket just added the marine sector to its career training programs. Essex and New Bedford have similar 45-hour programs that introduce students to the industry, and both schools are looking to expand their offerings. The Cape schools both have well-respected marine programs that are feeders for many of the marine employers in the state. Both have adopted curriculum from the American Boat & Yacht Council (ABYC), which MMTA was instrumental in helping the schools receive. MMTA collaborated with the Cape schools and Greater New Bedford Regional Tech to introduce the curriculum and assisted with completing the grant applications. These schools are already pushing through about 60 students each year and, with the new offerings that number is projected to grow.
"Bringing in ABYC was an easy fit. Their accreditation is recognized by our members and their reputation is big," Lyons said.
Outside of working directly with training, MMTA actively promotes marine industry careers through a variety of other venues. The group visits with students at partner schools, which are high schools and post-secondary schools that offer training within the industry. They also attend job and career fairs and partnered with the National Marine Manufacturers Association to host a career day event at the New England Boat Show. MMTA also participated in the National American School Counselor Association conference, presenting "Careers Your Students Need to Know About" to about 2,500 guidance counselors from across the country.
Lyons remains optimistic that efforts by MMTA and many others across the country will pay off for the future of the boating industry.
"I believe (workforce training) is the strongest I've seen on a local, state and national level. People are talking about it and focusing on the future of the industry like they didn't before. I am most proud of the collaborative efforts we've made with our state officials, members, employers and job seekers. It's been very positive having everyone work together," Lyons said.
Engine Repair Training in Maine
Steve Arnold, owner of Yarmouth Boat Yard, Moose Landing Marina and Freedom Boat Club of Maine, has struggled year after year to fill jobs at his facilities. As one of the largest dealers of Yamaha engines in the northeast, he took the initiative to learn more about Yamaha's Technical School Partnership Program and liked what he saw.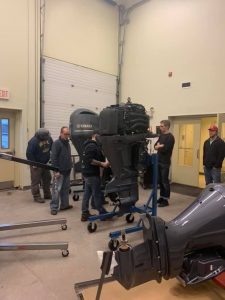 Arnold knew that Yamaha offered an online course and the opportunity for students to go to its Georgia headquarters to dive deeper into the training and eventually receive certification. However, he learned that the program could also be brought to a location through a partner school and tailored to the needs of the businesses in the area.
Yamaha's training is designed to help students develop basic knowledge and skills for outboard motor repair. It includes classroom time and hands-on training on multiple Yamaha outboards, ranging from the F20 to the F200. Yamaha provides schools market-relevant resources, products, certifications and curriculum. Technical schools have marine dealer-level access to Yamaha's business systems, engines, parts and manuals.
Arnold wanted to bring the training to Maine but had to find a school to work with. After reviewing several schools, he found that Southern Maine Community College in South Portland provided the best fit.
"The college has programs for Bath Ironworks – they build destroyers – so it already had personnel and some curriculum in place that we could use. Yamaha had some curriculum we mimicked and otherwise we put some of our own stuff together," Arnold said.
Through the assistance of Maine Marine Trades Association, where Arnold holds a board seat, $45,000 in funding was obtained from the state's Maine Quality Centers program that provides money for training programs. The money was used to develop the curriculum and to provide qualified students free tuition.
The first semester kicked off in April with 15 students, more than the 12 they had hoped for. Arnold said the students were a mix of those who were already employed in the marine trades and wanted to expand their capabilities and those who were transferring in from another career track.
"We cast a big wide net to give chances to everybody. Some kids may work at a marina and want more training, or a ferry captain or someone like a postal worker might want to try the marine industry. There will be a deeper pool of people for boatyards and marinas to pick from. Once they pass, they're certified in Yamaha outboard and their employability greatly rises," Arnold said.
While Arnold realizes that the industry is lacking most in skilled workers, he's also pragmatic about who he chooses to hire.
"You have to fit the organization. I will hire the person first, who you are first, and add skills later. I'm a firm believer you have to fit in. I want to be able to work with you every day and then I'll worry about your skills," Arnold said.