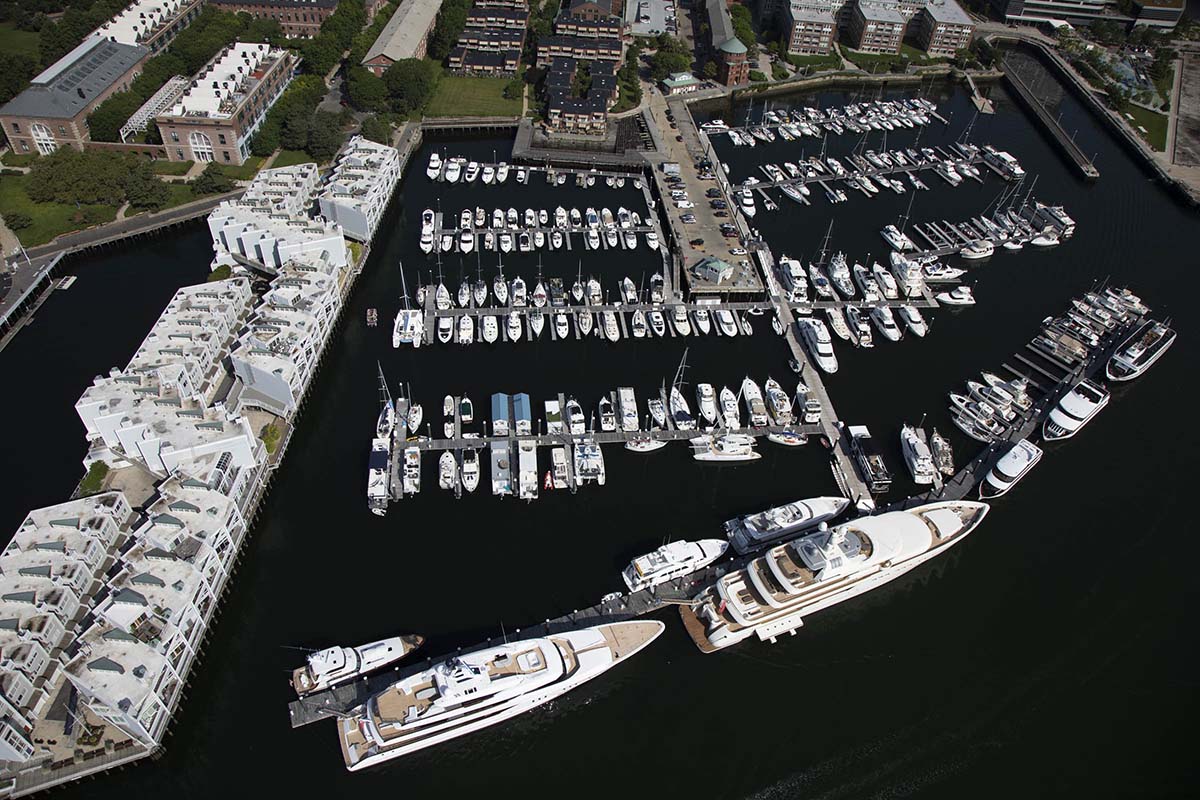 Charlestown Marina Welcomes Boaters Near and Far With a Small-Town Atmosphere Nestled Within Boston Harbor
Published on March 5, 2023
Charlestown Marina is in good company. The facility has some very well-respected and well-established neighbors that have left an indelible mark on U.S. history. The marina is situated in the Charlestown Navy Yard in Boston Harbor. First commissioned by George Washington in 1801, the Charlestown Navy Yard was one of the first shipyards of its kind in the United States and was in operation until 1974. Today, the former shipyard remains home to the USS Constitution, the oldest commissioned warship still afloat, as well as the World War II battleship USS Cassin Young, which is now a museum open to the public.
In addition to these historic landmarks, the Battle of Bunker Hill monument is also visible from the marina; and the Freedom Trail is nearby, where visitors to Boston are able to explore and learn about America's founding. With all of this rich history in its backyard, it might be surprising to learn that Charlestown Marina doesn't date back quite as long as some of its iconic neighbors, but it fits right in. "There was a marina in this location, but it had been condemned by the Massachusetts Department of Environmental Protection, so it was not operational and it was completely uninhabitable," said Chuck Lagasse, principal of Ocean Havens, LLC.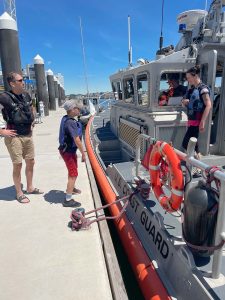 Chuck, along with his wife, Ann Lagasse, founded Ocean Havens, LLC, a real estate company that focuses on marina development and management. They purchased Charlestown Marina in 2014. In the last nine years, the Lagasses have completely rebuilt the marina, which now welcomes transient boaters from New England and mega yachts traveling from around the world. In addition, 60 families call Charlestown Marina home, living on board their boats year-round at the facility. The Lagasses, along with their dedicated staff, have created a world-class facility nestled among some of America's most important treasures, one of the many reasons why Marina Dock Age honored Charlestown Marina with the 2022 large Marina of the Year award.
At the Beginning
Back in 2014, the Lagasses were successfully operating Boston Yacht Haven Inn & Marina in Boston's North End, as well as Fan Pier Marina in the seaport district, and they recognized the need for another marina in the market. "The area was underserved and there was a lot of pent-up demand," Chuck said. "We knew Charlestown could be one of the largest on the east coast and we had faith that being in the heart of the city would make it a successful marina."
When the Lagasses closed on the seven-acre property in October 2014, there were strict state-imposed guidelines they needed to follow. They had 60 days to remove the entire condemned facility, which included 350 slips, hundreds of piles buried in 35-foot-deep water, and remaining infrastructure. Chuck and Ann recall removing 165 tractor trailer loads of demolition material from the facility over a three-week period. After the demolition was completed, construction of the new marina began. "We had a timeline to follow, and as part of the purchase agreement we had ordered the materials, including the docking systems, as soon as we closed, so construction started quickly," Chuck said.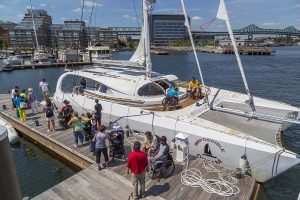 The marina is now home to 15,300 linear feet of floating docks with a 35-foot draft. There are 371 slips that can accommodate all types of vessels, from small dinghies to mega yachts up to 600 feet. The marina is comprised of two piers, Pier 6 and Pier 8. The steel breakwater at Pier 8, which was built by Blue Atlantic Fabricators in their Boston Harbor shipyard, is 900 feet in length and 16 feet wide. The breakwater at Pier 6, provided by SF Marine, is hurricane-rated and is 325 feet in length by 13 feet wide. Both breakwaters protect the inner boat basins and uplands from wave action and storms. Their expanded width allows them to be more accessible and makes loading and unloading easier and safer.
Boaters have access to a fuel dock that also includes a traveling fuel barge for in-slip fuel delivery. A local boat broker, showers, restrooms, laundry, and a mailroom are located upland. Electrical services, water connections, and an in-dock pumpout system allows the marina to perform in-slip pumpouts.
More recent additions include a new floating amenities barge located on the docks that is ADA compliant and includes bathrooms, showers, laundry, and a mailroom. The marina office building has also been renovated, designed to withstand any potential flooding due to sea level rise. All utilities and electrical outlets were raised two feet; and all flooring, walls, and exterior finishes were constructed of water-resistant materials.
Since Charlestown Marina has several sister properties in the area, boaters are able to take advantage of services offered at other locations, including a 50-ton travel lift, workspace for boat service, and dry storage.
Tight-Knit Community
To establish a sense of community at Charlestown Marina, guests and residents have access to over 2,880 linear feet of landscaped public harbor walk, an outdoor lounge, complimentary Wi-Fi, and grilling stations. "There are families who call our marina home. We cheer on the children who live here when they learn to ride their bike down the harbor walk," said Macy Jones, marketing manager for Ocean Havens, LLC. "This is a place where life-long friendships and memories are made."
There is also a 100-foot public transportation dock that is open for vessels to stop and go. It also houses a complimentary water shuttle service provided by Pier 6, the waterfront seafood restaurant located at the marina.
That community atmosphere is especially thriving on Pier 8, where Charlestown Marina's 60 liveaboards reside. Many have lived at the marina since it opened. "They are a great group of people," Ann said. "They really take care of each other."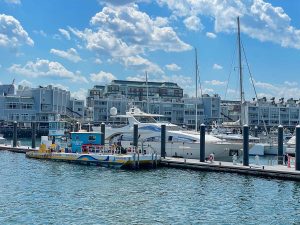 The liveaboard community has access to the in-dock pumpout system, heated winter water, sewer lines that connect to the city of Boston's sewer system, and snow removal is provided during the harsh winter months. The marina offers around the clock security, with cameras and an after-hours security telephone number. All gangways have locked gates and guests must use their key fobs to enter or leave the marina. During the busy season, two overnight security guards walk the property when the marina staff leaves for the day.
Building Relationships
Establishing long-lasting relationships with their customers is extremely important to the staff at Charlestown Marina. Building this trust extends through monitoring customer satisfaction and open communication with all guests.
In addition to face-to-face communication with customers, the owners monitor online reviews of the marina through their Google profile, Facebook page, and industry websites such as Marinas.com, where the marina holds a 4.7-star rating. Jones said the reviews provide feedback on the experience they are providing for their guests, which allows them to assess what they are doing well and what needs improvement. For the 2022 boating season, Charlestown Marina saw an 82% increase in Facebook page likes and a 193% increase in Instagram followers. "We pride ourselves in high quality customer service, so building these relationships is a critical step in monitoring our performance," Jones said. "It is what drives guests to return to the marina."
When Jones came on as marketing manager last year, she presented the idea of utilizing TikTok as a means to communicate with their customers. Jones uses TikTok to post about the facility, as well as events that take place at the marina and around the Boston area. "TikTok has connected the community in another way," Ann said. "We have had captains and customers who say they enjoy looking back at TikTok videos from past events. It helps us promote the marina and get everyone thinking about boating."
Jones said that she is also thinking about the next generation of boating when she posts on TikTok. "I want to foster a new love of boating for the next generation, so as they get older and establish their careers, they'll turn to boating as their passion."
Reliable Neighbor
Charlestown Marina also takes its role as a good neighbor seriously. The facility is involved in the Boston community and takes part in many noteworthy events including Massachusetts' Kids in Boating and Fishing week. Last season, the marina hosted an event for children and families to visit the facility and board a variety of boats, including a Coast Guard ship, a fire boat, and a Boston Dragon Boat.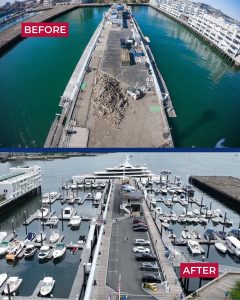 Each year, the marina also provides dockage for a 10-day visit of the Impossible Dream, a 100% accessible catamaran that offers free sailing tours to patients of hospitals, nursing homes, and veteran organizations. "We look forward to this event every year," Ann said. "This is an opportunity for people who have never been on a boat to experience it and take a tour of Boston Harbor. Our staff gets as much enjoyment out of the event as the attendees do."
What Comes Next
Despite a number of obstacles facing the recreational boating industry, including rising fuel prices and inflation, Charlestown Marina is forecasting another growth year. Chuck pointed to the number of transient contracts already signed for the season as a reason to be optimistic. With prices for fuel and commodities continuing to increase, the marina doesn't intend to raise rates at this time. "We fully expect to face challenges this season," he said. "But we are optimistic because we have the capacity in dockage to keep rates steady and the ability to welcome boaters well into the future."