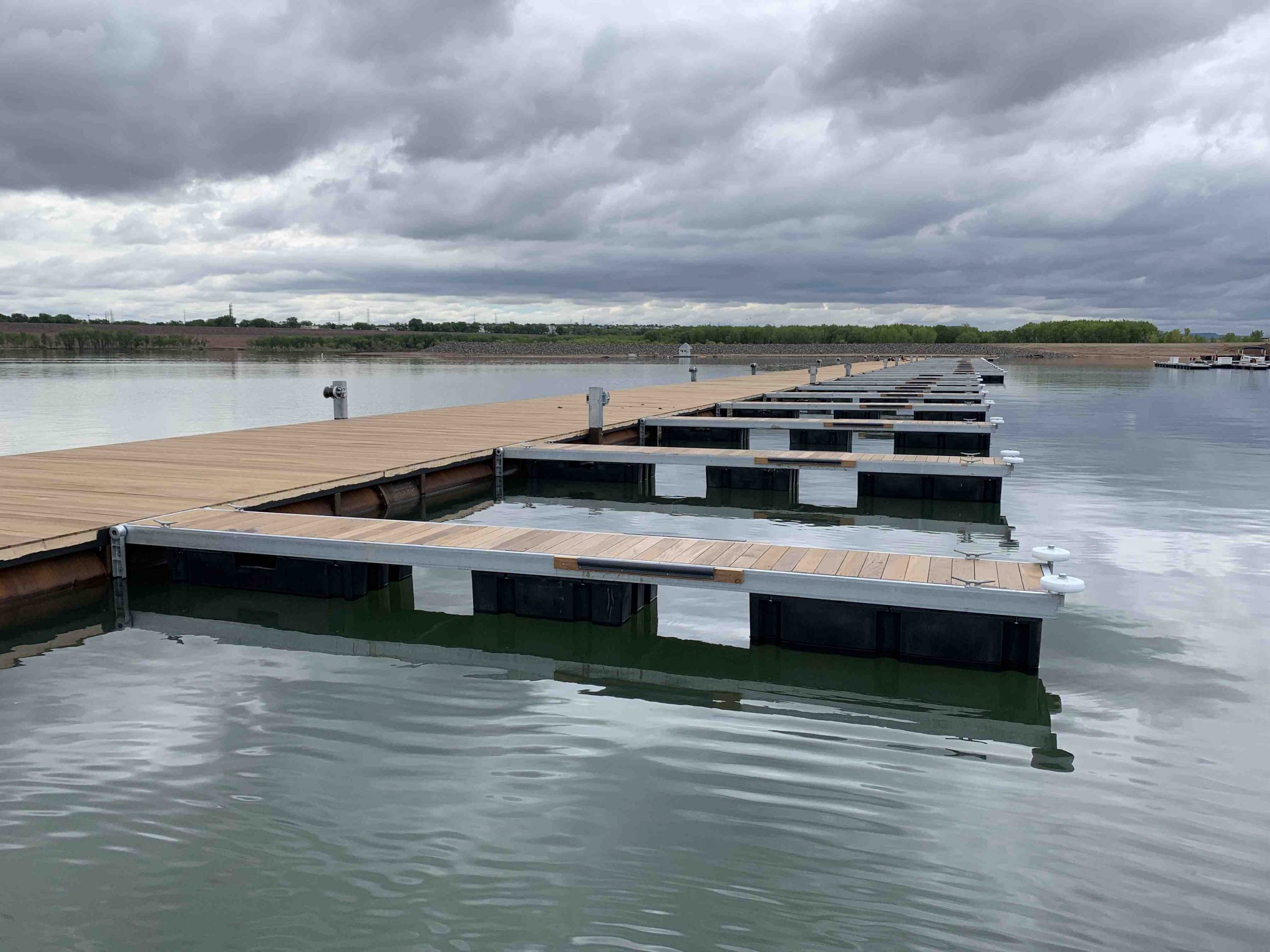 Chatfield Marina Completes Major Reconstruction
Published on April 29, 2021
Chatfield Marina is located on the Chatfield State Park Reservoir in Littleton, Colorado. The reservoir is a source of fresh drinking water for the area and provides opportunities for recreational activities as well.
When the marina's lessor, Colorado Parks and Wildlife (CPW), decided to renovate the marina, it wanted to ensure that the new docks were suitable for the environment and aesthetically pleasing for boaters and members of the surrounding community. The docks also needed to closely match the footprint of the previous docks, which dated back to the 1970s.
CPW chose Bellingham Marine as its renovation partner. The project included the design/build of the marina docks, a wave attenuator, a 20-foot x 100-foot fuel float and a floating platform.
The most challenging part of the project was designing a dock and anchorage system to meet the 60-foot water depth fluctuation as required by the Army Corps of Engineers, according to Jim Engen, Bellingham Marine's manager of project development. The company's system combined SeaFlex, an elastic and environmentally friendly mooring solution for floating applications, and Helix anchors, a system allowing for optimum protection of marine wildlife and habitat. This provided a rust-resistant system that does not allow chemicals to seep into the surrounding land and marine environments. The structure was assembled using fewer moving parts than a winch-and-cable system, creating a smaller environmental footprint than concrete blocks.
Sign up for the Marina Dock Age newsletter.
Our newsletter delivers the latest news straight to your inbox including breaking news, our exclusive content covering the marina and boatyard industry, new products, and much more.
Chatfield Marina's outer dock, which is 16 feet wide and uses 36-inch steel pipe as flotation, was designed to help mitigate wave action in the marina. The 6,500-square-foot match-cast, post-tensioned platform serves as a foundation for the marina's office, a restaurant and a store.
The marina features 58,000 square feet of hand-laid Ipe decking. Bellingham also constructed the marina's dockside utilities, electrical, mechanical and fuel systems.
The Chatfield Marina features 325 seasonal slips as well as courtesy docks for an additional 25 watercrafts.  A portion of the marina is utilized by CPW for law enforcement patrol boats.
Construction on the marina began in June 2018. Over the course of the project, CPW made several additions to the original contract, pushing Bellingham Marine's completion date back to March 2021.