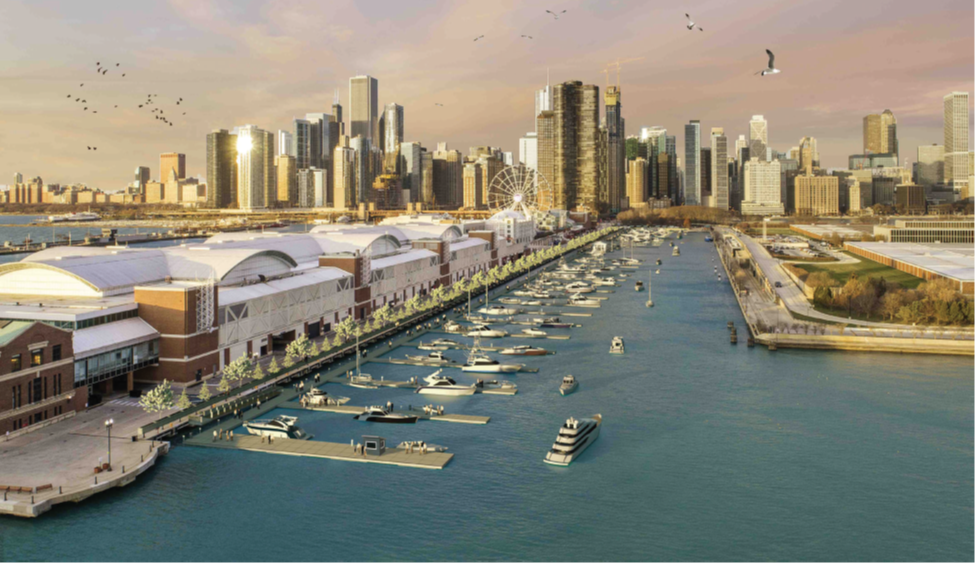 Chicago's Navy Pier to Open Transient-Only Docks in Spring 2021
Published on March 2, 2020
A full-service marina designed specifically for transient boaters will be opening in the spring of 2021 on Chicago's Navy Pier.
Navy Pier Marina is the result of project developer Randy D. Podolsky's long-term vision and determination to bring the project to life. "I boated in Chicago for eight years, and one of the reasons that I stopped was that there's nowhere for recreational boaters to tie up that's easy, convenient and offers a lot of amenities," Podolsky said. "It was really important for me as a boater to get this transient marina on the books. There are 6,000 boats in the Chicago harbor system itself and thousands more in the areas around Michigan.
"For over 35 years I have dreamed about being able to moor at Navy Pier for lunch, dinner or an overnight stay," he added. "Since the project's approval by Chicago's City Council in 2016, we have worked non-stop to bring the project to the people of Chicago, and all boaters who yearn for access to Navy Pier from the water."
As the only transient marina on Lake Michigan, Navy Pier Marina will be able to the serve the growing number of boaters' groups that want to rendezvous as well as the boat dealers looking for space to stage vessel showcases. "At a marina like ours, we won't have resident marina [boaters] who we will have to kick out to get the big groups in," Podolsky added.
The marina will be able to accommodate vessels up to 130 feet and will offer about 7,000 feet of broadside mooring on an hourly, daily or weekly basis. It will welcome boats of all sizes (no minimum requirement), and will have secured, after-hours entry, 24-hour staffing, WiFi, and a boaters' service building with a lounge, laundry, washrooms and showers. There will be electrical, water and pumpout services at each slip, and a fuel dock.
The Navy Pier itself encompasses more than 50 acres of parks, shops, restaurants, attractions and exhibition facilities, with most located on its south side. Podolsky said the marina will bring new life to the Pier's north side, which until now has been used primarily for services. The marina's three gangways will provide easy access to all of the Navy Pier attractions.
Podolsky said he would like the marina to put Navy Pier on the map as the premier boating destination for Lake Michigan boaters, "Loopers" and visiting boats from other Great Lakes, as well as those transiting from the oceans to the Great Lakes.
Navy Pier Marina will include wave attenuating dock structures to mitigate wave action from Chicago Harbor's inner break-wall boat traffic and winds. In mid-January, the marina developers were looking at a variety of floating dock options from various manufacturers. Podolsky hopes to order the docks by June with the goal of holding a grand opening in the spring of 2021.
The project is being developed for Navy Pier by NPM Venture, LLC with design and engineering by Edgewater Resources. It will be built with private funding.