Clean Marina Programs Report Slight Increase for 2019
Published on May 4, 2020
With a history stemming back into the 1990's, Clean Marina builds awareness and recognition of marinas that are following best practices and regulatory requirements to help sustain and improve the environment. Each year Marina Dock Age surveys state Clean Marina program managers to track Clean Marina program numbers, what new programs have been implemented, and the overall state of the programs. Results this year show Clean Marina is maintaining a presence, but expansion is slowing.
Clean Marina Numbers
The total number of Clean Marinas across the country grew slightly this past year, led by states like Florida and Maryland that were pioneers of the original program. See the large chart on this page for a state by state breakdown.
Clean Marina programs are continuing to both certify and recertify facilities that voluntarily comply with the aspects of the program.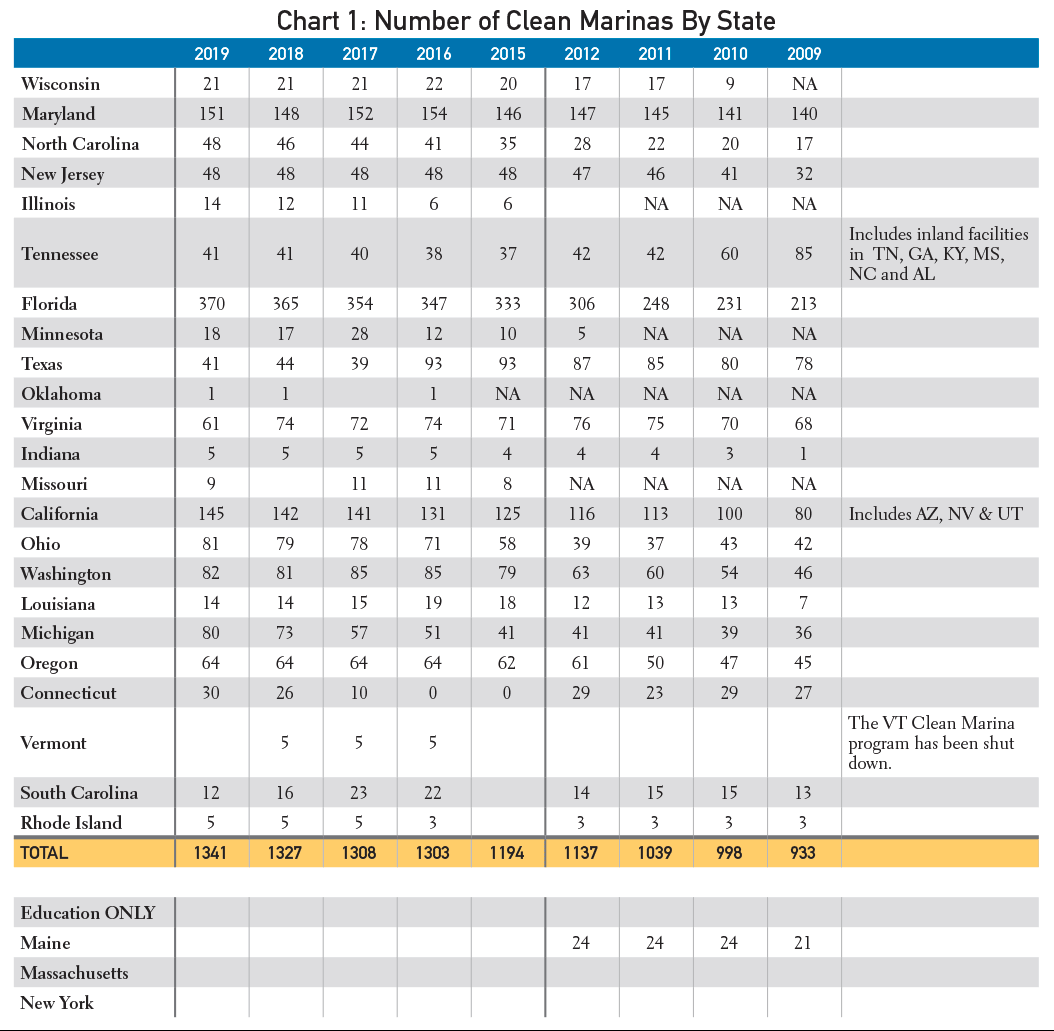 Funding
Clean Marina began along the East Coast fueled by funding from the Coastal Zone Management Act, but has since spread to all areas of the country. What hasn't spread is the funding. This year the majority of program managers (85.7%) report 2019 funding has stayed the same, compared to the previous year. See Fig. 1.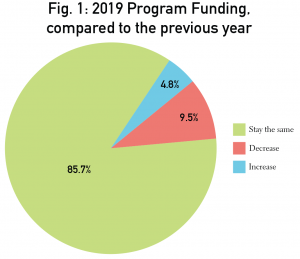 Staffing
Staffing is also a challenge with most programs showing they have no dedicated staff (55%) and 41% reporting just one staff member assigned to Clean Marina. Only about 5% of programs have up to three employees.
Certifications
The majority of programs (56.5%) only certify marinas; some certify boatyards too; and a small number certify other marine businesses. See Fig. 2.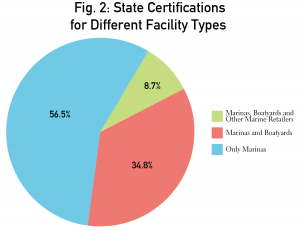 The majority of programs (52%) certify both inland and coastal marinas, and 35% certify just freshwater. See Fig. 3.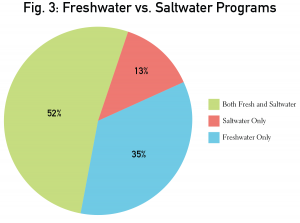 New
Program managers were asked what new initiatives were started in 2019, as well as what plans the programs had for the future. Several states (Virginia, Oklahoma, Washington and Rhode Island) are in a transition period, either overhauling the program or changing staffing. Ohio and Michigan are working toward building efficiency by recruiting "volunteer" staff. For the Ohio program, that has meant the start of a train the trainer program, targeting teachers, naturalists, aquatic education people, who want to learn how to conduct site visits at marinas and educate potential Clean Marina facilities. Michigan started a Clean Marina ambassador initiative where existing certified Clean Marinas, work with those looking to certify.
Minnesota was able to grow its program this year by focusing on the lakes in the central region of the state for the first time. One new marina was certified for that region, and they plan to do more in the upcoming year. Florida also grew its program, as Clean Marina was rebranded to become part of the Office of Resilience and Coastal Protection. This expanded the program's marketing power and reach.
Maryland began to focus more on marine debris in the past year, particularly targeting boaters to ask them to consider reusable boat covers instead of shrinkwrap. Marinas moving to reusable covers can provide a profit center from the sales, repair and storage of the covers.