Clifton RV and Marina's Owner Sets Out to Build up Business Along the Tennessee River
Published on September 28, 2021
You could call it a twist of fate, divine providence, or a cosmic lattice of coincidence—but whatever circumstances brought Stacy Huntingford to become the owner of Clifton RV and Marina in Clifton, Tennessee, it was meant to be. "I believe everything happens for a reason," she said. "My whole life has been this amazing second chance; everything I do seems to be connected."
Originally from North Bend, Washington where she grew up fishing, Huntingford spent nearly 20 years working in California. After the passing of her parents, she and her husband Christopher talked about moving to Tennessee, where her sister lived, and possibly buying a farm with plans to open a farm-to-table business. But the farm plans were put on hold in September of 2018, when she stumbled across a marina for sale during a search for a truck to purchase on Craigslist. Clifton RV and Marina's 85-year-old owner was ready to retire and put it up for sale. "It seemed to be calling my name," she said.
The Huntingfords chose to visit a marina in Rock Island, Tennessee, to determine if this was something they should pursue. She then made a trip to Clifton and, although it was a bit neglected, could see its potential.
"I couldn't have gotten in to see it at a better time. It was at the end of September, and the weather was beautiful. I spent quite a few weekends going back and forth. It's on the Tennessee River, it's gorgeous, it's wonderful. It was this little diamond in the rough," she said.
While she was still in negotiations to buy the marina, the largest flood since the 1970s hit the region; the river was almost 50 feet over the banks. Though Huntingford was devastated, she learned something about resiliency and that you must be prepared for any unforeseen event.
Sign up for the Marina Dock Age newsletter.
Our newsletter delivers the latest news straight to your inbox including breaking news, our exclusive content covering the marina and boatyard industry, new products, and much more.
The same perseverance and vision that led her to purchase the marina in the first place gave her the determination to see it through. "This is what we had to work with, and we will move forward and make it the best it could possibly be. You have floods, you have tornadoes, you have snow, you must be prepared for everything. Anything can happen, and it is all how you handle it. You have to keep a level head," she said.
Luckily, the marina did not sustain any major damage from the flood, just minor issues with trees under the docks and a few broken water pipes. The marina was closed during February and into March 2019 due to the flooding. Huntingford said since seasonal flooding is a concern, they monitor water levels daily to ensure they have enough time to evacuate. "We have a solid evacuation plan in place in case we need to cut the power to the marina," she added.
Well-Traveled Destination
The Tennessee River is the largest tributary of the Ohio River and is approximately 652 miles long; it runs through the scenic city of Clifton, which sits on a bluff overlooking the Horseshoe Bend section of the Tennessee River. Huntingford said the marina is busy year-round. "We get a lot of regulars that come back quite a bit; we see over 100,000 people each year. You can have nearly 6,000 people at the river just on a weekend. We get the loopers that come through—people that have big, huge yachts that come through just after the hurricane season heading to Florida, like snowbirds on a boat," she explained.
She draws a huge influx of people from all over the country, including many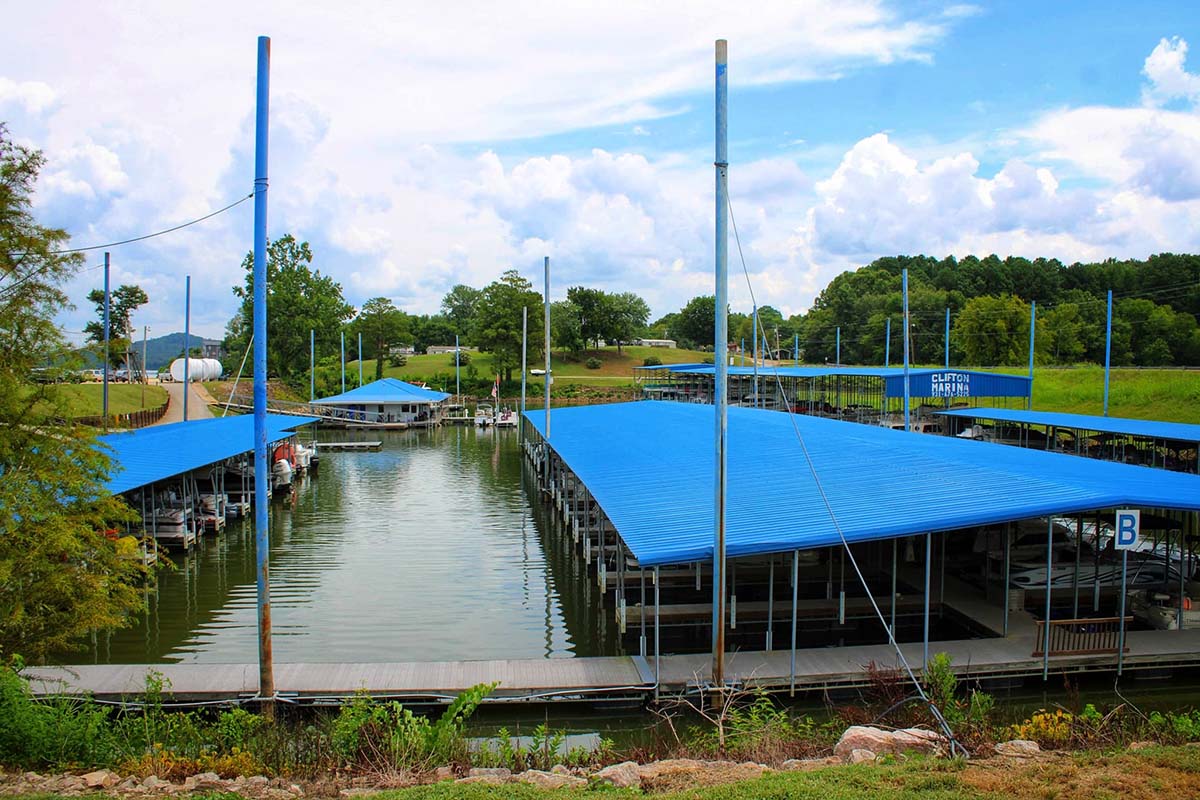 from the Pacific Northwest and California, and really from all over the world.
The marina has 74 slips that range from 24 feet to 60 feet; a fuel dock; 50/30/125-amp service; free WiFi; laundry facilities; a bar and grill; and ship's store. The RV park has 15 spaces including one cabin and a residence RV for people who are looking to buy an RV. "They can stay in ours and see how they like it," said Huntingford. Guests can also rent pontoons, and the river attracts many people for fishing.
A restaurant was not part of the facility when Huntingford purchased the marina. She tried providing upscale options to loopers to see what the small marina's capacity could handle. For the first time in its history, she procured a liquor license for the marina and had a bar constructed to serve drinks. As her husband joined her in 2021, they agreed on expanding the kitchen and creating a restaurant menu that was expanded to offer steaks and seafood. All of this along with live bands providing entertainment all weekend has made Clifton a premiere river destination. This year, they hope to offer dinner through the fall and winter.
Women at the Helm
Even in 2021, the marina world is still male-dominated. Except for her husband, a few general maintenance workers, and one cook, everyone that Huntingford hired to work at the marina are all women, which includes her 75-year-old mother-in-law. "We do everything—the shopping, the cooking, the retail. We dock yachts all day long," she said.
Huntingford herself takes on the large tasks to the everyday minutia, from cooking to fueling to answering phones and everything in between. Currently, she has about 10 employees, though she said she would be happy to hire another 10. She said the crew is one of the reasons why visitors return to the area repeatedly. She also sits down with most of the customers to get to know where they came from and why they are visiting Clifton. "It's customer interaction and it's a love of what you do, a love of your area, and people getting along that leads to a successful business" she said.
Supporting the Community
Because of the nature of the marina business, with its ability for people to maintain social distances on their boats, the pandemic did not adversely affect the Huntingford's business—quite the opposite. COVID-19 prompted many people to buy RVs and boats, which led them to Clifton RV and Marina. "All of our slips have been full," she said.
Though the culture and feel of Tennessee is much different from where she was living in California, Huntingford immersed herself into her new home, getting to know many residents and even becoming a city commissioner for Clifton.
Huntingford interacts with various organizations to help increase tourism in the area in general, including a river line project called "Keep Tennessee Beautiful," where she adopted a river mile and on a quarterly basis, helps pick up trash on the river. To help continue to attract visitors both to the region and to the marina, she is working with the town to build an amphitheater with a concession stand so that they can help host big events.
This year, she is looking forward to organizing the marina's second annual Clifton Community Harvest Festival, to be held at the end of October, complete with craft vendors, food trucks, and activities for the kids.
She also has some improvement plans in store for her 60 acres of land, including doing some renovations to the RV park as well as putting in some walking and hiking trails across from the marina.
For all the twists of fate that it took for the Huntingfords to end up at the helm of Clifton RV and Marina, it gives them immense joy to interact with the customers and learn about their journeys, and they know this is exactly where they are meant to be.