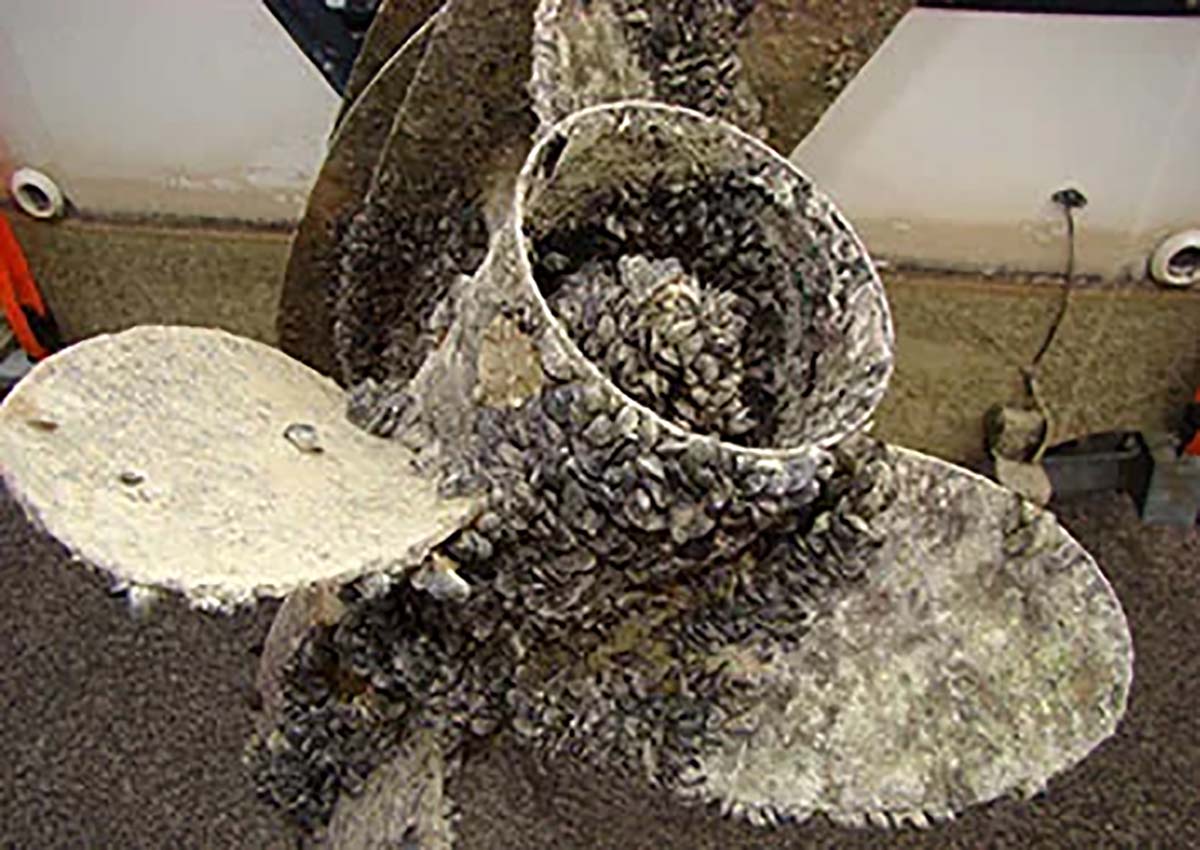 Combating Aquatic Invasive Species
Published on August 23, 2022
Aquatic Invasive Species (AIS) are nothing new to the boating industry. For years there have been reports of outbreaks, infestations, and ongoing threats from these interlopers. Marinas are well-versed in Clean, Drain, and Dry campaigns, and boaters have accepted inspections as part of the boating routine. But where do things stand today on the threat from AIS and what is being done to combat the spread?
The term AIS most often brings to mind zebra or quagga mussels, but certain types of plants, insects, reptiles, and even pathogens can all be considered invasive. According to the National Park Service, in the United States, there are more than 250 non-native aquatic species that arrived from other countries and 450 non-native species that travel between America's waterways. Overall, the problem caused by AIS is that they outcompete native species and alter natural ecological processes. On a more direct basis, they can degrade or close waterways, clog drains, foul props, and rudders, and ruin a day on the water for many boaters.
Work on the Federal Front
The 1996 National Invasive Species Act authorized regulation of ballast water from ships, particularly targeting zebra mussels and Eurasian Ruffe, and provided funding for prevention and control research, and education and technical assistance programs. But the transport of AIS by ship is just one part of the problem, a fact that is finally being recognized by lawmakers. In late July, the Senate passed the Water Resources Development Act (WRDA) which includes funding for more resources to combat invasive species. This bipartisan legislation authorizes investments in the U.S. Army Corps of Engineers projects and programs, and AIS often falls under the purview of the Corps.
According to Clay Crabtree, director of federal affairs for the National Marine Manufacturers Association, recent action has been the result of constituents and user groups bending the ears of their congressmen to share their worries as lionfish take over Florida, invasive carp hit the Great Lakes and southeast, and zebra and quagga mussels continue to spread throughout the west.
Sign up for the Marina Dock Age newsletter.
Our newsletter delivers the latest news straight to your inbox including breaking news, our exclusive content covering the marina and boatyard industry, new products, and much more.
"When I meet with congressional staff, the issue always comes up. Right now, there are existing programs that get funded through the appropriation process and go to 15 different agencies to combat invasives, but clearly that's not effective," Crabtree said. "Trying to fund 50 states with 50 different plans doesn't work. There is a lack of coordination, communication, and adoption of best practices. This needs to be improved, especially on the federal level."
One of those agencies that receives funding to combat AIS is the ANS (aquatic nuisance species) division of the U.S. Fish and Wildlife Service which has undertaken several projects and initiatives designed to prevent introductions, stop the spread, suppress existing infestations, and early detection through surveillance and monitoring. But existing surveillance techniques can only detect large AIS populations, often identifying the problem when it's too late to stop it. Research is underway to improve surveillance technology where it recognizes a small invasion allowing removal of the small population before it can expand its reach.
The Boating Industry Steps Up
The boating industry has been working on the AIS issue for some time. Through channels like Discover Boating and BoatUS, educational efforts on how to clean boats properly and best practices have had an impact on awareness of the issue, while work done several years ago through the NMMA, BoatUS, and the American Boat and Yacht Council to develop standards and recommendations for the design of recreational marine equipment have helped to minimize the spread.
The BoatUS Foundation helped with the original drafting of the Clean, Drain, Dry campaign, and Alanna Keating, director of outreach for BoatUS Foundation, sits on several committees across the country that partner on ways to educate the public and industry about AIS and means to help minimize impacts. AIS touches all aspects of aquatic recreation. "Every state, every water body needs a lot more attention and understanding around the impacts of AIS and the importance of protecting the habitats that we have," Keating said.
With this in mind, the outdoor recreation industry, led by the efforts of the Theodore Roosevelt Conservation Partnership, launched a Blue Ribbon Commission to help stop and reverse the spread of AIS in the U.S. Recognizing that AIS are spreading at a rate that is unsustainable for the country's waterways, and that federal and state efforts to date have cost more than $100 billion annually and been largely ineffective, the group of resource managers, policymakers, biologists, and environmentalists, plan to review existing mitigation efforts and identify more effective solutions. "The point of the Commission is to take into consideration all the different stakeholders and aspects of the problem. Not one person or one agency can solve this multidimensional problem. It will take looking back at former recommendations to see what worked and could be replicated as well as listening to the public and each other about what the best recommendations might be," said Keating.
The Blue Ribbon Commission first met during the ICAST fishing industry trade show and plans to hold several more listening sessions over the next few months. Subcommittees have been formed around different aspects of AIS such as the science, legislation, and recreation. These groups will continue to work outside of scheduled meetings with a plan to reconvene everyone to share findings and recommendations, shape a vision, and then send a written report to Congress and the Administration early next year.
The Public Can Help
In the meantime, states and localities are taking some creative approaches to educate the public about and help eliminate invasive fish in particular. The New York State Department of Environmental Conservation's (DEC) Aquatic Invasive Species Landing Blitz, a campaign in conjunction with seven Great Lakes states, six Northeast states, and six Canadian provinces, informs the public about the risks of AIS. Last year the blitz reached 139,000 boaters and 1,100 public and private boat landings across the Great lakes region. The DEC added digital marketing of AIS issues and Clean, Drain, Dry, and Disinfect methods to the blitz this year to further expand its reach that has previously relied only on inspections.
The Columbia River system of the Pacific Northwest has been plagued by walleye and pike which were both illegally introduced to the river. The walleye have been present since 1960 when they were stocked in Lake Roosevelt in Washington and began migrating up river. Pike are believed to have migrated from a lake in Montana to the river as recently as 2009. To help stop the spread, a fishing derby specifically to catch these species is held on the Columbia River. Entries register on a mobile app that tracks catch size, count, and location. The captured data helps fisheries researchers better understand these fisheries and how they can be stopped.
Efforts such as these will be part of the research by the Commission. "Because there are no size or catch limits, it's fun to capture invasive fish and bounties sometimes do work. We want to learn when and why and build from that to find prevention, control, and mitigation strategies that work on a larger scale," Keating said.