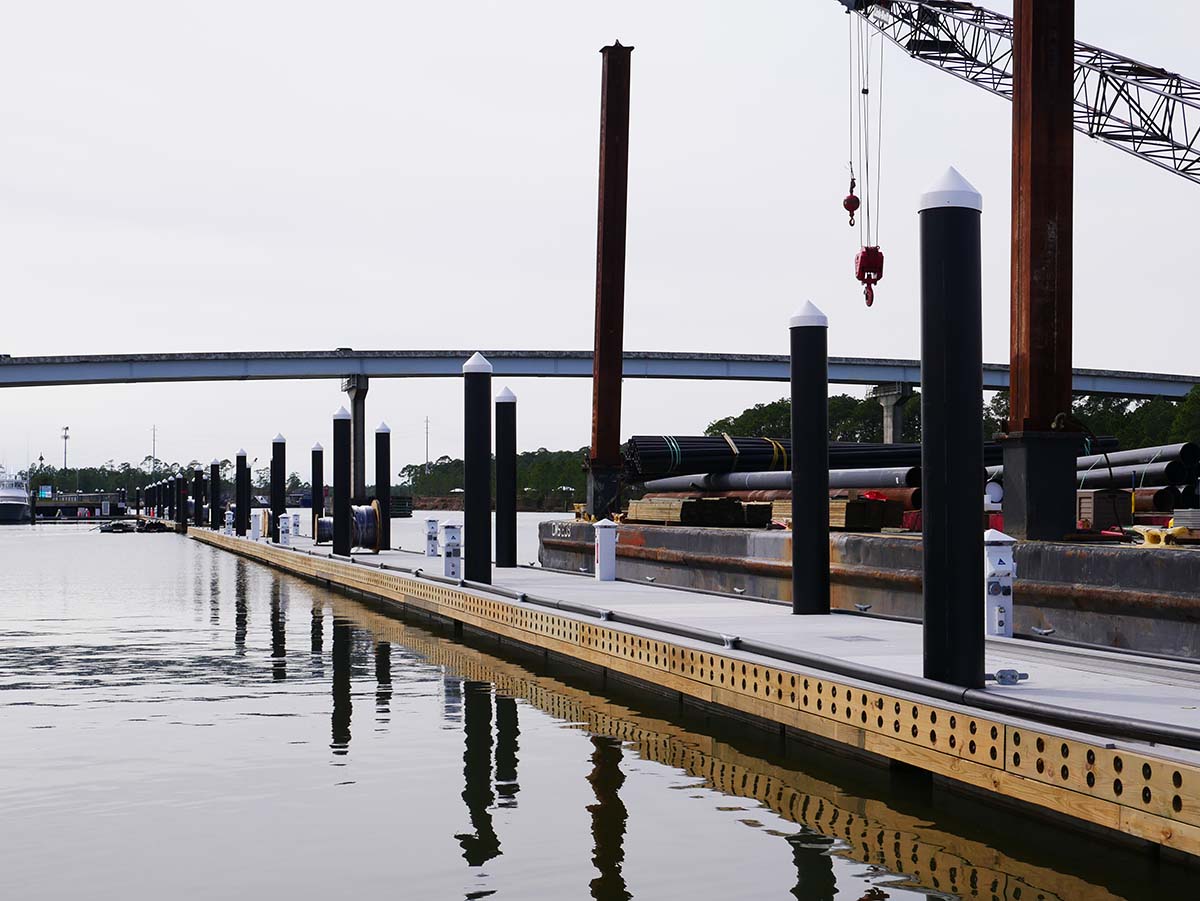 Construction Complete at Orange Beach Marina
Published on May 1, 2023
Since Hurricane Sally's widespread destruction in the fall of 2020, the Wharf Entertainment District of Orange Beach, Alabama, has largely recovered. The Wharf Marina experienced damage to an outer attenuator, prompting several recent improvements performed by Bellingham Marine (BMI).
The first phase of construction began in October 2022 with the replacement of the outer wave attenuator section and fuel docks, reaching completion in spring of 2023. Bellingham redesigned the fuel dock to accommodate an additional two slips that hold a total of nine fuel-dispensers (three high-speed diesel pumps, three gasoline pumps, and three additional diesel pumps) making The Wharf Marina fuel facility the largest fuel system on the water along the Gulf Coast. A complete full-service center, each of the three fingers of the fuel dock contain a sanitary sewer hydrant, with an additional four hydrants located on the adjacent Dock G.
Major modifications to the marina utility systems were added due to the influx of larger vessels. These design considerations resulted in the addition of 3-phase power and an overall increase in the number of power pedestals. Bellingham Marine Utilities installed new electrical service to the outer docks, including 30A, 50A, and 100A single phase, with 3-phase power added to Dock G for larger vessels. Marina Electrical Power (MEE) supplied the power pedestals and substations, while Bellingham Marine Utilities performed the electrical installation with assistance from McGonigle Electric of St. Augustine.
All plumbing system upgrades were performed in-house by Bellingham Marine Utilities. BMI installed their Unifloat® concrete dock and wave attenuation systems with Synthetic WearDeck® board applied on top of the walers, pile guides, and triangle frames to provide a clean, finished look. Jacksonville-based, Harbor Marine Dock Company assisted with the pile driving and construction with their vice president, Weston Merkel, playing an integral role as onsite foreman.
Sign up for the Marina Dock Age newsletter.
Our newsletter delivers the latest news straight to your inbox including breaking news, our exclusive content covering the marina and boatyard industry, new products, and much more.
The marina is host to several local fishing tournaments, including the Orange Beach Billfish Classic and the Blue Marlin Grand Championship. To better accommodate the fishing tournaments, the marina owner and Coastal Marina Management Group, suggested a fish crane, which BMI custom designed and installed using a 30" steel pile with 36" HDPE sleeve as well as the mounting hardware.
Aside from the fishing tournaments, the Wharf Entertainment Area offers multiple entertainment venues including an amphitheater, restaurants, bars, and retail stores. The 2023 season promises to be an exciting one as the marina wraps up construction and prepares to welcome back fishing tournament-goers, boaters and visitors to Orange Beach.