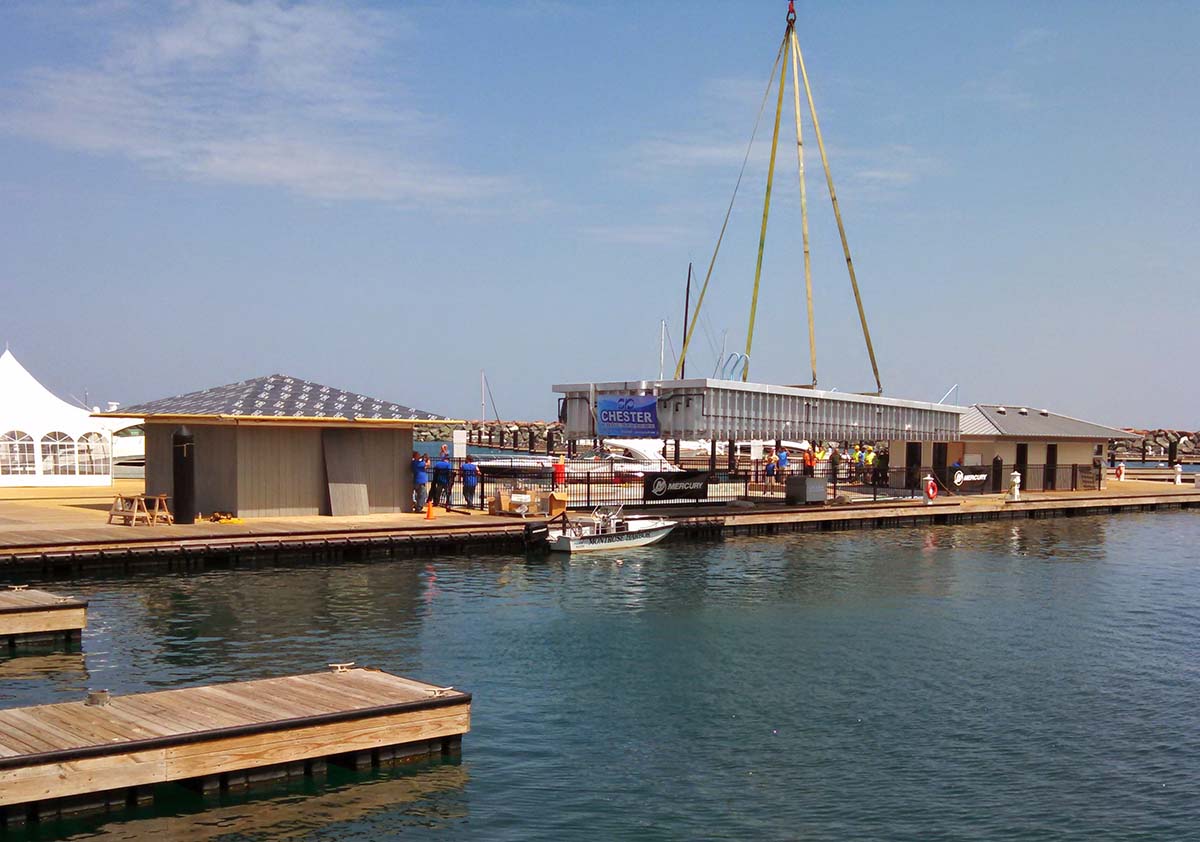 Creativity, Culture & Connectivity – The Winning Trifecta of Marina Marketing
Published on July 1, 2022
Marinas located in communities with multiple marina options know all too well the importance of remaining competitive. Attracting and retaining new members is always top of mind and marinas of all sizes — in all locales — should strive to provide patrons with amenities both elemental and innovative in nature. An excellent way to reach that goal is by incorporating the three 'C's of marina brand marketing: Creativity, Culture and Connectivity.
Creative Design
Creative marina design can manifest in a variety of ways: unique amenities, new twists on common infrastructure or themed aesthetics. After all, marinas act as second homes to many boaters and club members, so the more inventive and engaging the atmosphere, the more attention it may garner. As waterfront engineers, we're seeing an ever-growing interest in designing and constructing marina gathering spaces such as floating pools, tiki bars, and event/party decks.
One of the first floating swimming pools in the country is located at the Alton Marina in Alton, Illinois — built in 1995. Perfectly situated along the city's riverfront, this marina is a popular destination along the Mississippi River. It is also a distinctive waypoint for recreational mariners traveling the "Great Loop," a 6,000-mile circumnavigation of the eastern portion of the United States. All marina structures, docks, large swimming pool and surrounding decks at Alton are fully floating, with an adjoining hot tub, spa, bathhouse, and outdoor patio prime for parties and relaxation.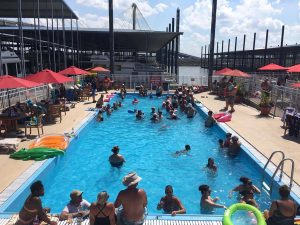 MSA team members were involved with the initial development of the 31st Street Harbor marina and basin in Chicago, which features its own unique floating aluminum pool and tiki bar. Surrounded by a concrete dock, this pool is dimensionally designed to fit within a "doughnut hole" in the concrete dock structure. The pool measures 20×60 feet and was designed with Chicago's winter season in mind. When the pool is filled, it sits flush with the deck of the platform. When the pool is emptied for winter, the aluminum insert is able to freely float at its natural level in the icy harbor waters of Lake Michigan beneath it — independent of the surrounding dock system. Completed in 2014, 31st Street Harbor has slips for 1,000 boats and has transformed an underutilized three-acre property into a beloved multiuser recreation destination.
Sign up for the Marina Dock Age newsletter.
Our newsletter delivers the latest news straight to your inbox including breaking news, our exclusive content covering the marina and boatyard industry, new products, and much more.
When developing conceptual designs for upcoming renovations at the Milwaukee Yacht Club, MSA utilized digital design tools such as the architectural 3D rendering software program, Lumion, to help club managers and members envision a wide array of possible amenities, including an on-site tiki bar and updated outdoor lounge areas with new color palettes and landscaping.
The beauty of employing digital design technology is that it allows potential projects to be viewed and assessed in an amazingly realistic format, within the precise dimensions and footprint of the spaces at hand. Imaging programs offer the ability to experiment with different types of marina amenities or trends, to virtually "try on" the look and placement of a tiki bar, outdoor pool or hot tub, tennis court, remote office space, small amphitheater or stage, "yard game" areas or gardens — along with corresponding colors, textures, and project materials to ascertain which aesthetic the customer likes best.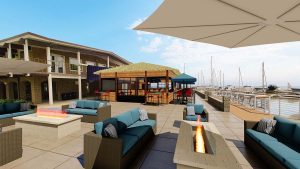 Marinas certainly do not need to establish a specific theme for their property. Often, a reliable default is simply "nautical." Yet more and more, marinas are seeking out that brand differentiator and making a conscious effort to tie together materials, colors, and finishes throughout the property: among piers, docks, buildings, parking areas, supportive service areas, utility pedestals, and green spaces. As well as within marina logos, signage, and apparel, etc.
This can be as simple as choosing one color palette and being concise in its application. Matching the color of land-based buildings to floating buildings, coordinating the color and material of roofs, establishing a cadence of shapes and hues along walkways, flowers and plantings, selecting corresponding colors and finishing touches for light fixtures, utility covers, and dock boxes, to name a few. Working with an experienced professional landscape architect or architect can be helpful in tying all of these elements together and creating a space that is uniquely yours.
Attractive Marina Culture
While a cohesive marina aesthetic is certainly helpful in establishing "curb appeal," a thriving marina culture with a variety of programming and community events is what will entice members to stay.
Fostering this culture requires the infrastructure to support it. If your marina would like to generate additional revenue and attract a broader range of user types, consider investing in a dedicated rental and storage facility for small crafts such as sailboats, stand-up paddleboards (SUPs), kayaks, wave runners or canoes. Also consider building out community event spaces, music stages, grilling areas, and party plazas. Whether starting from scratch or embarking upon a marina renovation project, incorporating these options early in the planning process will ensure a design that delivers a winning end product along with all the requisite support systems: mechanical, electrical, plumbing, fiber optic, stormwater, security systems, fire protection, and more.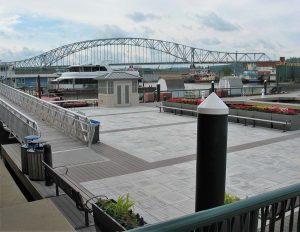 The Port of Dubuque Marina is a 70-slip transient marina in downtown Dubuque, Iowa on the upper Mississippi River, nestled in the protective and historic Ice Harbor. The marina features an expansive floating event deck integrated into the dock system with illuminated gangways that usher guests down to the water's edge. The deck has become a true destination for marina members and locals alike, with a stage and ample room for grilling, music, and socializing.
Connectivity
Today's marinas must also support a digitally connected audience, with the goal of serving the technological needs of its members now, and into the future. This "smart marina" approach means keeping track of the latest trends in digital infrastructure and leaving room in the plan — and budget — to support what comes next.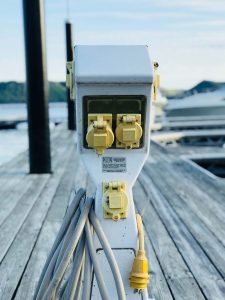 An essential first step is providing broadband connectivity to marina members. Modern boaters expect the ability to be online, whether for business or pleasure, so ensuring high-speed internet access across the full marina property is imperative. This level of connection is also helpful in integrating marina security, lighting, and surveillance systems, which most members and visitors have come to expect. Marinas should also be well-equipped to handle an increasing demand for power, particularly as the size and number of boats continues to grow — and should be set up to track and bill for individual power consumption.
Finally, the era of the electric boat is upon us. There are at least a dozen electric boat companies already in business, with new manufacturers, models and technologies unveiled at an impressive cadence. As with e-vehicles, electric boats are particularly piquing the interest of a younger demographic who laud their zero-emission output and quiet operation. Pair that with soaring gasoline prices and the practical elimination of the routine maintenance of gas-powered engines, the electric boat suddenly becomes a very attractive candidate to a broad spectrum of ages and demographics. Marinas would be wise to plan for and invest in basic electrical infrastructure, in preparation to meet the needs of this growing market.
Three 'C' Success
Incorporating the three 'C's of marina marketing doesn't need to be an immense endeavor. Study the competition and see what niches are ready to be filled. Then identify immediate and long-term goals and make a plan to achieve them. Consider installing key infrastructure such utilities, broadband, and smart technology early in order to set the stage for future expansion. And work on building a marina "vibe" and unique amenities that will intrigue, attract, and retain members. In today's active market, it is these creative nuances that will help your marina stand out from the crowd.
Dan Williams, PLA, ASLA, AHLP is senior landscape architect at MSA. He can be reached at dwilliams@msa-ps.com.