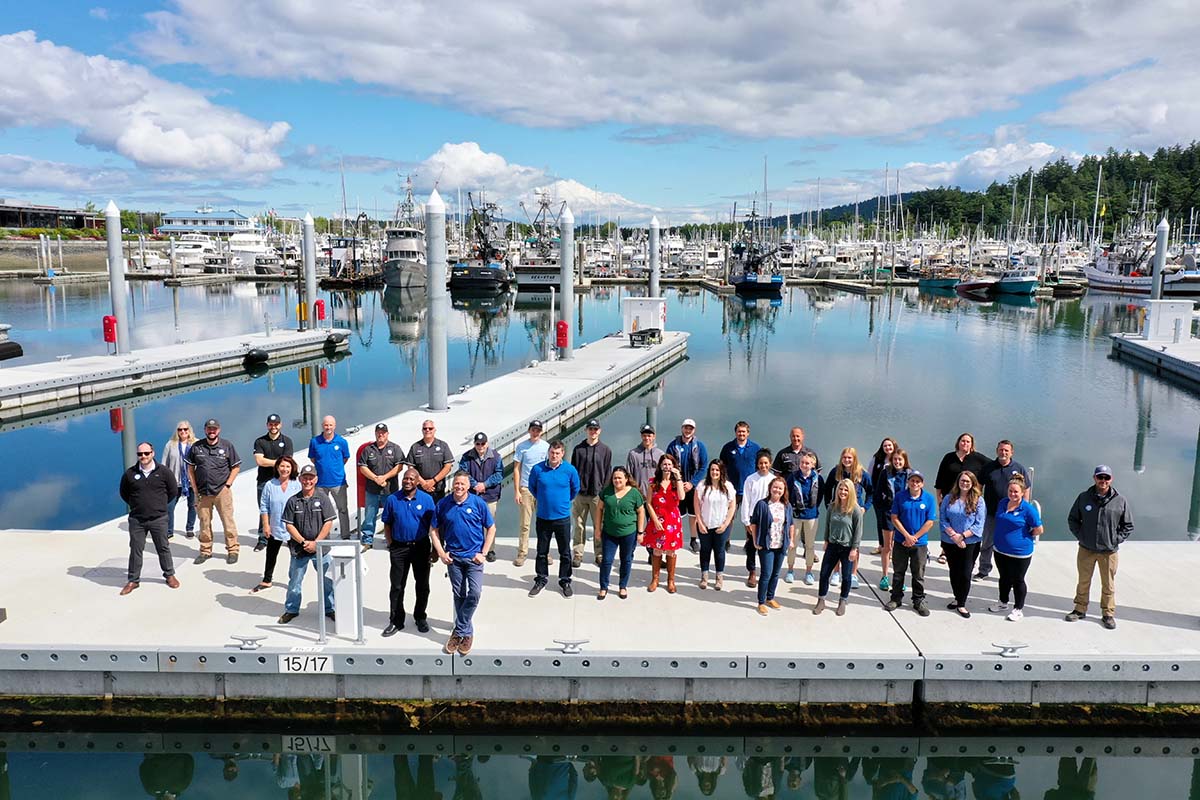 Customer Service Starts With Hello
Published on March 5, 2023
When a marina is one small part of a large port operation, it could be easy to overlook the public-facing recreation hub in favor of more critical functions. That could not be further from reality for the Port of Anacortes, Cap Sante Marina. The focus on the marina's customers is so sharp, that Marina Dock Age presented the 2022 Marina of the Year Customer Service Award to Cap Sante Marina.
On Fidalgo Island, on the shores of the Salish Sea, Cap Sante is a central feature of the Port of Anacortes, in Anacortes, Washington. The Port, considered a municipal corporation overseen by a Board of Commissioners, spans across 80 acres and houses the Anacortes Airport, the Marine Terminal, Properties, and the marina.
Finding the Perfect Balance
Dan Worra oversees all operations as the Port's executive director, a position he's held since 2015, following a 24-year career in the U.S. Navy. Worra believes his role and that of the team at Cap Sante is to reflect the Port's mission to make the community a better place, find a balance of work and family that works, celebrate diversity and learn from it, and finally have fun.
Cap Sante Marina is the second largest marina in Washington and the most visited marina in the state, serving its customers with more than 1,000 slips, available for nightly, monthly, long-term, and liveaboard lease. It has an array of amenities including an onsite restaurant, dog park, boat rentals and charters, boat sales and brokerage, and a nearby RV park. The marina also offers free concerts, complimentary bicycles, outdoor games, beaches, and nearby hiking trails.
Due to the high demand at Cap Sante, the harbor office is a high-traffic, fast-paced environment. With so much activity on one site, finding ways to communicate with staff and customers effectively and efficiently is critical. The staff relies on regular meetings as well as electronics to share information among themselves, but when it comes to customer interaction a bit more goes into it. "Our communication with customers is a balance of ensuring they get quick, correct information while giving them the space to enjoy their time at the marina," Worra said.
In-person is ideal, but not always feasible. For emergencies such as power outages or closures, the marina uses software called AlertSense that sends out communication blasts to all the marina's permanent tenants. This saves the staff from having to contact everyone individually and prevents customers from getting overwhelmed with calls or emails.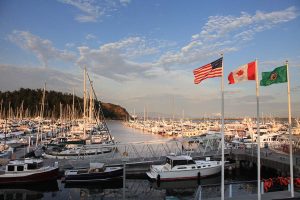 The staff is meticulous in managing customer accounts and waitlists and the marina has instituted a policy whereby permanent moorage customers can make their slips available to guest boaters while their slip is unoccupied. This allows more guest boaters to stay in the marina and the slip owners receive credit back. Worra said using unique programs such as this, along with always focusing on relationship building is what keeps guests coming back year after year and what keeps a long waiting list. "Our customers' satisfaction is our greatest endorsement, so excellent customer service is the baseline for everything we do. We believe that every aspect of a guest's stay provides an opportunity to improve their Cap Sante Marina experience, from the cleanliness of the bathrooms to the dock attendants maintaining trash patrol and catching lines from boats to assist with docking," Worra said.
Learning from Others
The team at Cap Sante is encouraged to learn from those outside the marina. This means staff does at least three marina visits each year, particularly to some of the 75 ports in the state, to learn from each other and share solutions. "Marinas in the port world are very cooperative knowing if we all do better people will boat more and we'll all float. We're not competitive," Worra said.
The ideas Cap Sante has adopted from those visits are many. For instance, after seeing the abundance of flowers at Sydney by the Sea in British Columbia, the Port of Anacortes decided they would also hang flower baskets from lampposts. They started with a pot on every other post as they were concerned about the manpower needed for watering, but they invested in an extra large water tank, mounted it to one of their carts, and found the job was simple enough that they now hang flower baskets from two sides of every pole within the facility as well as around the upland buildings. Worra said customers regularly comment on the beauty of the Port and marina. Another adopted idea was to give postcards signed by the entire marina staff to each visiting boater on the last night of their stay. "We give them this personal thank you that lets them know we appreciate them being here," Worra said.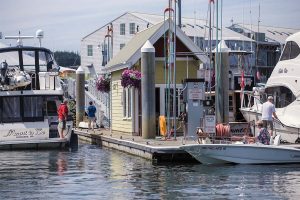 Sharing both good and bad experiences across marina facilities is valuable. Worra said he'd been hearing from some of his guests that they wouldn't stay at a particular marina because the bathrooms were not clean and didn't feel safe. Worra shared these comments with the facility owner who took the information to heart and overhauled how he managed the bathrooms resulting in happier customers. "The 75 ports get together at least twice a year to share information on our marinas. I also recently had lunch with a neighboring private marina, and we swapped information on our rates, dredging, and how we could help each other. Realistically there will be no more marinas able to built in Washington so we're trying to have a level of cooperation knowing we need to work together to protect our infrastructure," Worra said.
Part of the Larger Community
Being a part of the community in which it sits is also a component of the Port's customer service initiatives. The marina annually hosts both the Anacortes Boat and Yacht Show and the Pacific Northwest Race Week which are some of the largest events in the area. During the summer, concerts are scheduled each week and other random events for holidays like Veterans' Day and Christmas are also held. Recognizing the importance of environmental stewardship, the Port also hosts environmental clean ups, and has allowed students, educators, and researchers to use the property. Recently, a local school wanted to use the marina to teach students how to use underwater drones and determine if they were a useful tool for surveying boats for damage, cleaning, zinc changes, and more. The Port offers special rates for use of their facilities for those doing maritime education.
Worra is quick to point out that the success they have with customer service is due to the employees. "I give all the credit to the people out there doing the job. No one person is any more important than anyone else. Our award was won by the people out on the dock and in the office," he said. Not only is Cap Sante a welcoming place for boaters, but also for those who work there. Worra said they have very low turnover and when there is an opening they receive an abundance of qualified applicants because word has spread that it's a great place to work. "My mantra is 'mission, family, work hard, have fun' and if everyone follows that they'd be happy," Worra said.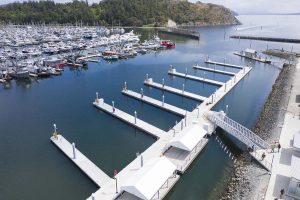 The Port focuses on diversity in hiring across personality, gender, work experience, age, and more. They strategically try to not hire the same types of people recognizing that hiring people with different backgrounds and strengths expands the knowledge and experience base. This hiring practice is true for full-time and seasonal employees. Seasonal employees are incentivized to stay throughout the season with a $1,000 bonus, a practice they took from the Port of Skagit. That amount increases to $2,500 if they plan to use the money to further their education and jumps to $3,000 if that education is in a maritime field.
At the root of its excellent customer service is the requirement that all employees must say hello to customers before the customer says hello—a key point of the mandatory customer service training that staff receives. "It's these little things, a hello and friendly smile, that grow into a reputation of being friendly," Worra said.
While he commented that he and all the staff were proud and excited to win the Customer Service Award and be recognized nationally, they are already validated as having more visiting boaters than any other public marina in the state and with a 95% satisfaction rate among their visitors. For Cap Sante Marina, that initial "hello" goes a long way.