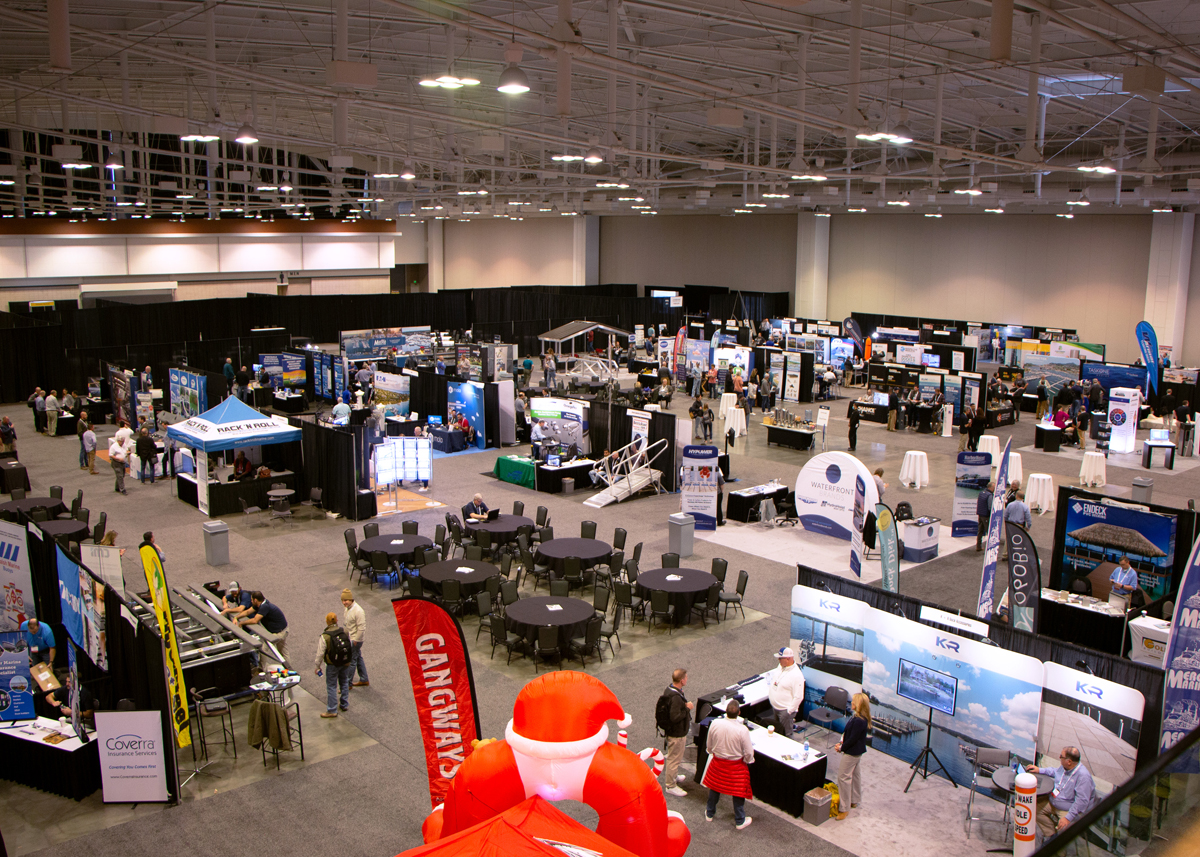 Docks Expo Returns to Nashville for Annual Conference
Published on January 18, 2022
Marina Dock Age magazine hosted The Docks Expo in Nashville from November 29 to December 1. The annual conference returned for 2021 after COVID-19 led to a virtual education event last year. Marina and boatyard representatives, industry suppliers, and manufacturers reconnected at Music City Center for education seminars and networking. One hundred eight companies had exhibits on the trade show floor and more than 25 speakers shared their professional expertise as part of the education program. Marinas attended from 45 states, and international attendees and exhibitors traveled from Canada, Slovenia, Argentina, Curacao, Mexico, and Sweden. There was also a 14% increase in attendees compared to 2019.
Marina Dock Age also presented the awards for the 2021 Marina of the Year. For more information on the large Marina of the Year, Northshore Marina, turn to page 6.
Keynote: Taking Action
Roxanne Rockvam, general manager of Rockvam Boat Yards Inc. on Lake Minnetonka in Spring Park, Minnesota, delivered a keynote speech on Monday, November 29. Rockvam's presentation "Save Money, Make Money!" pulled from her experience operating her family-owned facility and highlighted some of the difficulties facing marina management. She addressed the theft and employee performance issues she has dealt with over the last few years. After determining that a small group of employees were stealing from the marina by altering credit card slips and forging customer signatures, Rockvam and her management team adopted a series of new protocols to prevent theft. "We also realized that we needed to listen to our customers more. By listening to their compliments and complaints we might have caught on to the theft much earlier," Rockvam said. "We now watch out for self-tipping, we check signatures, and we work with our employees to keep business moving forward."
By listening to their customers, Rockvam said they made improvements to the facility, which led to an increase in profits. "We asked our customers what we could do to make them even more happy. They said they wished we had an asphalt parking lot. So, we paved our parking lot, and those customers are visiting more than ever before," she said. "Our customers also love the floating mats, which are extremely popular among boaters right now. So, we decided to include them with our boat rentals, allowing us to increase our rental prices by $500. By providing what people want we have been able to increase profits."
Sign up for the Marina Dock Age newsletter.
Our newsletter delivers the latest news straight to your inbox including breaking news, our exclusive content covering the marina and boatyard industry, new products, and much more.
Rockvam also highlighted some of the cost-saving techniques the marina has implemented. "We now use an app for dry stack storage, which eliminated the need for a dedicated employee to answer phone calls. We also have access to wholesale items, which allows for bundle pricing on products such as bottled water and other things we sell in our ship's store," she said. "By fixing basic things like leaking water hoses, installing security cameras, and offering reward miles and geofencing, we are able to save money and make money."