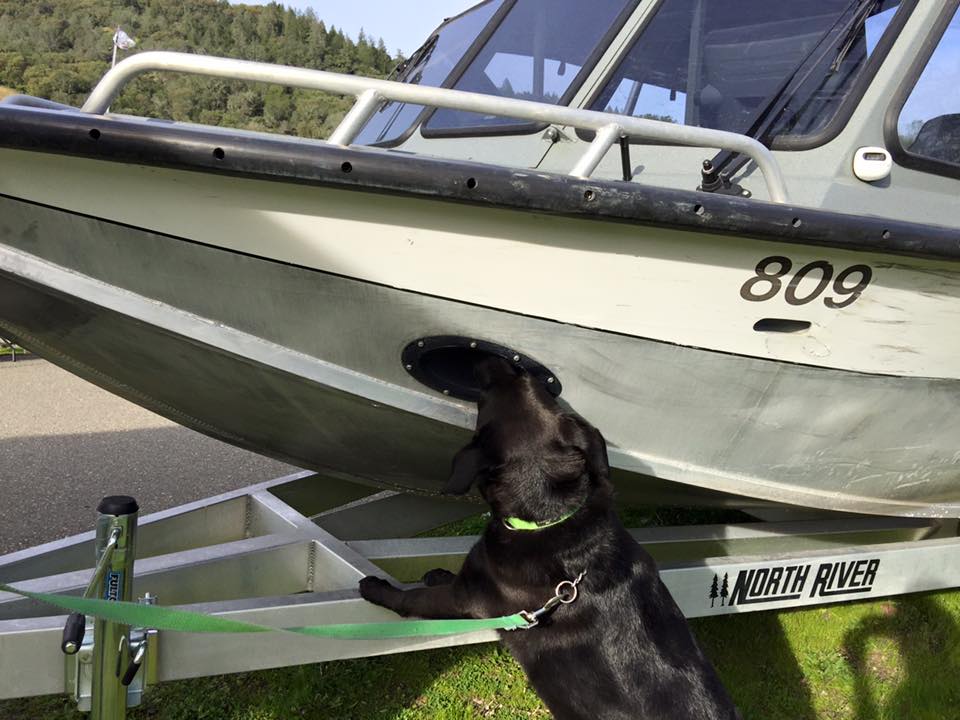 Dogs Can Be Highly Effective Mussel Inspectors
Published on April 30, 2018
While many would argue that dogs are man's best friend, it could also be argued that they are mussel's worst enemy. With waterbodies across the country being infested with evasive mussels such as Quagga and Zebra Mussels, vessel inspections are on the rise in an attempt to keep these waterborne pests out of popular waterways. Properly trained dogs are proving to be effective inspectors and are slowly becoming the best weapon in the war on mussels.
Debi DeShon identified early on that dogs have an innate ability to sniff out mussels and are better at finding them than their human inspector counterparts. Originally involved in training detection dogs (primarily drug sniffing dogs) her knowledge of dogs and training them to sniff out contraband would lead her to the innovative new field of mussel dog training.
In 2007 and 2008, Lake Meade got an infestation of invasive mussels and as a result, the California Department of Fish and Wildlife began training their dogs to sniff out these invasive mussels on boats before they entered non-contaminated bodies of water within the state. DeShon had a friend who worked at a lake where the Department of Fish and Wildlife was going to do a demonstration of its mussel dogs and thought she might be interested in seeing them for herself. She attended and saw for the first time how well dogs worked at finding well-hidden mussels. DeShon identified the early potential for more dogs to be trained and operate at the wide variety of lakes at risk. She formed her own company in 2008 and went to work on getting her dogs trained.
Initial Permits
DeShon explained that initially things moved slowly as it took her two and a half years to get the permit to possess the mussels necessary to train her dogs. She explained that there had never been a request for possession of these mussels for training before, and rules and conditions had to be created in order to grant a permit. Finally, by 2010, she had her first fully trained dog.
Sign up for the Marina Dock Age newsletter.
Our newsletter delivers the latest news straight to your inbox including breaking news, our exclusive content covering the marina and boatyard industry, new products, and much more.
She spent that time learning all she could about the mussels that she and her K9 partners would be detecting. She knew well enough how to train the dogs and their handlers but wanted to fully understand the evasive species she would help fight against. Once she was granted the permit and was able to possess mussels for training things started moving at a faster pace, and now she has multiple dogs and trainers working across many states.
Because of her extensive knowledge and experience training mussel dogs, DeShon had also asked to been involved in formal published studies that proved dogs were exceptional in finding even microscopic evidence of mussels hiding in the tiniest crevices of vessels. Mussels in the veliger stage (an early stage in their lifecycle) are so small they cannot be seen by the human eye and left undetected, with a possible lifespan of up to 30 days (in the right conditions) can enter a new body of water via a contaminated boat and potentially infect that water body rapidly. Each mussel can lay millions of eggs that all have the potential to become breeding mussels growing exponentially. Before long an infestation can take hold, if these microscopic veligers go undetected. DeShon explains that once a lake is infected, there is no way to get rid of the mussels, but boats can be decontaminated reducing the risk of spread. Thoroughly cleaning a boat using water at a temperature from 120 to 140 degrees can kill and effectively decontaminate an effected boat, rendering it safe to enter uncontaminated waters.
DeShon's company Mussel Dogs is working six dog and trainers in multiple states and can train more when needed. She explains that every state and every lake is different when it comes to combating mussels. Some lakes are doing nothing to eliminate the threat of mussels because they are mostly in the early stages of awareness. Some just have signs and others have full-blown inspections and decontamination facilities. Lakes such as Lake Tahoe have extensive inspections and now do banding of vessels. Once an inspected boat exits the lake it is banded to the trailer. If the band is intact the next time the boat visits the lake they are permitted to launch without having to get inspected again. There is some reciprocity among some lakes with banded boats but because of differences in inspection standards from lake to lake, it is not as widespread as DeShon would like to see it. She hopes that will change in the future with more widely accepted inspection standards.
With seasonal contracts at several lakes in California, as well as in neighboring states, DeShon is going to have a busy season this year. Clients include county parks and recreation departments, utilities, grant funding from various sources, water management agencies and even the National Park Service. She and her crew of dogs and handlers work throughout the boating season, which is roughly May through September, and the dogs continue training throughout the off-season. A typical work day includes an eight-hour shift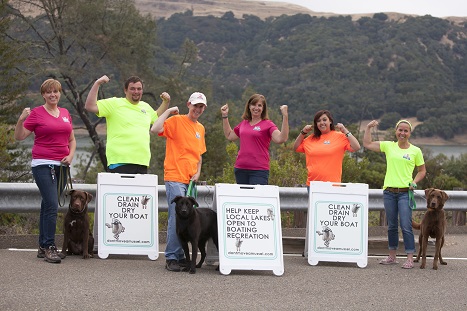 with dogs inspecting anywhere from a handful of boats to 120 a day. The dogs wear boots to protect their paws from the hot asphalt and although trained to sit when mussels are detected, on hot days they stand and stare. According to DeShon the only requirement to be a good potential mussel dog is the need for it "to be absolutely ball crazy." The dogs must have a huge drive to play and are rewarded with a ball and play when mussels are detected. Many of her current dogs are labs, but she has trained other breeds and even trains appropriate rescue dogs for the important work.
Generally, the public is very receptive to the dogs and if not at first, they soon become so once they know what the dogs are doing and the importance of mussel detection. DeShon has deliberately designed a big and fun logo, and her trainers are always wearing bright florescent clothing so they are not mistaken for dogs sniffing for contraband. The inspection itself is also usually a better experience with dogs, as opposed to humans. The dogs are walked around the trailer and never put a paw onboard. Humans on the other hand often need to climb aboard to check areas such as the bilge. With dogs the inspection is over in a minute and a half, as opposed to 10 to 15 minutes with a human inspector. DeShon has proven time and again in demonstrations that the dogs are far quicker and better at finding mussels than humans that are given clues along the way as to where the mussels are hidden.
Not only do DeShon's Mussel Dogs do detection work, but her company will also train other departments' dogs, as well as attend seminars, conduct educational presentations, lectures and speaking engagements. DeShon is passionate about bringing awareness to the devastating effect of mussels. Having her furry friends working beside her certainly brings attention and a smile to those willing to listen and learn. To learn more about her work and her dogs she can be reached through her website at musseldogs.info.