Economics Expert Dr. Lynn Reaser Discusses the Global Economic Outlook for 2020, Trade Deal with China, and Impacts on the Recreational Boating Industry
Published on February 24, 2020
Editor's Note: In October 2019, Lynn Reaser, Ph.D, CRE, chief economist at the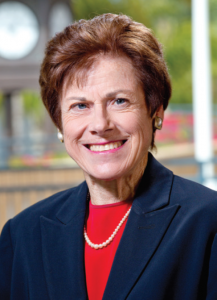 Fermanian Business & Economic Institute at Point Loma Nazarene University, presented at the Marine Recreation Association conference in San Diego. This Q&A article is based on that presentation and additional interviews and conversations with MDA Editor Anna Townshend.
Question: How does the global economy impact what happens with our economy? Why should U.S. businesses pay attention?
Lynn Reaser: What's happening here is wrapped up with what's happening around the globe, essentially every single industry. You can't think of yourself as a silo. You have to understand all the forces that are coming your way, so you can be prepared.
In terms of the global economy, it's not doing that well. The number of manufacturing companies that say things are getting better vs. the number that say things are getting worse shows we're in the negative realm, though not as dramatically in the red zone as we were back in 2009.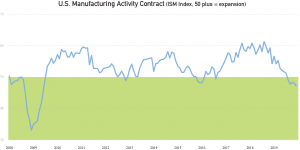 Fortunately, the non-manufacturing part is doing OK, but it's hard not to be concerned about the softening we see in the manufacturing sector. This is due to a few things, including issues with China. Even before the trade wars, China was having issues with a lot of debt in its economy. Now, what has turned into a significant trade war has been devastating to China, and it has serious implications for the U.S., as well as other countries.
Q: Why is China such a significant factor in the global economy? What brought on the current trade war and tariffs?
Reaser: Let's step back and look at the big picture. Back in 2017, we had advisors in the White House saying what we really needed to do was reduce the trade deficit with China. That was one of the primary priorities. We were running a deficit of around $375 billion. We were exporting about $130 billion and importing more than $500 billion worth of goods. We established the first set of tariffs on China in 2018, then several more. Then, what happened in 2018? Well, our imports actually went up, and our exports went down. As a result, our trade deficit actually widened in 2018 to more than $400 billion.
What happened in 2019? Well, trade plummeted. We saw our exports down about 10 percent, and imports were down about 15 percent from China. Imports have picked up from other countries, but trade with China has plummeted. The trade deficit has shrunk, but it has been at a very significant cost to consumers and to a lot of companies.
Q: What does a trade deal with China mean for the U.S. economy?
Reaser: The U.S. and China's agreement on Phase One of a trade deal is very significant. It is preventing yet a new round of tariffs, which would have hit consumers substantially on such items as toys and cellphones. It reduces some of the previous tariffs imposed and achieves some of the U.S. objectives, including increased farm purchases by China, better protection of intellectual property, and the opening of China's market to financial services.
Phase Two will need to further tackle more difficult issues, such as the forced transfer of technology, Chinese government support of certain sectors, and the power of Chinese enterprises. National security concerns also remain a major issue. Tariffs will remain on many goods until the U.S. is more satisfied with progress. Importantly, for the boating industry, tariffs on steel and aluminum could persist for some time.
Q: What's been the fallout to China's economy?
Reaser: It's been harsh, with China hit with big declines in business investment and big reductions in consumer spending. Businesses and consumers are pulling back. What is surprising to me is that there has not been a real Chinese backlash against American products. But, certainly, the Chinese are realizing they need to diversify away from dependence on U.S. goods.
The Chinese government is now pulling out all the stops to save its economy. It cannot afford a significant downturn. If it does, you're talking about major social and political instability. China has stepped up spending on infrastructure projects, cut interest rates, and increased credit to small and medium-sized businesses. Importantly, it has put off for the future addressing debt-burdened parts of its economy, such as real estate.
China's difficulties are also having a huge ripple effect. China's economy is now the second largest in the world, and within a few years, will become the largest. What happens in China does matter. It's having a huge impact, of course, on the U.S., but it's also having a big impact on South Korea, Japan, Germany, Australia and other nations. You can definitely see it in Europe. Europe's big juggernaut, Germany, which just a couple years ago, was doing extremely well, is struggling with problems in the auto industry and loss of exports to China because of China's softer economy.
As 2020 began, just as prospects appeared brighter with a trade deal with the U.S., the outbreak of the Coronavirus raised major new threats to China's economy.
Q: What do economists predict for 2020? Will we have a recession this year?
Reaser: Overall, less than half (47%) of business economists think we will have a recession by the end of 2020. CFOs, two-thirds of them, believe we'll be in a recession by the end of the year. This is actually important because they're often the ones who make decisions at companies about getting money to do many of the projects you want to do.
But let's look at the evidence we have. In terms of the job market, the unemployment rate keeps going down and down and down, and it's now at 3.5 percent. Most people who want a job have one. It's a good time, if you're looking for a job. Overall, the job market is pretty solid – exhibit A that the economy is doing well. Also, finally workers are seeing larger raises. Wages were up 3.2 percent in 2019, and I am looking for them to rise to about 3.4 percent in 2020. Most people are staying ahead of inflation.
On the downside, for manufacturing in the U.S., things are pretty gloomy. Manufacturing was doing very well in 2018 and 2017. Companies loved the tax cuts and deregulation, but they have not liked this U.S./China trade war. It has hurt them significantly.
The good news overall is manufacturing is only about 20 percent of the economy. Consumers are a bigger driver of the economy, about 70 percent. U.S. consumers are still pretty happy. Confidence is not soaring, but it's stable.
Bottom line: I think we'll see slow, steady growth in 2020. The days of 3.25 percent growth are behind us, but I think we'll probably revert a recession. In 2019, growth was 2.3 percent, and growth for 2020 is likely to be just over 2 percent. The economy will muddle through.
Q: What does all this mean for the recreational boating industry and the businesses that support that industry?
Reaser: First of all, your business is a big deal. We looked at the contribution to the overall economy of the boating industry and all outdoor activity. Boating is number one. In terms of that number, I estimated that recreational boating generated $22 billion in terms of gross domestic product for 2019.
I thought I'd look to see how sensitive this industry is to the economy, and it turns out, it's very sensitive. Boat sales were really devastated by the 2009 recession. So I went back to 1959 to see how boat sales follow the U.S. economy. For many years, it followed the overall economy, then it was outperforming for a number of years, and recently, it has been underperforming. Boat sales are tightly related to consumer confidence.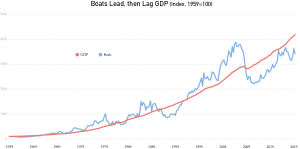 In terms of projections, I looked at boat sales, and I'm estimating that we'll see about a 7.5 percent increase in boat sales for 2019, after a decrease in 2018. And for 2020, we'll see about a 4 percent increase in sales.
Q: What factors continue to impact predictions and conditions for 2020? What should businesses be cautious about and what should they take note of?
Reaser: I think overall we're looking at the world economy slowing but not a worldwide recession. We'll hopefully see continued easing in U.S./China tensions. Trade wars could have a continued devastating effect on the manufacturing sector. First, by hurting the economies of key trading partners, such as China, they have curbed demand. Second, retaliatory tariffs on the U.S. have further hurt U.S. companies. Third, since the U.S. has fared better than other countries (in part because of consumers who make up about 70 percent of the U.S. economy), the dollar has been strong, further dampening exports.
Finally, slumping business confidence due to trade wars has stifled investment.
However, recently, banks have indicated that they are being more friendly to small businesses, whereas with medium and large companies, they are being more cautious. Lending institutions may be concerned about the credit risk they have taken with larger firms. Banks have in recent months been cautious about being overly aggressive in the face of recession fears. However, they are also under pressure to expand loan volumes and continue to actively target companies with solid balance sheets.
A lessening of trade tensions does mitigate the risk of recession. Nevertheless, some companies and individuals may have taken on too much debt, which could lead to financial strains should interest rates start to rise. While the U.S. expansion has now lasted longer than any in history, growth has been relatively slow and is likely to remain so. A close monitoring of accounts receivable is a good strategy for any time, but particularly now, to guard against slow-paying or non-paying customers. This is also a good time to shore up bank credit lines in case you might need them in the next 18 months.
Lastly, this may be counter-intuitive if you're going into a slow growth phase, but you need to invest in facilities, equipment and technology to increase productivity and to remain competitive. That also means it is essential to take care of your employees. There's a lot of competition out there. It's hard to get good people, and you don't want to lose your good workers. People are your greatest asset and your keys to success.