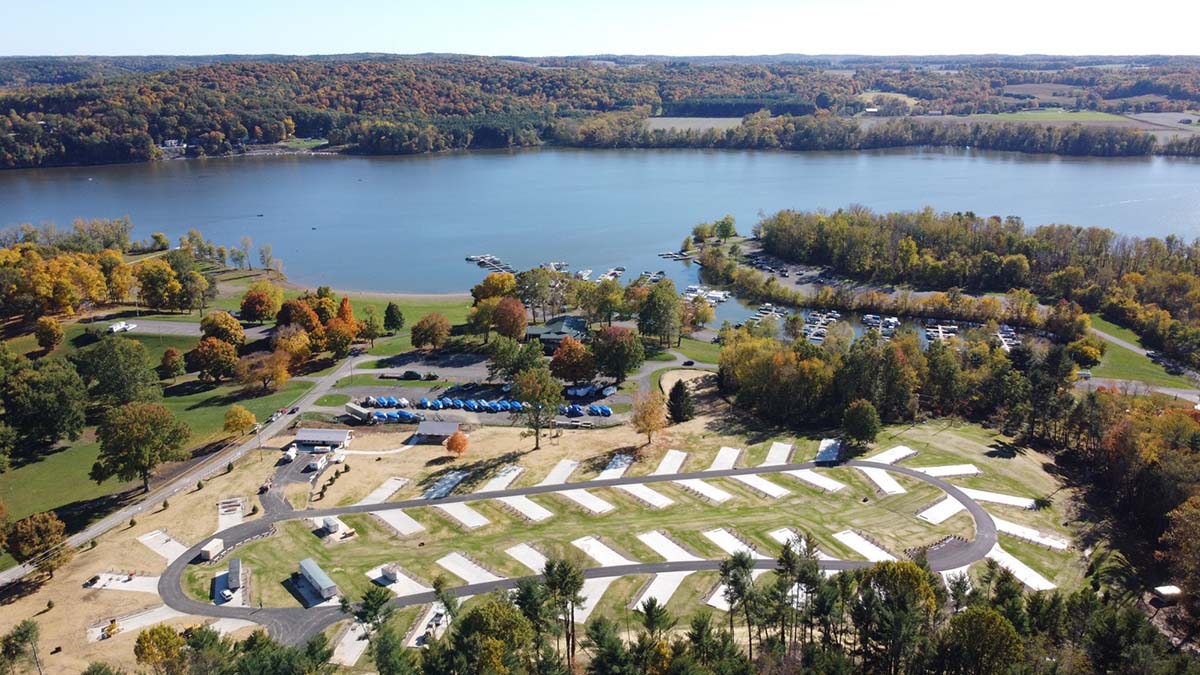 Epic Transformations at the Muskingum Watershed Conservation District
Published on March 5, 2023
Established in 1933, the Muskingum Watershed Conservation District (MWCD) covers 20% of the state of Ohio, a massive and wholly contained watershed boasting impressive flood mitigation numbers, impactful conservation efforts — and 16,000 picturesque acres of boating opportunity.
The district was created in response to a devastating flood in March of 1913 which claimed the lives of nearly 500 residents across the state and caused roughly $9 million in property damage in the Muskingum Watershed area alone. After developing the legal framework for creation, the MWCD and U.S. Army Corps of Engineers were granted key funding in 1933 to bring their vision to life, beginning with the construction of multiple dams to regulate the high waters of flood events. By 1950, 10 of the resulting reservoirs were brought up to conservation pool levels, thus creating lakes for public enjoyment and the subsequent construction of resorts, campgrounds, and other recreational amenities.
The MWCD has continued to grow and thrive — a popular destination for a wide variety of outdoor enthusiasts. Yet, many of the campgrounds and marinas constructed between 1947 and 1966 had remained untouched since their inception — falling out of repair, code compliance, and fashion.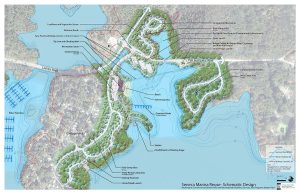 Master Planning Efforts
Things began to change in 2012 when MSA staff members (formerly of Lunde Williams, LLC) partnered with Woolpert of Dayton, Ohio, to embark upon a robust master planning effort. The Muskingum Watershed Conservation District Master Plan was formally approved by MWCD in 2013, including eight individual park master plans and accompanied by a new Marina Performance Standards document to optimize compliance, operational performance, and best practices within district marinas. Together, these documents launched a two-phased effort to modernize district facilities, construct new campgrounds, improve accessibility, protect sensitive shorelines, and set marina owners up for sustained success — a guide to the next 40+ years of land and waterfront improvements.
Sign up for the Marina Dock Age newsletter.
Our newsletter delivers the latest news straight to your inbox including breaking news, our exclusive content covering the marina and boatyard industry, new products, and much more.
Standards for Operations and Experience
Many of the marinas located within the district would undergo renovation in conjunction with improvements outlined in the master plan — some to upgrade aesthetics, others to correct safety concerns. At the time, the majority of marinas within MWCD were independently owned. Today, the district owns and operates four of the eight facilities. This mixture of ownership structures had resulted in great inconsistency in operational standards as well as compliance with state and federal codes. The district sought a means to streamline marina performance and incentivize renovations so that every marina on MWCD property was providing a similar, safe, efficient, and enjoyable experience to customers.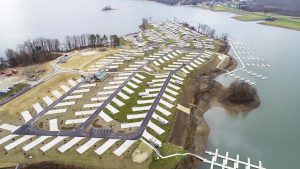 MSA's marina and waterfront designers spoke directly with marina owners, operators, and MWCD staff to first gauge current-state operations, use, and customer satisfaction levels. Then, an assessment of code compliance and opportunities for improved performance and growth was compiled. Leveraging years of expertise with marina and waterfront standards, MSA staff developed a Marina Performance Standards document, which now serves as the foundation for marina operations throughout the district.
The guidebook addresses three core categories:
Compliance standards — outlining pertinent state and federal regulations such as building codes, Americans with Disabilities Act (ADA) requirements, fire protection measures, spill prevention policies, electrical utilities, etc.
Operational standards — rules for performance and communication between MWCD, marina operators, and customers, including administrative/accounting practices, branding, marketing, recycling, performance tracking, training and education, standardization for clean marinas, dock watch or clean boater programs, or services such as boat repair, rental boat fleets and more.
Facilities standards — developed to address physical infrastructure, including the basic systems seen exclusively at marinas (fueling systems, sanitary, etc.) and providing expectations for performance in growth and development.
Incentives and Funding
To encourage participation and reward compliant renovation projects, MSA staff also created a Marina Performance Standards Checklist that can be used as a benchmark to meet the level of safety, consistency, and user experience that MWCD strives for within their lakes. Even though some of the marinas located within the district are still independently owned, they all pay a lease to MWCD and are beneficiaries of the district's broader tourism, marketing, conservation, and flood mitigation efforts. As such, project plans must be transparent and approved by the MWCD entity before moving forward. At this stage, the plans are reviewed against the compliance and standards checklist.
Marinas earn points based on the number of project components that meet or exceed expectations. For example, if a marina receives 75% of checkmarks on the list of standards, they get a reduced interest rate from MWCD on a loan for their project. If all the boxes are checked, the marina is rewarded with an interest-free loan — a substantial perk to encourage facility improvement without incurring financial hardship.
Results and Renovation Progress
The transformation of the Muskingum Watershed Conservation District has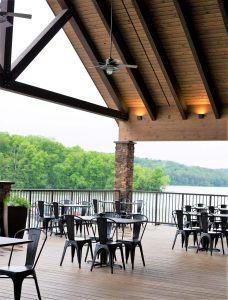 been quite remarkable, with a number of exceptional projects completed to date and many more to come. It has been 10 years since the adoption of the master plan and the completion of phase one, which constructed over $120 million of improvements. These included updates to a number of buildings and marinas, major work at several campgrounds and parks, the creation of six entirely new campgrounds, activity centers, ADA-compliant restrooms, shower and laundry facilities, parking and utility updates, and conservation upgrades including the construction of seawalls to protect the shoreline from erosion, rain gardens, and stormwater management solutions — and then some. Seneca Lake is experiencing an exciting number of renovations that include replacement docks, waterfront upgrades, shoreline stabilization efforts, upgrades to the main marina building, and the redevelopment of a large campground at Marina Point with upgraded utilities and a restroom/shower house building. The Tappan Lake Marina alone underwent a $6 million renovation that includes new floating docks, shoreline improvements, fuel dock, and lakeside restaurant — the Waters Edge Kitchen + Bar — which opened in May of 2022.
Phase two officially kicked off in 2019 with the approval of an additional $65 million earmarked for district upgrades, including $45 million for park improvements and $20 million for marina work. Several new and expanded facilities and amenities are under construction, with more slated for the years to come.
True Value of Beauty
The Muskingum Watershed Conservation District has planned for, overseen and, completed a large portfolio of design and renovation projects. The resulting marina, campground, and waterfront facilities energize and accommodate visitors of all ages and interests.
The beauty of the MWCD stretches far beyond recreation. Its devotion to environmental conservation and flood mitigation practices are estimated to have saved property owners over $8 billion in potential damage since the construction of the dams in reservoirs in 1939. The district's dedication to stormwater management, by successfully storing and conveying floodwater downstream, helps conserve ever-valuable surface water for generations to come.
Dan Williams, PLA, ASLA, AHLP is senior landscape architect at MSA. He can be reached at dwilliams@msa-ps.com.