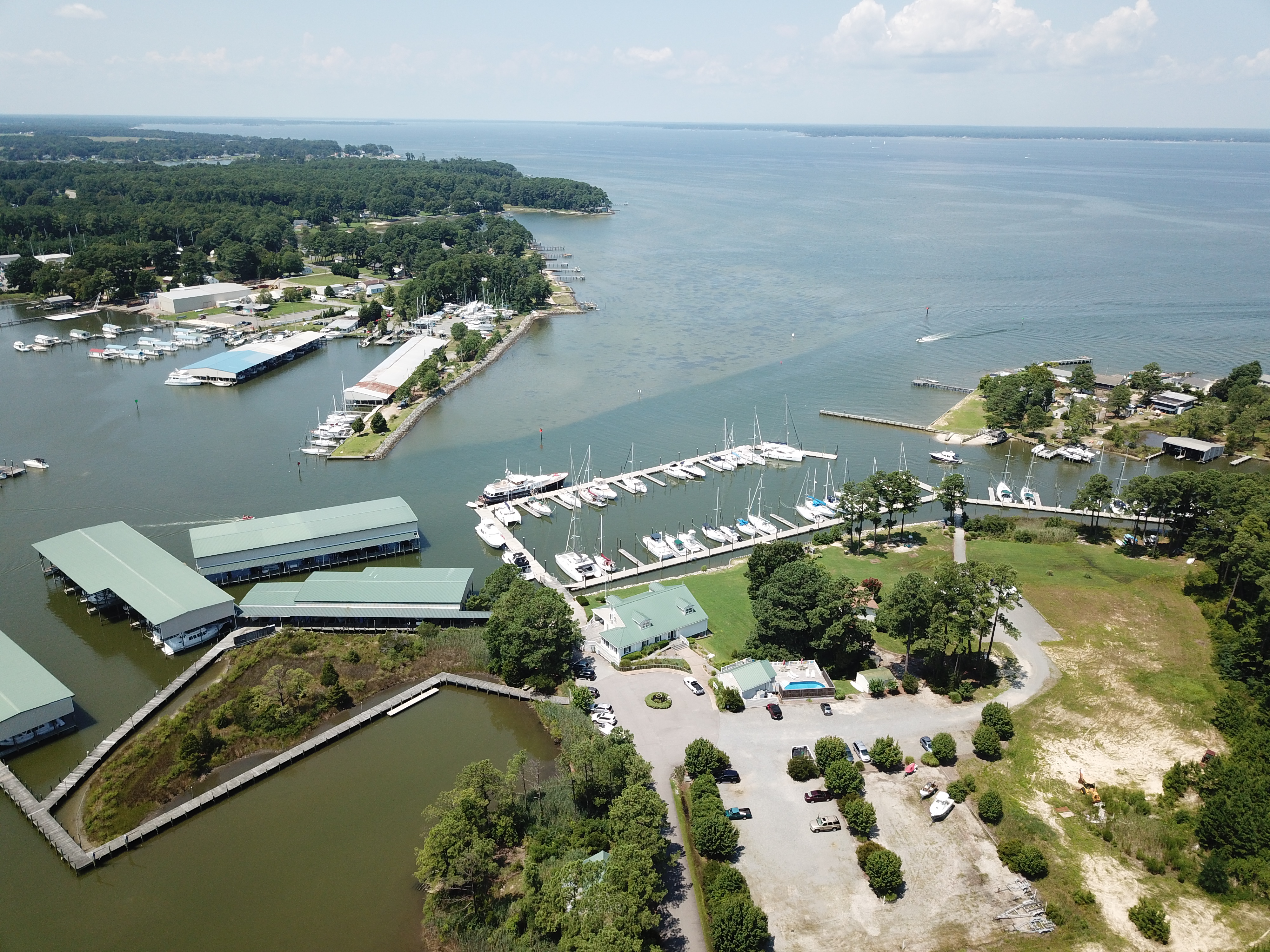 First Time Buyers Take Over Dozier's Regatta Point Marina
Published on November 15, 2019
Don Pringle and Sandy Bouvier spent more than two years looking for the perfect marina property with which to launch their second careers and prepare for retirement.
They found that property at the mouth of Broad Creek in Deltaville, Virginia. The first-time marina owners closed on the purchase of Dozier's Regatta Point Marina in September.
"The first time we drove into the marina we instantly fell in love with the property. From the beautiful grounds to the milder weather," Pringle said. "The property was well-built and reflects what we believe a yachting center should look like. It has a beautiful surrounding without the boats sitting on shore which you see in so many other marinas."
Colliers International Leisure Property Advisors, based in Tampa, represented both the buyer and the seller, the Dozier family. This was the third and final marina to be sold by the Doziers following the passing of patriarch Jack Dozier. The family is well-known in the marina industry, with long-standing ties to the Deltaville area.
"The Dozier family was looking for a buyer who would be a steward to the asset that has been in their family for many years," said Dan Grovatt, director for Colliers International's Leisure Property Advisors. "We had a number of offers, but it was Don and Sandy that gave the family confidence that their legacy would live-on through their vision for the property."
"We really want to make Dozier's the destination for a lot of new people, begin to actually advertise the marina and possibly bring in additional amenities for our seasonal customers as well as our visitors," Pringle said. "We also want to increase the use of the site for an events facility. It has a beautiful clubhouse, which could be used for weddings, private functions or corporate events."
New Careers and Lifestyle
Pringle has worked in the IT industry for 25 years, and Sandy has worked in nursing for 20 years. They are avid boaters, and as they began planning for the next chapter in their lives, they wanted to include their love of being at the marina, the boating lifestyle and interacting with other boaters.
Pringle said when they first began marina shopping, they were looking for a property that would allow them to completely quit their "day" jobs. However, as they did their research, they realized that might not be possible immediately. "The margins which most marinas operate are pretty tight, and I cannot see adding another expense until after reducing costs and putting in additional efficiencies," Pringle said.
They focused their search on the mid-Atlantic area. "We weren't ready to be in Florida full-time, but also wanted an extended boating season. We also still do like the seasons," Pringle said. "It took us two and a half years before we found the property that we liked and also that met our expectations in an area where we could see ourselves living."
The couple is preparing their house in Connecticut for sale and hope to be full-time Virginia residents by the end of the year.
Pringle said that although he had some past experience with acquisitions, this was his first time being responsible for buying an entire company. "This was completely different in that I had to review everything. It was more time consuming than what I expected," he said.
"Being that Don and Sandy are first-time marina owners, there were a number of nuances that we helped them through during the process," said Andrew Cantor, founding partner and managing director for Colliers International's Leisure Property Advisors. "That being said, this is a great opportunity for a first-time buyer. It's an excellent facility that is focused almost exclusively on storage and attracts a number of high-quality clients and high-end boats."
Pringle said he would advise other first-time buyers to put together a good team of people including a CPA, lawyer and a buyer's agent. "They are working on your behalf and can try and steer you away from pitfalls, which can get you in trouble. Don't be afraid to say you don't know and take your time. Research, research, research," Pringle said.
Cantor said it is a good idea for first-time marina buyers to look at as many deals as possible to develop a framework of what appeals to them and what does not. "I would also suggest being open-minded geographically; especially if you are capital constrained. Finally, I would suggest that they develop relationships with people who have significant industry experience,"  Cantor said.
Regatta Point
The marina sits on 8.7 acres near the intersection of the Rappahannock River and Chesapeake Bay. The property includes 114 wet slips, 1,000 linear feet of side-tie dockage for boats up to 120 feet, a 3,500-square-foot clubhouse, swimming pool and bathhouse.
The first major improvement the new owners are making is to the marina's internet service in response to guests' comments that the service was too slow. Pringle said upgrades to the entire system should be ready by the beginning of the 2020 boating season. They also plan to add a short-term rental cottage on the property that can be used by slip holders, transients who need their boats pulled for service, or boaters who need extra room for guests staying overnight.
Pringle said they will continue using the Dozier Regatta Point name for the next couple of years but will begin transitioning to the name Regatta Point Yachting Center.