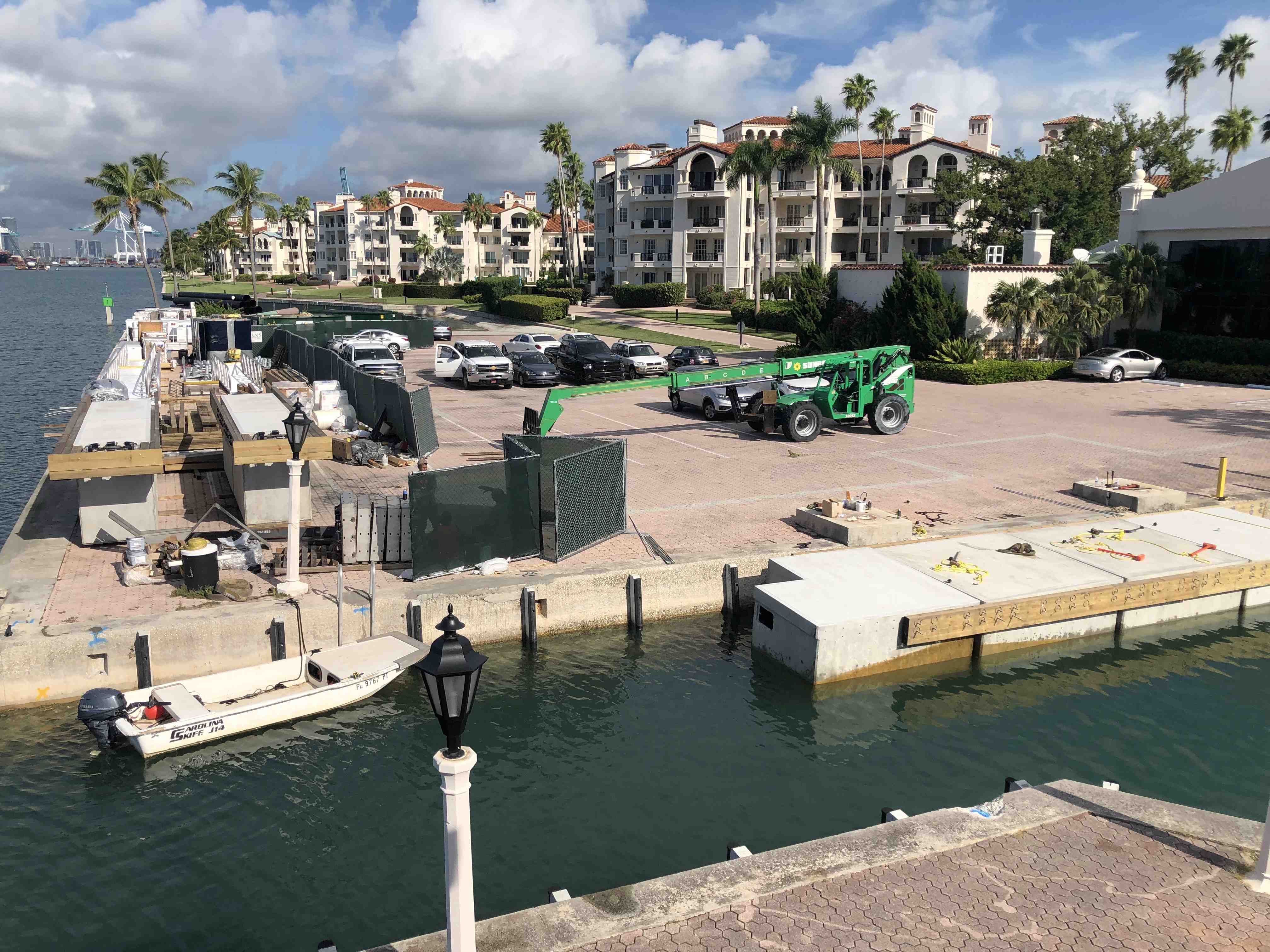 Fisher Island Guest Marina Gets New Docks with More Power
Published on October 8, 2018
Fisher Island Guest Marina near Miami, Florida, has replaced a three-decades-old fixed concrete pier system with new concrete floating docks and upgraded infrastructure. Bellingham Marine was the general contractor for the project, which included the design, construction and installation of the docks and demolition of the old docks; applying for and tracking building and environmental permits; applying for Clean Vessel Act grant funds; seawall and outer dock repairs; and installation of greenheart piling.
"The docks needed to be replaced due to corrosion and years of use," said Steve Ryder, Bellingham Marine's manager of project development, southeast division. "With the sea level changes in South Florida, floating docks make the best options. Because of their ability to move up and down, you don't end up replacing your utility systems every time you have a storm overload the dock."
Fisher Island Guest Marina is reserved for superyachts. The average length of the vessels it hosts is 130 feet, and the largest single vessel length is 220 feet. To serve those boats and their larger power needs, the marina required an upgrade of its electrical system.
Phase one of the project consisted of shoreside and outer dock electrical, plumbing and fire system upgrades and installation. Before work began, the marina's electrical service was coming in from two different locations on the shore; managers wanted to consolidate that infrastructure so they would be able to provide service from a single, coordinated location.
"That involved a tremendous amount of coordination and planning," Ryder said. "We had to work with the island utility system, Florida Power and Light, and the county. In addition, there were numerous challenges in doing this work when the club was operating." That work was completed in early 2018.
Phase two—the demolition of the existing fixed docks and the installation of the new floating docks and related infrastructure—started in early summer 2018. The work included access platforms, gangways, piling and mechanical systems for the Center Dock, Mansion Dock and Spa Dock.
The upgraded electrical system includes substation pedestals with ground fault breakers. Each unit has a 75KVA, three-phase transformer to convert 480V to 127/277 service and a wide mix of receptacles. Bellingham built in additional utility raceways for future power requirements
The new docks are designed to withstand hurricane-force winds (90 mph occupied; 130 mph unoccupied). They include telescoping piles, FRP thru-rods, 36-inch freeboard with Azek composite trim on all walers and telescoping pile guides, mooring bollards and cleats.
The gangways and docks are rated for a 100-pounds-per square-foot live load and have slip-resistant surfaces. The gangway can handle golf cart traffic for provisioning and servicing vessels.
The project was scheduled for completion in October.