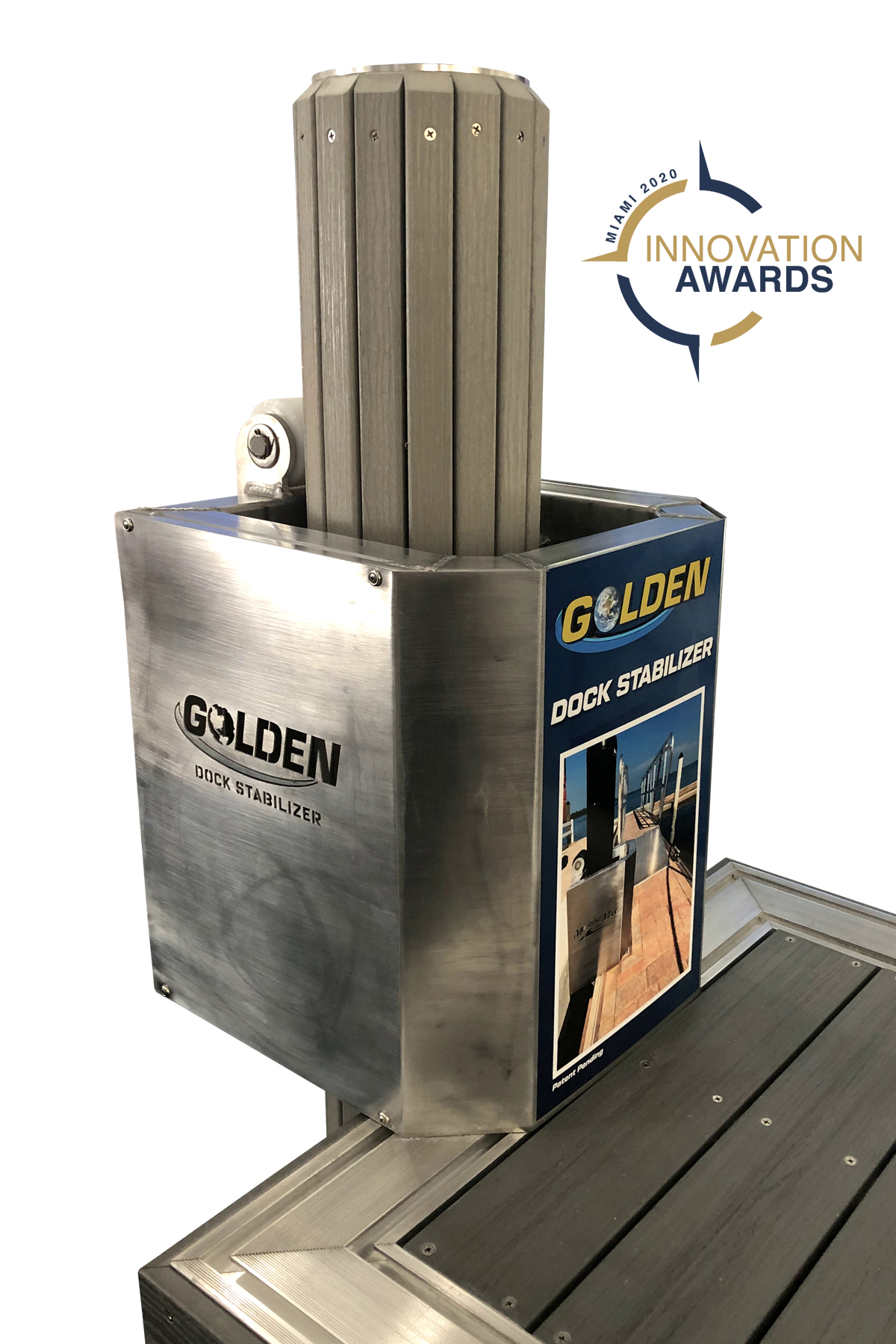 Golden Boat Lifts Wins Innovation Award for Dock Stabilizer
Published on March 10, 2020
Golden Boat Lifts won an Innovation Award for its Golden Dock Stabilizer, presented by the National Marine Manufacturers Association and Boating Writers International (BWI) at the 2020 Progressive Insurance Miami International Boat Show. The product stabilizes wobbly floating docks and minimizes heaving, movement and lifting due to wind and wave action. It won in the Docking & Fendering Equipment category.
Selected by a panel of seven BWI judges, the Golden Dock Stabilizer was recognized as an exceptionally groundbreaking marine product. Ed Sherman, award judge, said it's "a wonderful solution to the age-old problem of a wobbly dock." Unlike traditional pile hoops, the Golden solution only moves vertically. Because tolerances are tighter between the device and piling, the system provides greater rigidity over the run of the dock.
Made in the USA and built to ISO 9001:2015 standards, the frame and protective cowling of the Golden Dock Stabilizer are made from welded 6061-T6 marine-grade aluminum. Assembled with 300-series stainless steel hardware, the rollers are UHMW polyethylene and placed at multiple levels within the device. It's designed to accommodate any pile diameter and each can be adjusted to assist in leveling the dock.
"We're pleased to be honored with this award," said Bill Golden, president and CEO of Golden Boat Lifts, Golden Marine Systems and Golden Manufacturing. "This is a serious game-changer for any floating dock, whether it's private or public, recreational or commercial." The Golden Dock Stabilizer works equally well with wave attenuators.
Sign up for the Marina Dock Age newsletter.
Our newsletter delivers the latest news straight to your inbox including breaking news, our exclusive content covering the marina and boatyard industry, new products, and much more.