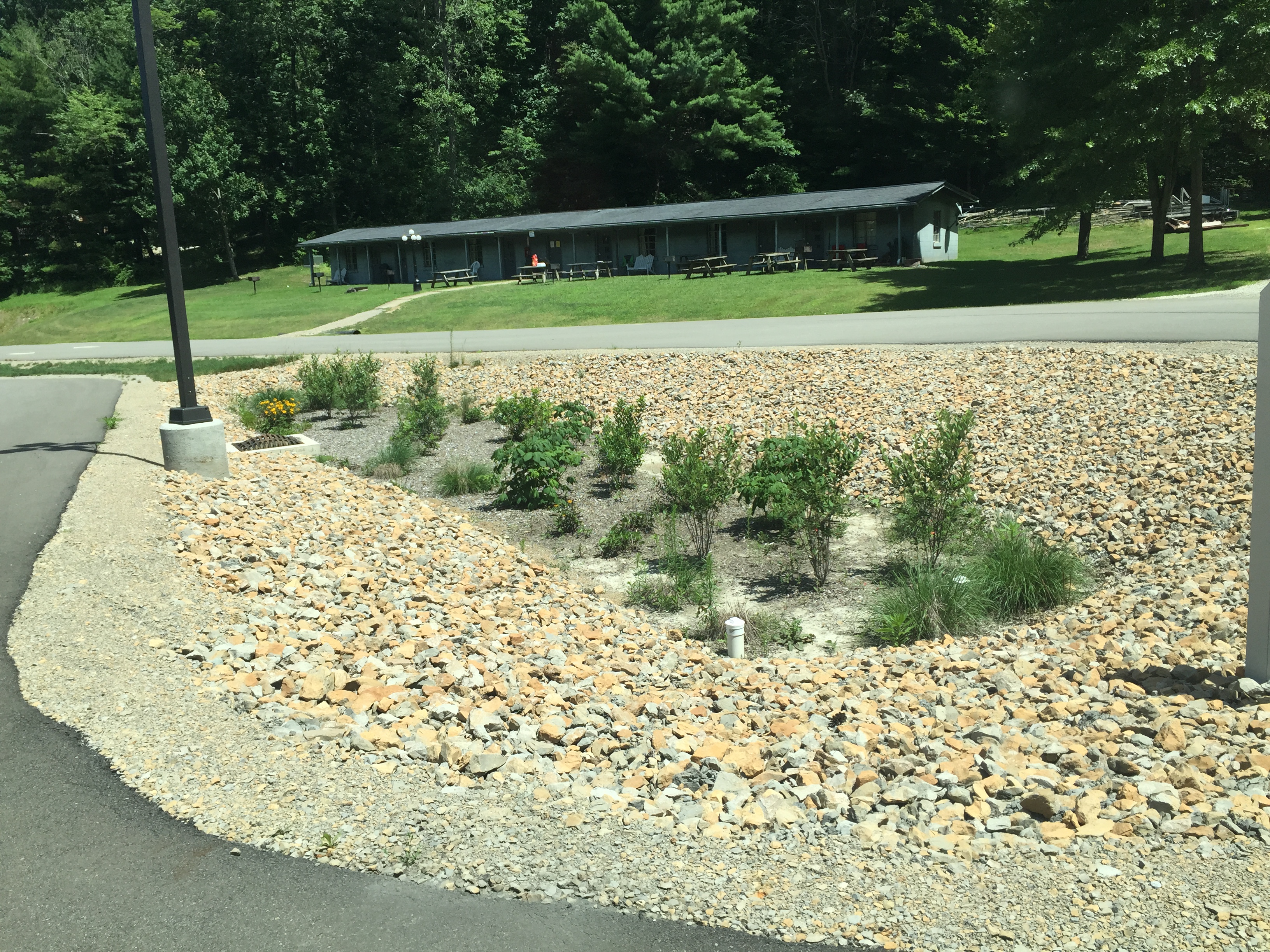 Great Lakes Sea Grant Programs Use Grant to Develop Stormwater Tools
Published on May 1, 2019
The Ohio, Michigan and Wisconsin Sea Grant and Clean Marina programs have received a nearly $900,000 grant from the Great Lakes Protection Fund to develop marina-specific stormwater management decision support tools and pilot the installation of green infrastructure practices at three private marinas.
The eight governors of the Great Lakes states created the Great Lakes Protection Fund in 1989 to promote the development of new technologies, innovative methods and practical regional actions to protect and restore the Great Lakes.
The funding was received in December 2018 and planning and some implementation began in January. Leading the project as principal investigator is Catherine Riseng, the interim director of Michigan Sea Grant. The Ohio effort is being coordinated by Sarah Orlando, Ohio Clean Marinas Program Manager and Scott Hardy, extension educator, both with Ohio Sea Grant and in Wisconsin, Julia Noordyk, water quality and coastal communities outreach specialist, Wisconsin Sea Grant, is managing the project. The core team for the project is made up of representatives from each state. Each state then has its own project team that includes members from universities, state Departments of Natural Resources, conservation districts and the National Estuarine Research Reserve.
According to Riseng, the project was sparked by the state Clean Marina programs, as well as the Great Lakes Green Marina Network. To be certified as clean, marinas adopt best management practices and follow state regulations for many items, among them is stormwater management. Staff from the programs began to see how green infrastructure could be beneficial to replace or add to regular storm and sanitary measures.
Green Infrastructure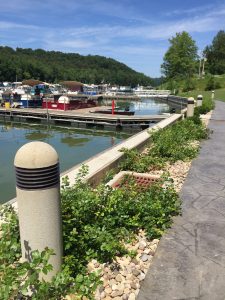 The group says that green infrastructure, such as bioswales, rain gardens and permeable pavers, can be used as an approach to stormwater management that can result in improved water quality and greater resilience to climate change impacts, such as flooding from storm events. Outside of the environmental benefit, green infrastructure can also enhance the aesthetics of a location adding property value.
"We are in the thick of the planning for year one. In March, we conducted a needs assessment, interviewing marinas to find out how familiar they are with green infrastructure and practices like bio swales, rain gardens, rain barrels, etc. We want to know if they know these and how they work and what the value is," Orlando said.
While the findings from the needs assessment are not quite finalized, one result that stood out was that operators didn't know what green infrastructure was or what it can do. This is guiding the group in its development of a tool and resources that will explain different types of infrastructure, where they are best used and estimated costs.
"This will enable users to see what it would be like and if they could use it. Like a rain garden—do they have the capacity for one? Or are there tree wells on-site where water could be redirected to prevent direct runoff," Riseng said.
Tools and Resources
There are existing tools and resources for green infrastructure, but most focus on what can be done in public spaces, and in those cases, there is usually city or town staff available to do the research for what is best. The group presented its project in the grant application citing that marinas don't have the staff, time or resources to research best alternatives, but they need to think more innovatively about water quality because their businesses not only sit on the water but depend on the quality of that water.
This tool kit will be a guide where marinas put in information such as their location, water depth and soil type, and the program will provide the green infrastructure that would work best at each site.
The guide will also look toward long-term maintenance requirements.
"What is the long-term maintenance and plan? We don't want a toolkit with examples that have no thought or advice of long-term commitment. Commercial rain gardens or permeable pavement need to be maintained to work. What is the cost benefit over the long haul versus the short-term cost? Our end goal is to help marinas figure out what practices work for marinas and my facility specifically," Orlando said.
Pilot Projects
Following the development of the guide, the next step in the grant will be to install one green infrastructure feature at one of three demonstration sites located one in each state. The locations will be monitored before any construction to determine the quantity of stormwater and the quality of the water. The infrastructure installed will be based on the findings from the new guide on what would be most appropriate for each location. For example, one facility may have a rain garden installed, while another might have permeable pavement or a bioswale. After construction the site will continue to be monitored for one or two years to again assess stormwater quantities and water quality to determine if the green infrastructure is making a significant difference.
"While there are lots of examples of places that have used green infrastructure, there has been little to no monitoring to find out if these projects really make a difference," Orlando said.
In soliciting this grant, the group was adamant that the pilot project use private marinas instead of public. Public marinas can absorb costs under city or town budgets in ways that private marinas cannot. A public marina can have city employees as staff, and have construction, renovation and maintenance as part of a larger government budget, such as parks and recreation. In this way, their cost-benefit ratios would not be in line with that of a private marina.
"Public dollars and resources are not available for private marinas. We wanted this project to be more realistic for the average marina that doesn't have that luxury," Orlando said.
The hope is that the demonstration projects will show the utility and cost effectiveness of green infrastructure for marinas and then the toolkit, research findings, along with the demonstration projects can be used to educate other marinas, as well as boaters on the value of green infrastructure.
Similar to state Clean Marina programs, Riseng says there will be parts of the tool kit and research that can be replicated or adopted by other states but will have to be tweaked to reflect specific environments and rules. Right now the focus is on coastal marinas, but inland marinas also manage stormwater.
"The Clean Marinas in each state are a great network for us to share information. Links to this toolkit can be put into the clean marina certification process," Riseng said.
The group is aware that the research it does, the green infrastructure installation and monitoring comes at a high cost, so they are working to find other funding sources beyond this grant for this project, such as through public-private partnerships, use of volunteers, and looking to similar projects to find how they were funded.
"We hope [marinas] see this (green infrastructure) as a good alternative to manage flooding, water quality improvements and make the marina look nicer. But even if we learn it's not a lot of bang for the buck, that's still a win because we will change our focus on where marinas can best spend their dollars," Orlando said.