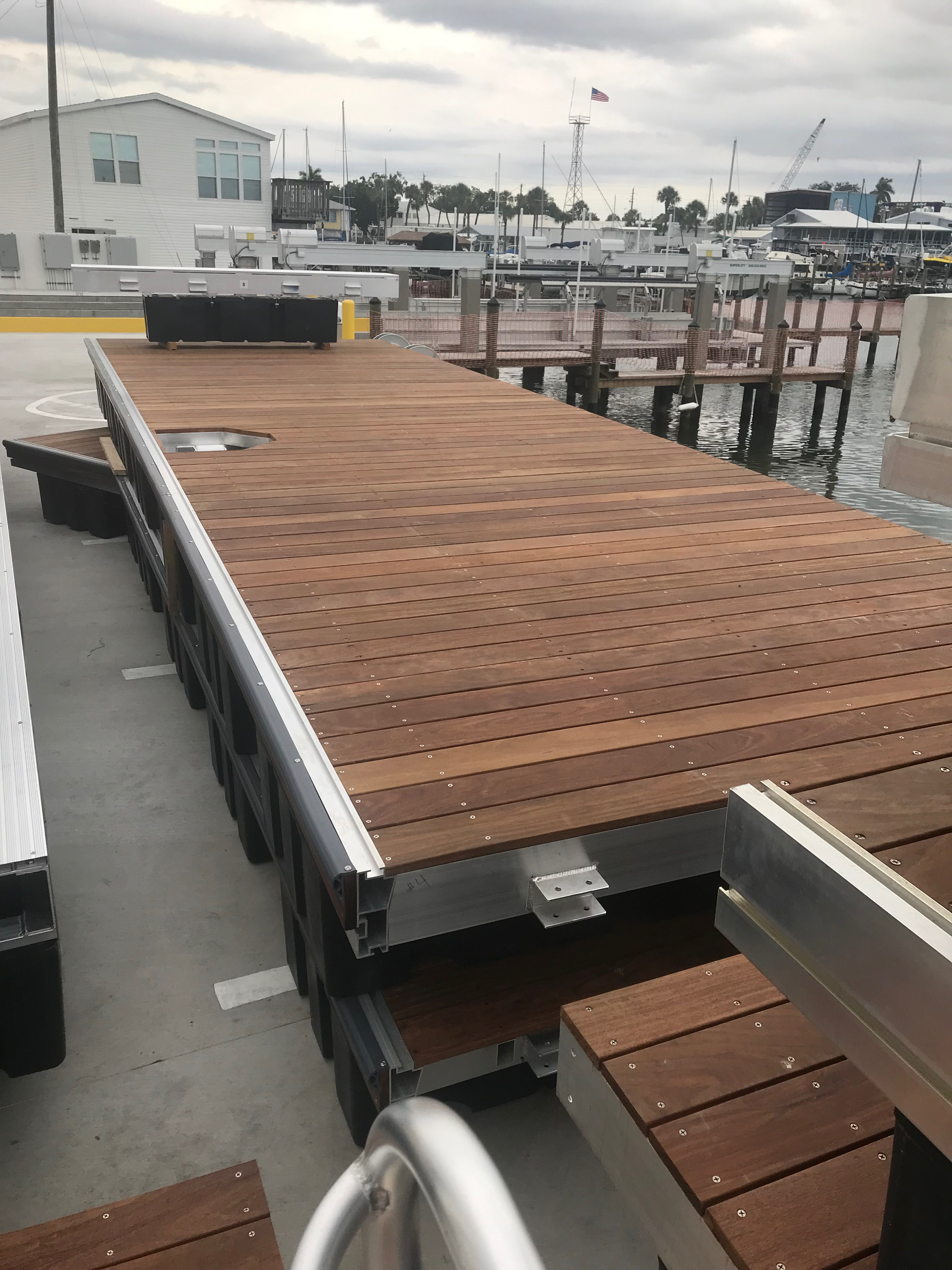 Gulf Star Dry Storage Marina Adds Staging Docks
Published on June 15, 2020
After replacing an outdated dry storage building with a modern, automated dry storage facility, Gulf Star Marina in Fort Myers, Florida, has removed the old fixed wooden docks in its staging area and installed new aluminum floating docks in their place.
For phase one of the dock replacement, Golden Marine Systems built the 2,420-square-foot docks as well as two gangways that each measure 5 feet by 36 feet. "The portion of the dock being used for the staging area is 20 feet wide, and will have a nice seating area covered for shade," said marina owner Todd Carroll.
Below their Cumaru natural wood decking, these docks include a customer service trough that will carry the lines for a planned high-speed fuel system.
Golden Marine Systems delivered the docks in early May. The Kelly Brothers, a marine construction company based in Fort Myers, installed them later that month.
As of mid-May, phase two of the project, which will include 5,750 more square feet of aluminum floating docks, was waiting on approval from the U.S. Army Corps of Engineers. These dock sections will include the fuel pump and additional staging areas, and will serve as transient dockage for boaters coming to the Doc Ford's restaurant at the marina.
Sign up for the Marina Dock Age newsletter.
Our newsletter delivers the latest news straight to your inbox including breaking news, our exclusive content covering the marina and boatyard industry, new products, and much more.
Gulf Star Marina was scheduled to open in June. It offers a state-of-the art, fully-automated storage facility built to withstand 200 mph winds. It will accommodate boats up to 40 feet long, 14 feet in height and 15 feet in width. Carroll said he's heard from a lot of boat owners interested in storing their boats in the facility.