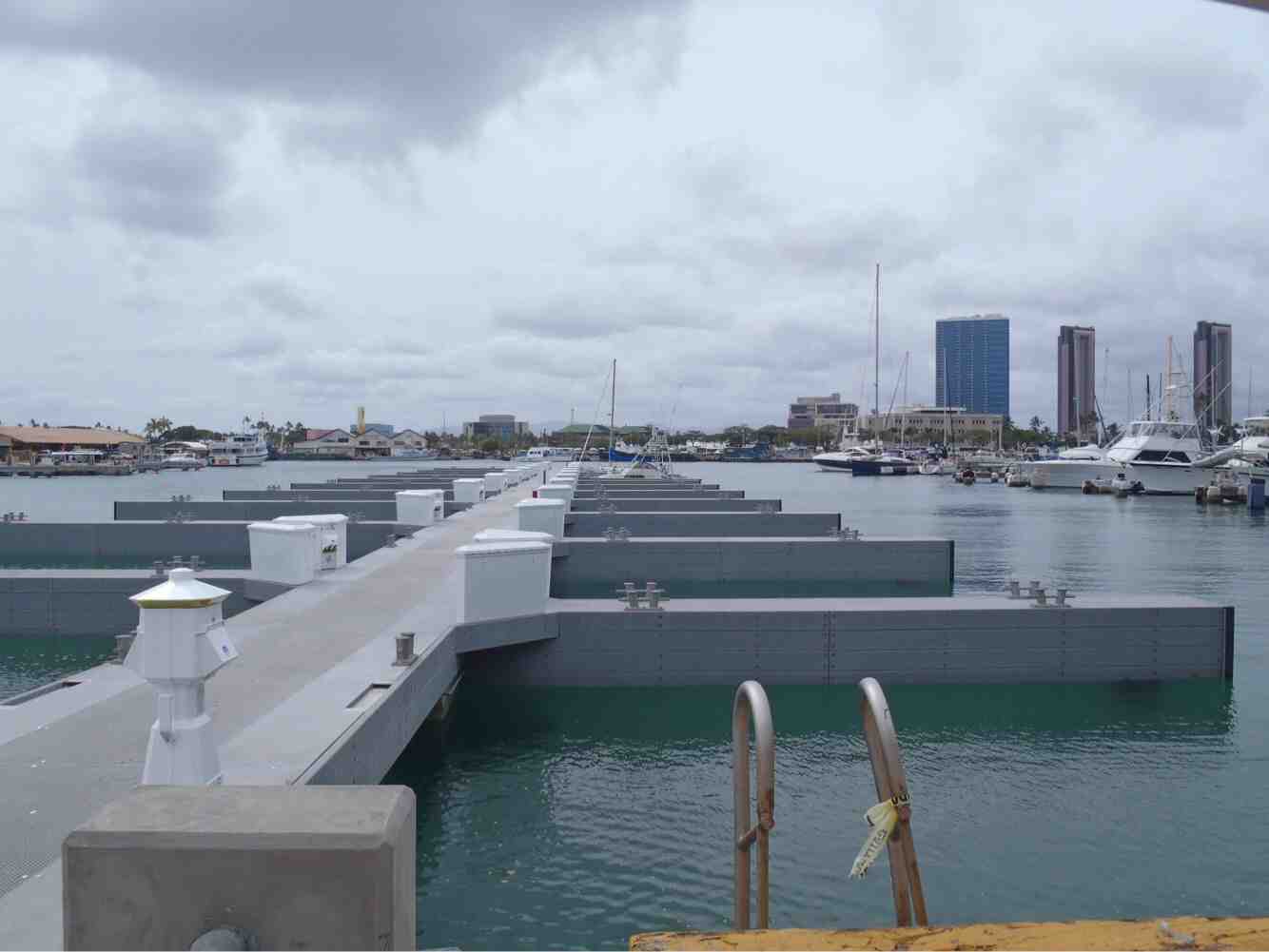 Hawaiian Marinas Install Aluminum Dock Systems
Published on October 15, 2018
Port Allen Small Boat Harbor on Kaua'i Island and Kewalo Basin Harbor in Honolulu have replaced some of their older docks with aluminum docks designed and manufactured by Bluewater Marine & Dock Specialties.
The work at Port Allen Small Boat Harbor is part of a larger redevelopment plan for the area. The general contractor, Hawaiian Dredging Construction, removed the aged concrete fixed pier marina and replaced it with an aluminum-frame, floating dock system anchored by a Seaflex mooring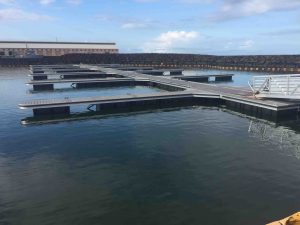 system. Sea Engineering drove in the helical anchors that hold the Seaflex tendons in place on the marina bottom.
Bluewater built the docks with a MoistureShield composite decking and FRP utility trenches. The docks include 48 slips that range in size from 30 to 50 feet.
"We were also responsible for the Seaflex tensioning; the trick is to make sure that the slope is correct so that the anchor placement is spot on in relation to the tension point on the pier," Billy Elatm, BlueWater general manager, said. If the tensioning isn't done just right, the fairways can be narrower than originally planned, making it more difficult for boaters to navigate in the marina.
Sign up for the Marina Dock Age newsletter.
Our newsletter delivers the latest news straight to your inbox including breaking news, our exclusive content covering the marina and boatyard industry, new products, and much more.
"It's pretty important to get it right," Elatm said.
The renovated marina was turned over to the owner, the State of Hawaii, in early September.
At Kewalo Harbor Basin, the Howard Hughes Corporation has just begun a large-scale redevelopment of the harbor. "It was a 40- to 50-year old concrete harbor that hasn't had the attention it needed over the years," Elatm said. "Some of the fingers have actually collapsed."
Sea Engineering is the lead contractor on the job and will be handling the demolition of the old docks and the installation of the new.
"Bluewater will be working with them throughout the design and engineering phase to put together an aluminum-frame, fixed pier system," Elatm said. "They will replace some of the piers, although some of the concrete piers are remaining for larger slips." These new piers, which will range in size from 30 to 60 feet, are made with an FRP grating through the centers and on the fingers, and fiber board structural lumber, supplied by Bedford Technology, on the fender boards. Bluewater also will be building other aluminum structures including new gates and WiFi poles.
The new piers range in size from 30 to 60 feet. There are three phases to the project. Phase 1, which has already been completed, included the replacement of the 44-slip Pier C.  Phase 2 consisted of the delivery of Pier B, which has 32 slips. For Phase 3, which should be completed by February 2019, Bluewater will deliver Piers F and A.