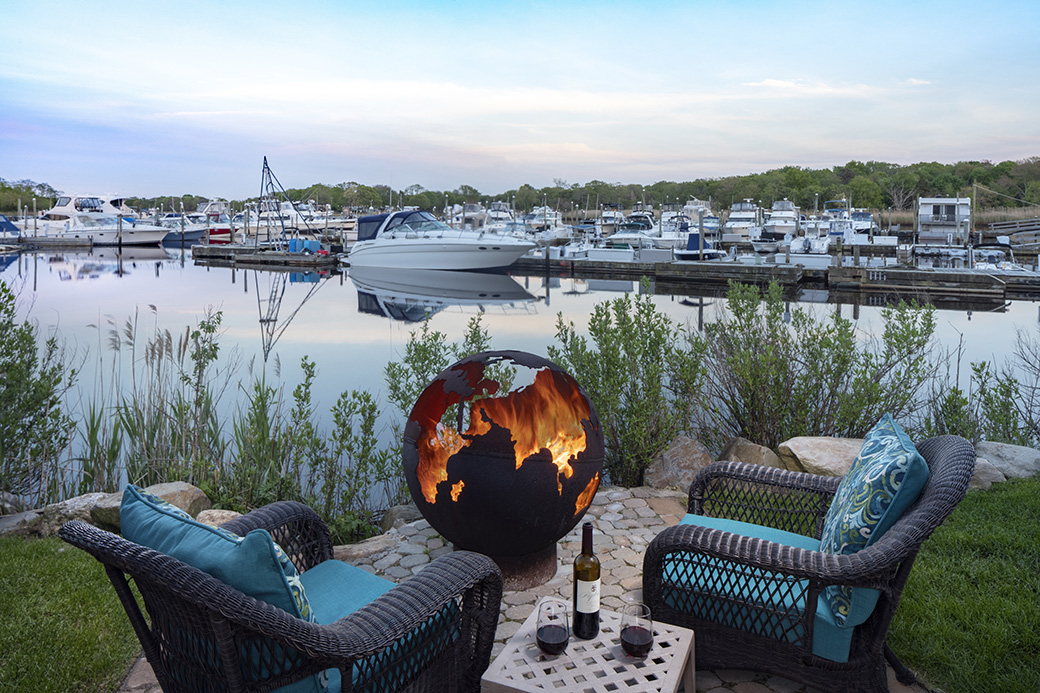 Hospitality Takes Center Stage at Treasure Cove Resort Marina
Published on March 23, 2022
Marinas of the past were places to store boats that offered only enough amenities to cover the bare necessities. In contrast, today's marinas are becoming more like resorts that offer plenty of activities for boaters to access when they aren't on their boats. Marinas are now in the hospitality business and for some, like Treasure Cove Resort Marina in Riverhead, New York, hospitality takes center stage, which is why this facility was awarded the Marina Dock Age Hospitality Award for 2021.
Treasure Cove Resort Marina is the core of a sprawling campus on Long Island that includes a Hyatt Hotel, the historic 20-room Preston House Hotel and restaurant, a banquet hall for corporate events and weddings, and the Long Island Aquarium to which every tenant gets a free membership. Together the different entities provide an enticing spot for families and friends to gather on weekends. Bryan DeLuca, executive director of Atlantis Holdings LLC that owns the properties, said customers come from all over Long Island to take advantage of the deep water boating and the attractions of the waterfront town in which the campus sits.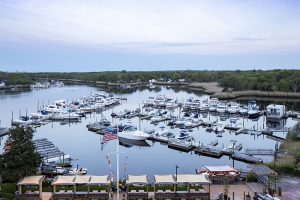 "We're in the middle of both forks of the island so we offer great access to the breweries and vineyards to the north and the Hamptons and Montauk to the south, all a short distance away," he said. He further explained that their location is one of the few prime boating areas on the island as it is unencumbered by shallow water and high boating traffic. The marina sits at the end of the river and adjacent to a national bird sanctuary, making it both a peaceful and safe place to boat.
A Marina But Much More
The 120-slip, full-service marina is managed by Vinny Porcelli and assistant manager Keith Sucrato. The duo work seven days a week as the only full-time employees. Two year-round, part-time employees round out the main staff with the remaining help being seasonal. Treasure Cove's mission is to make a "family-friendly resort-style environment for everyone to enjoy their summer season." With its host of amenities and an open-door policy for both staff and customers, the marina is succeeding with its resort mentality. Customers appreciate their hard work with 80% of clientele being repeat customers and a string of strong reviews on Marinas.com and TripAdvisor. The marina maintains 100% occupancy and has a vibrant transient business with 15 slips dedicated to serving the multitude of boaters that visit each season.
Sign up for the Marina Dock Age newsletter.
Our newsletter delivers the latest news straight to your inbox including breaking news, our exclusive content covering the marina and boatyard industry, new products, and much more.
The availability of a wide array of amenities helps attract and keep boaters. The site features both an outdoor pool at the marina and indoor pool and fitness center at the Hyatt. "The hotel gives boaters an opportunity to invite guests in for a weekend of boating and have a place for them to stay," DeLuca said. The Seaside Grill, with its floating dock for dining and a bar that was converted from an old lifeboat as its centerpiece, is an attraction for both boaters and non-boaters. A dining area adjacent to the outdoor pool offers a poolside menu and drinks, and an ice cream shop with a walk-up window facing the docks is located at the aquarium.
A main attraction to Treasure Cove is the Long Island Canoe and Kayak Rentals business that opened about five years ago and took off during the pandemic. It has become the busiest place on the property during summer weekends, and the team is proud to offer what they see for many as an introduction to boating. They began offering guided paddle tours of the area and have experienced great interest in their moonlight cruises where paddlers head out at sunset and, with the use of headlamps, paddle back under the full moon.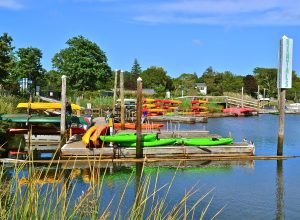 Adding more attractions falls under the marina's mission, where the focus is to appeal to everyone whether they want to enjoy the solitude of a solo paddle, sit on the dock and socialize, or tour the town. "We give them the best service that we can by building a resort destination that is engaging and experiential," DeLuca said. On-site the marina hosts bagel socials, barbeques, and similar events. They also added a couple moorings so boaters from different docks have a way to raft and socialize on their boats. "We have an interesting mix of people with some that have been here more than 15 years and some that are new to boating. We try to give them opportunities to get together so each dock doesn't become its own island. We want to build a community," DeLuca said.
Community Responsibility
They may be working to build an internal community, but Treasure Cove also understands the value of being entrenched in the community that sits beyond its borders. The marina sits on the Main Street of the town. In such a position, the community could either offer obstacles or opportunities, but DeLuca said the team understood their role as a center of attraction and knew community involvement was critical. Treasure Cove sees itself as an important part of Riverhead and is involved in not just day to day activities and events, but also in planning for future success of the town. Despite its small staff, the employees are heavily involved in local happenings, holding positions as chairman of the state tourism promotion agency Discover Long Island, president of the East End Tourism Alliance, and president of the town's Rotary Club. Staff members also serve on town committees such as the Parking District, Business Advisory, and Business Improvement District. "Being involved on all these committees allows us to have an awareness of what's taking place, and we help make decisions that impact us from parking to building heights to preservation," DeLuca said.
The team helps with local events and festivals such as the Main Street, Alive on 25, and the arts event "Reflections" that brings in visitors to an underused park to view sculptures that are lit at night. "We incorporate a visit to the park as part of our moonlight paddle," DeLuca said. Treasure Cove is also host to Paddle Battle that brings in hundreds of paddlers to compete and raise funds for the NY Marine Rescue Center that rescues and rehabilitates marine animals and promotes marine conservation.
DeLuca pointed out that their boating customers enjoy the town's events, and they are what attract some customers to the marina initially. "They go to these events, have a great time, and have no idea how much our staff has done behind the scenes to help make it all possible. We see it as just part of our job to ensure that our boaters keep coming back," DeLuca said.
Treasure Cove is a unique place for an extended vacation for families, and DeLuca says it is a hidden gem for Long Island locals and even the celebrities from the Hamptons who are known to stop in for a meal or shopping. A place that offers something for everyone is difficult to achieve, but DeLuca is proud of how far they've come. "There are lots of moving parts, and it takes lots of coordination, but we have a great team that has been able to get us to the level of hospitality we strive to achieve," he said.