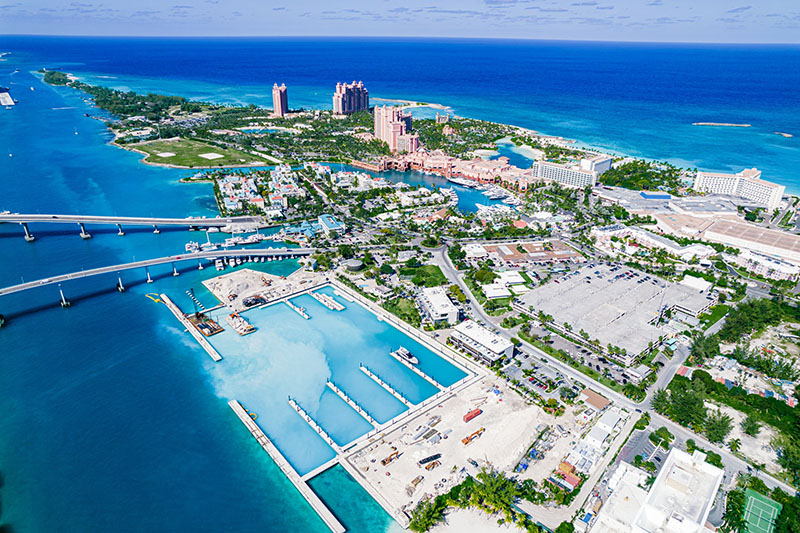 Hurricane Hole in Nassau, Bahamas is Open After Renovations
Published on March 23, 2022
The Bahamas is now welcoming yachts and super yachts to the new marina at Hurricane Hole on Paradise Island in Nassau thanks to a long list of improvements and an expanded marina layout brought to fruition by developers, Sterling Global Financial and a Nassau-based construction team. Slips were made available for rent on April 1 and have filled up fast.
The state-of-the-art facility now boasts a total of 6,100 linear feet of dock space with individual dock lengths reaching up to 420 feet. Today, the marina can accommodate modern super yachts thanks to recent dredge work bringing the marina depth to 14.5' below average low tide. The center of the marina offers a 240-foot-wide turning basin, and customers and their boats are protected by a new 24-hour security system across the marina. The on-site customs allows for easy transition as clients arrive in the Bahamas from overseas. In-slip conveniences include 400-amp/480-volt power, pump-out, and fueling.
Other amenities on the campus include 5-star fitness facilities, swimming pools, laundry facilities, long-term parking, and private meeting rooms for clients. Additional facilities exclusively for captains and crew include a fitness center, pool, and lounge.
Beyond the marina upgrades and expansion, luxury condominiums within the village master plan will also be receiving state of the art renovations and expansion. The initial phase of the project has sold out their new dockside residences and with the second phase of reservations opening up soon it appears the remaining units won't stay available for long.
Sign up for the Marina Dock Age newsletter.
Our newsletter delivers the latest news straight to your inbox including breaking news, our exclusive content covering the marina and boatyard industry, new products, and much more.
"We are very proud of this momentous accomplishment and believe Hurricane Hole Superyacht Marina and Paradise Landing will benefit Bahamian tourism for generations to come," said David Kosoy, executive chairman and founder of Sterling Global Financial, the project's developer, manager and owner. "We set out to create the greatest yachting destination in The Bahamas, and I believe we are close to achieving that goal."