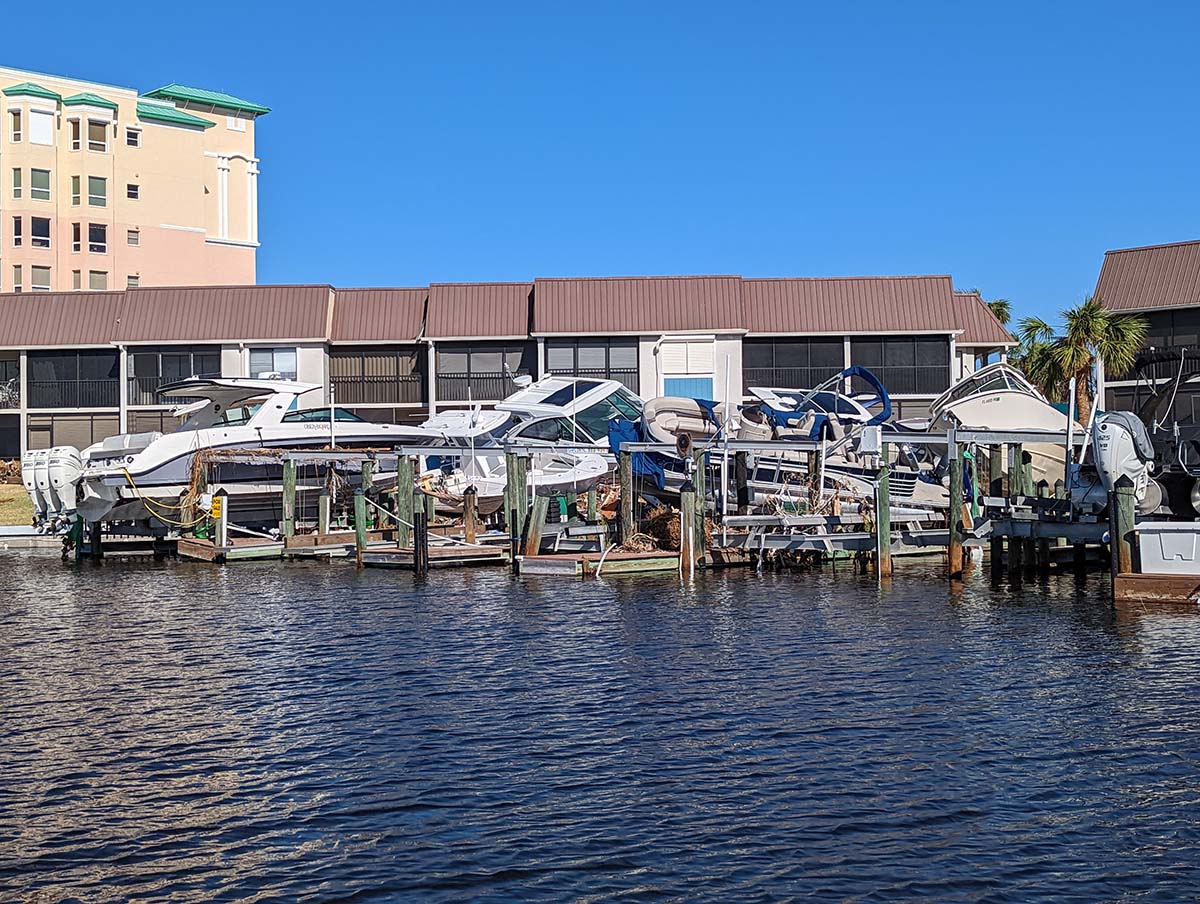 Hurricane Ian Relief Assistance and Resources
Published on November 13, 2022
Based on updates from city and government officials, we know many marinas along Florida's Gulf Coast, specifically around Fort Myers Beach, Cape Coral, and the surrounding areas, experienced catastrophic damage due to Hurricane Ian. CoreLogic, a property data and analytics provider, recently updated its damage estimates for Ian to be between $41 billion and $70 billion. This estimate includes wind and flood losses to both insured and uninsured residential and commercial properties.
The U.S. Coast Guard has moved locations after its base of operations on Fort Myers Beach was destroyed. Coast Guard officials are also recommending that recreational boating in the area be postponed at this time. They are asking all boaters to stay off waterways in the area since there are unseen dangers below the surface. Most navigation channels are filled with debris, making them nearly unpassable at this time.
In addition, Florida Governor Ron DeSantis has called for a disaster declaration for the state's fishing industry. Sportfishing brings an estimated $9 billion to Florida's economy each year. It is estimated that 5,000 boats were damaged by the hurricane in Southwest Florida, along with infrastructure that supports the sportfishing industry, including docks and boatyards.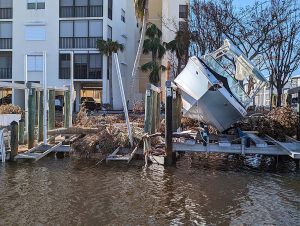 Matthew Knoll, marine surveyor and founder of Knoll Marine Services, traveled to Southwest Florida immediately after Hurricane Ian made landfall. He is working with one marina in Naples that sustained damage, including the flooding of its electrical system and damage to a few finger piers. However, Knoll said that most of the marinas in Lee County appear to require full reconstruction of their docks and utilities. "The affected area is very wide. From my position, areas in Naples have seen a rapid cleanup response," Knoll said. "Meanwhile, the hard hit areas of Lee Country are less visibly cleaned up. In Fort Myers Beach, cleanup is just getting started. The debris piles are large and imposing."
Knoll expects rebuilding for marinas in the area to take time. "I suspect labor and available contractors will soon become the biggest hurdle," he said. "Perhaps financing and future insurance will also present rebuilding disruptions."
Even as the 2022 Atlantic hurricane season comes to an end, there is still the potential for major storms. Knoll believes preparing early is key for marinas as they plan for the future. "A few loose/unprepared boats can ruin it for many," he said, adding that floating docks should be reevaluated. "Some have been touted to be storm proof or resistant. In this event, we can see that most of the marinas with floating docks did not fare well with the storm surge."
Disaster Assistance Programs
As residents and business owners continue to cleanup and assess the damage following the hurricane, Marina Dock Age has compiled a comprehensive list of resources available to marina and boatyards that were affected by the storm.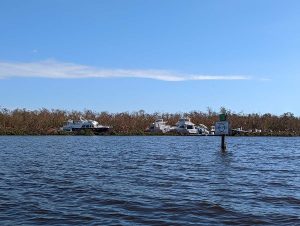 There are many disaster assistance programs and services available for businesses affected by Hurricane Ian. Governor DeSantis provides regular updates on the state website www.flgov.com regarding search and rescue services, health and human services details, infrastructure, and more.
The Federal Emergency Management Agency (FEMA) provides disaster services with information, support, and assistance. Individuals and business owners are encouraged to input their zip code on www.DisasterAssistance.gov to determine if they are located in an area that has been declared for assistance.
If FEMA has designated an area as being impacted by the hurricane in Florida, then businesses and individuals qualify for extended tax deadlines, including the Oct. 17, 2022, deadline being changed to Feb. 15, 2023. Check out www.irs.gov for more details.
FloridaDisaster.biz provides a comprehensive list of private businesses offering services and assistance for Floridians impacted by the hurricane. Small business owners can find information about internet services, store hours, etc.
The Better Business Bureau has also created a hurricane guide, which can be found at www.bbb.org/hurricanes. Florida businesses can find disaster preparedness tips, recovery and repair services, government resources, and information on how to avoid storm chaser scams.
Fort Myers Beach was hit especially hard. Nearly every marina in the immediate area remains closed. The Fort Myers Beach Chamber of Commerce has listed a variety of resources available to residents and businesses. Visit https://www.fortmyersbeach.org/hurricane-ian-recovery-resources/ for information.
In addition, it is recommended that business owners contact their financial institutions, insurance carriers, utility providers, and other companies involved in day-to-day operations to learn about any programs or services being offered at this time.
Small Business Loan Programs
In advance of Hurricane Ian, President Biden approved an emergency declaration for the state of Florida. Several disaster loans are now available through the U.S. Small Business Administration. For more information visit the SBA Hurricane Ian resource page at https://www.sba.gov/funding-programs/disaster-assistance/hurricane-ian.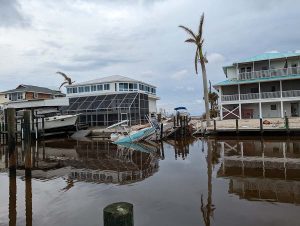 Governor DeSantis has awarded an initial $2.5 million to businesses through the Florida Small Business Emergency Bridge Loan Program. This program was activated by Governor DeSantis following Hurricane Ian, to provide short-term, zero interest loans to small businesses that experienced financial impacts or physical damage due to Hurricane Ian. Interested applicants can apply now through December 2, 2022, or until all available funds are expended. To find more information, go to https://deosera.force.com/RebuildFloridaBusinessLoanFund/s/.
The Small Business Emergency Bridge Loan Program is intended to bridge the gap between the time a disaster impacts a business and when a business can secure long-term recovery funding. Loans are available up to $50,000 per eligible applicant and are short-term, personal loans.
The loan program was authorized for a total of $50 million, of which $10 million is dedicated to agricultural businesses that sustained impacts. Businesses impacted by Hurricane Ian located in Brevard, Charlotte, Collier, DeSoto, Flagler, Glades, Hardee, Hendry, Highlands, Hillsborough, Lake, Lee, Manatee, Monroe, Orange, Osceola, Pinellas, Polk, Putnam, Sarasota, Seminole, St. Johns, and Volusia counties are eligible to apply.
Small businesses can also access the Small Business Emergency Bridge Loan Program, as well as other services at FloridaDisaster.biz. Affected businesses can see the latest information on response actions and fill out the Business Damage Assessment Survey.
Marine Industry Lends Support
The marine industry is offering its support to those affected across Florida. There are several resources available:
The Mercury Racing division of Brunswick Corp has launched a fund-matching and fundraising Hurricane Ian Relief program to support the Cape Coral and Fort Myers, Florida communities. The program is offering financial support to the Cape Coral Caring Center as well as contributing to the charitable efforts of the Fort Myers Offshore Club.
Captains for Clean Water is a nonprofit 501(c)(3) organization that fights to protect water resources. Despite the loss of the CFCW office and many members' homes, these captains and guides have been assisting with rescue missions, setting up drop-off locations in Eastern Florida, and getting locals the supplies they need. They have started a relief fund to help those affected. Visit https://captainsforcleanwater.org/ to donate.
The nonprofit Fish and Wildlife Foundation of Florida works closely with the Florida Fish and Wildlife Conservation Commission (FWC) and many other public and private partners. They are raising money through their employee assistance fund to provide emergency housing, food, water, and other necessities to FWC employees that were impacted by Hurricane Ian. For more information visit https://wildlifeflorida.org/.
The Worldwide Anglers Relief Fund (WARF) is also accepting donations to help professional and recreational anglers get back on their feet. The International Game Fish Association (IGFA) and Costa Sunglasses created WARF in 2017 to provide financial aid to local charter captains, guides, and outfitters in the wake of major natural disasters. More information can be found at https://igfa.org/warf/.
Old Salt Fishing Foundation, Marine Industries Association and Annapolis Boat Shows "Hands Across the Transom Hurricane Relief Fund" have come together to create the Hurricane Ian Marine Industry Relief Fund. The group is collecting funds to help individuals working in the marine trades on Southwest Florida Waters, recover from the ravages of Hurricane Ian. To donate, visit https://oldsaltfishing.org/.
Additional Assistance
There are many ways to donate to assist those impacted by the hurricane. The American Red Cross is assisting storm victims across the state of Florida. To donate visit redcross.org. The Honda families of companies have donated $500,000 in disaster relief funds to the American Red Cross to support food security and shelter issues.
The Florida Disaster Fund is the state of Florida's official private fund created to assist communities as they recover following emergencies or disasters. To contribute visit www.FloridaDisasterFund.org or text DISASTER to 20222.
The United Way of Florida (UWOF) Disaster Fund will provide relief to Florida communities most impacted by Hurricane Ian. Donations can be made and allocated to a specific location or community. For more details visit https://www.uwof.org/disaster-recovery-fund.