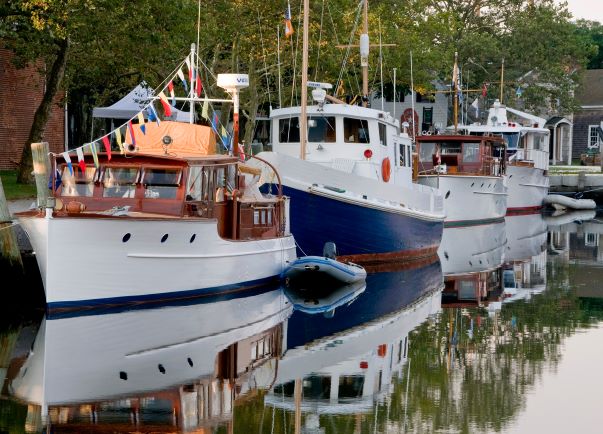 Increased Profitability Comes in Many Forms
Published on February 18, 2022
Many marina owners and operators struggle with one of two problems, according to Meghan Keaney Anderson, chief marketing officer at Dockwa: either they have trouble finding demand for their slips or they have plenty of demand but struggle with the administration of the marina, including functions such as sending contracts and collecting and storing all the proper paperwork from boaters.
The Dockwa difference, according to its website, is "Marina management software with a built-in boater network." The site lists impressive bragging rights: 250,000 active boaters book reservations through the platform, five million nights are booked a year and 62 % of all boats over 40 feet are Dockwa users. It promises to increase revenue from several streams, including marketplace promotion and 24/7 reservations.
"Our platform streamlines the process of running your marina by automating time-consuming processes and digitizing your data and transactions in one searchable place so you can get better insights and a more organized boater database," Keaney Anderson said.
For instance, she learned that 82 % of marinas they talked to had only one posted rate, regardless of demand or scarcity.
Sign up for the Marina Dock Age newsletter.
Our newsletter delivers the latest news straight to your inbox including breaking news, our exclusive content covering the marina and boatyard industry, new products, and much more.
"Our reporting can show you the ebbs and flows of your season or year and recommend places to optimize your operation," she said, adding their new point-of-sale tool can help digitize more of the transactions that come through the business.
Marina management platforms and software programs can help increase profitability in several ways:
Provide Actionable Analytics: Keaney Anderson said that by digitizing transactions, marina staff simplify the purchase process for boaters and get a far better understanding of their own demand and options for growth. This can allow management to focus on procedures that improve the facility and consider additional plans or services that can generate new revenue.
Streamline Processes: Marina operations should experience significant improvement by streamlining processes and reducing the amount of time staff members spend on redundant clerical tasks. Chris Gasiorek, senior vice president of operations and watercraft at Mystic Seaport Museum in Mystic, Connecticut, said from a staffing point of view, Dockwa helps by not having staff "just glued to the phone" taking reservations and performing other clerical tasks. Instead, they can do what they do best, provide customer service on the docks.
Marina Marketing: By utilizing software management platforms marinas can promote their facilities to a larger audience. Before using Dockwa, Gasiorek said, boaters "didn't really know there was a marina at Mystic Seaport." So Dockwa gives them a presence. This is particularly important, he said, since most of their business comes from transient boaters versus seasonal. The platform also helps with communicating with boaters.
Facilitate Better Use of Slips and Docks: Gasiorek said he has had a 27 % increase in revenue since the facility began using Dockwa in 2017. A museum trustee had suggested they use the platform and paid for it the first year. And while they're a not-for-profit organization, the revenue helps with projects such as dock maintenance and improvement.
While other marinas may use a marina management platform for sharing and storing slip contracts, the marina at Mystic uses it for functions fitting transient dockage such as tracking capacity and scheduling dock space. "My advice to marina managers would be to remember that any one of these systems is a tool that you can use to your advantage," Gasiorek said.