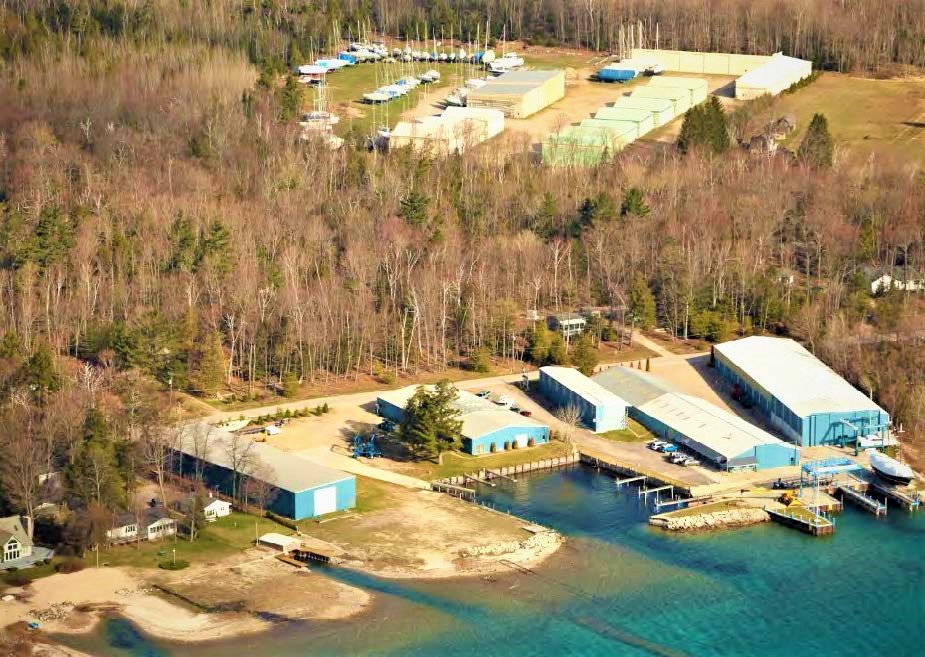 KAM Marine Buys Northport Bay Boat Yard
Published on May 6, 2019
KAM Marine has expanded its business to include a boatyard in Northern Michigan. The company, which is a division of KAM Yacht Sales, also owns KAM Marine and KAM Yacht Sales in Detroit and KAM Yacht Sales Florida in Palm Beach.
KAM purchased Northport Bay Boat Yard, located in Northport on Lake Michigan's Grand Traverse Bay, on April 10. "This allows us to cover Northern Michigan with sales, service and storage as we can do in the Metro Detroit region," said Daniel Stern, president of KAM Yacht Sales and partner and principal of Lormax Stern.
Lormax Stern, founded in 1992, is a commercial real estate firm specializing in the acquisition, development and management of retail properties. Stern said they formed KAM Yacht Sales during the last recession when Lormax Stern started purchasing new boats from banks looking to exit the marine lending industry. Over time the business began taking in larger trades coming in on new boats that dealers did not want to accept.
Stern said having the facilities allowed the company to do a better job getting inventory show-ready more quickly and efficiently. "Being in the real estate business, we had the back-of-the-house infrastructure in place to help run marinas and boatyards. Now we look for locations to purchase where we can leave a good team in place and just add some of the best practices we have learned over the years," Stern said.
Sign up for the Marina Dock Age newsletter.
Our newsletter delivers the latest news straight to your inbox including breaking news, our exclusive content covering the marina and boatyard industry, new products, and much more.
Some of those practices include double checking all work and verifying with customers their service, launch and haul-out dates. Stern said getting feedback from customers is important in order to better serve them year in and year out.
The Northport Bay Boat Yard has been in business since 1965; the property includes 135,000 square feet of storage buildings with wet service slips. The yard has the ability to haul and service 75-foot boats and can accommodate 500 boats on-site, including about 250 boats in heated storage.
"Heated storage is very hard to come by in Northern Michigan," Stern said. He plans to provide more heated storage in the future, which is a benefit for boat owners. "All the systems seem to last longer, and there are less issues with heated storage."
The boatyard employs 12 people, and the technicians are qualified to service all makes and models of marine engines and drive trains. The staff specializes in varnishing, re-finishing, hauling, launching and rigging.
"Northport Bay Boat Yard is an incredibly well maintained, expertly-run marina facility," said George Ash, national director for Simply Marinas, which represented the buyer and the seller.  "The service department has a great reputation and storage is consistently at full occupancy with a waiting list."
Ash said the 35-acre property includes vacant upland, which will allow for future expansion and financial opportunities. "We are seeing interest from buyers purchasing cash-flowing marina assets that also offer upland development potential for residential and mixed-use projects. These buyers include developers and companies with diverse commercial real estate holdings that are not limited to the marina industry."
Northport Bay was a confidential listing. "We have a unique process in handling confidential offerings that has worked for our clients," Ash said. "It's a process that requires patience and hard work from the brokerage team."
The process includes contacting pre-qualified prospective buyers who have provided the broker with criteria that fit the asset. The Simply Marina team also reaches out to its network of industry contacts developed over the past 20 years in the business. Once a qualified prospective buyer is identified, the seller must give clearance to share confidential details about the property.
Ash said Simply Marinas thought Lormax Stern/KAM Yacht Sales would be a good buyer because the company already has a solid foundation in boat storage, service and sales within the Michigan market. "This move creates great synergy with the group's current holdings," Ash said.