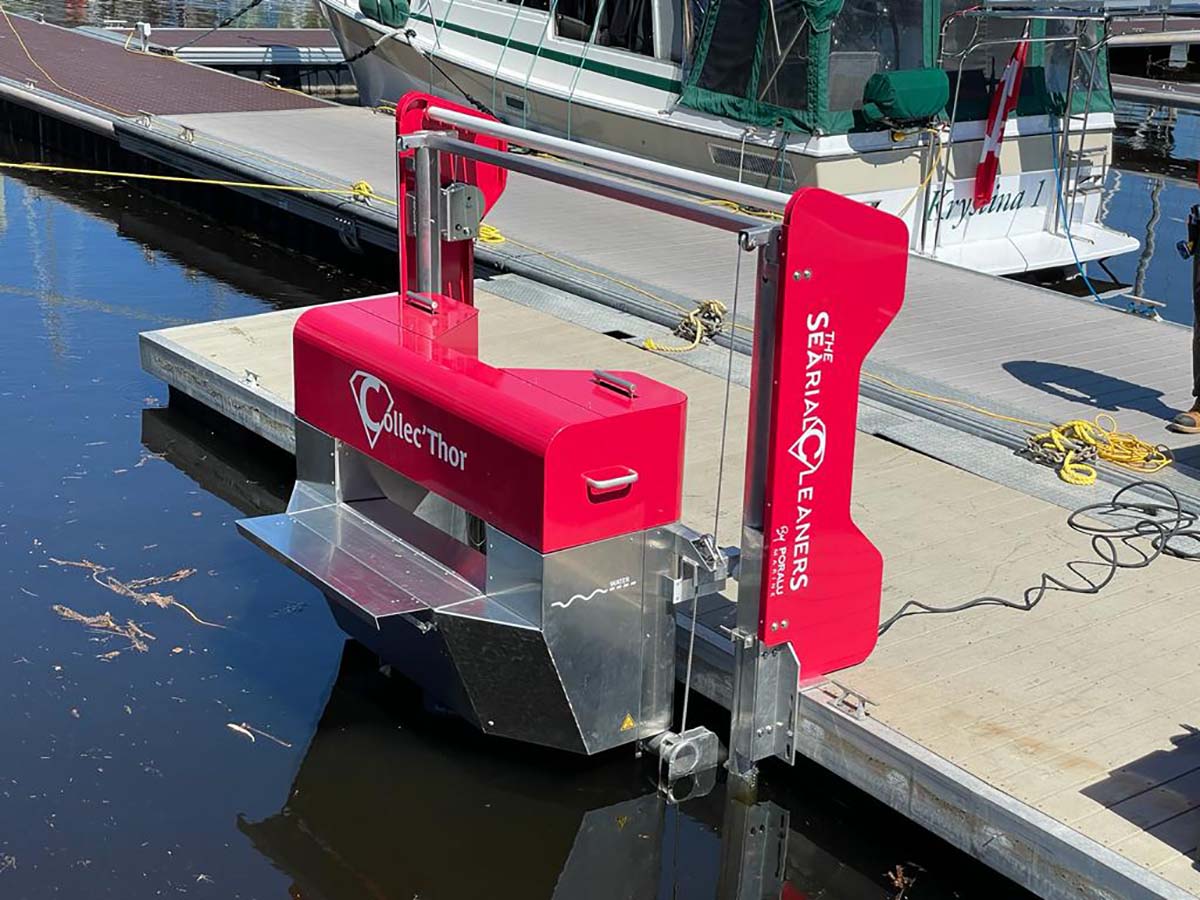 Keeping it Clean
Published on May 1, 2023
According to the organization Earth Day, as of 2021, there are at least 363,762,732,605 pounds of plastic pollution in the world's oceans, with two garbage trucks worth of additional plastic entering the oceans every minute. That number is expected to triple by 2040. Marinas, whether they sit directly on the ocean or are further down in rivers, can see the plastic problem firsthand, but they can also be the first line of defense to prevent this pollution.
Technological Advances in Cleaning
Taking a leading role in the fight against plastic and other types of pollution is the company Searial Cleaners, a brand of Poralu Marine, which has introduced four new products to the market that use modern technology to remove trash from waterways.  In addition to grabbing trash, the company is also collecting data on trash that can have a far-reaching impact on how pollution worldwide is addressed.
Searial Cleaners has the following products available: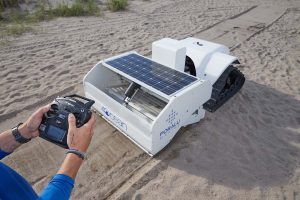 The BeBot is a remote-operated beach cleaning robot with a sieve screen developed by Niteko. It runs on batteries so is essentially silent as it sifts sand and rakes algae, collecting up to 100L of waste as one turn.
Because BeBot only digs to depths of 10 cm, it preserves the vegetation while picking up the surface trash.
Collec'Thor is a fixed waste collector, mounted to a dock or placed at the water's edge, that attracts and sucks in all solid and liquid waste that floats on the water's surface. It has a storage unit that can easily be emptied but has a capacity of 100kg so it can run for long periods of time depending on what's floating nearby. Also electric, it won't disturb marina patrons.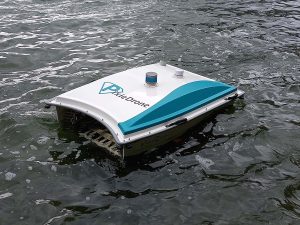 Similar in concept to a Roomba, the Pixie Drone mobile waste collector takes technology even further. The remote-operated drone, which looks a bit like a mini boat, can collect up to 35 gallons of waste and runs for up to six hours. The drone is equipped with a video camera and LIDAR technology, which allows it to avoid obstacles.
InvisiBubble bubble barrier is a bubble curtain that gives movement to a water body to help ward off eutrophication and deflect sedimentation. It can also create a current to divert waste to a set location for easy retrieval. The bubble curtain is also capable of corralling petroleum spills and, like other bubbler systems, can prevent ice formation.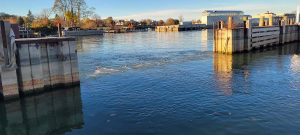 Marinas Take a Leading Role
Safe Harbors Lauderdale Marine Center (LMC) is a testing ground for both the efficiency of a Collec'Thor unit as well as the usefulness of the data that can be collected. Chris Collins, marina manager at Safe Harbor Lauderdale Marine Center said his marina was an ideal candidate for putting the Serial Cleaners products to work. The marina had been considering purchasing a Collec'Thor unit when Gautier Peers, head of sales and partnerships for Searial Cleaners America, suggested the marina could be used as a test site based on how much pollution was in their waters.
"If you look at how our marina is located you see we collect all the trash that flows down the New River. We even get old trash like those old soda cans and oil cans that didn't have pull tops," Collins said. He estimates the Collec'Thor is grabbing a minimum of 200 pounds of trash each week. "We used to try to scoop up the trash with nets but capturing 50 pounds of wet material was breaking our nets. Plus, it was a lot of manpower. Now we just empty the unit about every other day," he said.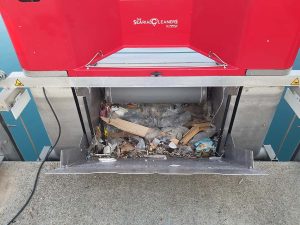 Peers said a key to the development of The Searial Cleaner line was to make the products look futuristic to catch attention and provoke interactions. "People ask questions when they see our products at work, and it gives us a chance to explain the life cycle of plastics and how pollution impacts marine life. Our products open the door to education." He gave the example of the city of Boca Raton, which made a video of its BeBot at work that sparked more than a million impressions.
Collins reiterated this idea, saying the placement of their Collec'Thor, right outside the onsite restaurant at the marina, has brought many questions. "Our customers are beyond happy that we have something here that works," he said. Collins said in the few months they've had the Searial Cleaner unit it's proven its value so much that he's looking into purchasing more Collec'Thors.
Data Collection for a Better Future
Collecting and disposing of trash is just part of the battle against pollution. Peers said knowing where trash originates can go a long way in stopping it from entering the waterways from the start. Searial Cleaners is working in partnership with the Ocean Conservancy's International Trash Trap Network (ITTN) which collects data on plastic pollution using a smartphone app called "Clean Swell". Collected trash is classified and quantified, and those reports are shared within the communities where the trash is collected.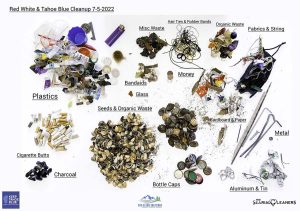 The data provides a starting point for discussions about the water pollution problem and possible solutions. For instance, Peers said their fixed waste collector (Collec'Thor) was installed in Vancouver, British Columbia and the reports on the trash that was collected identified Styrofoam beads as the most common pollutant. With that data in hand, the city was able to find that there were some docks that continued to use unencapsulated Styrofoam floats, despite the city's regulation against the use of the product. Similarly, the beach screener tool was in place in Monaco and data showed cigarette butts continued to be the most prevalent plastic pollutant although the city had placed a ban on cigarettes.
For Collins and LMC, collecting data, which they plan to begin soon, is something they hope they can use to spark the City of Fort Lauderdale to help fund the installation of more Collec'Thor units or some other products from the Searial collection. "Once they see how much trash we are removing from the river and how that benefits everyone on and around the river, they might be inspired to help out," he said.
Going beyond the benefits for localities in discovering polluters, the data collected through ITTN can also be used to identify the biggest polluters worldwide, making the information useful for forming international treaties around pollution protection. That may seem a lofty goal but the rate of pollution in the world's oceans can only be halted by ambitious ideas, sound technologies, and a drive for cleaner oceans for the next generations. Serial Cleaners and its partners hope to be part of a worldwide solution.