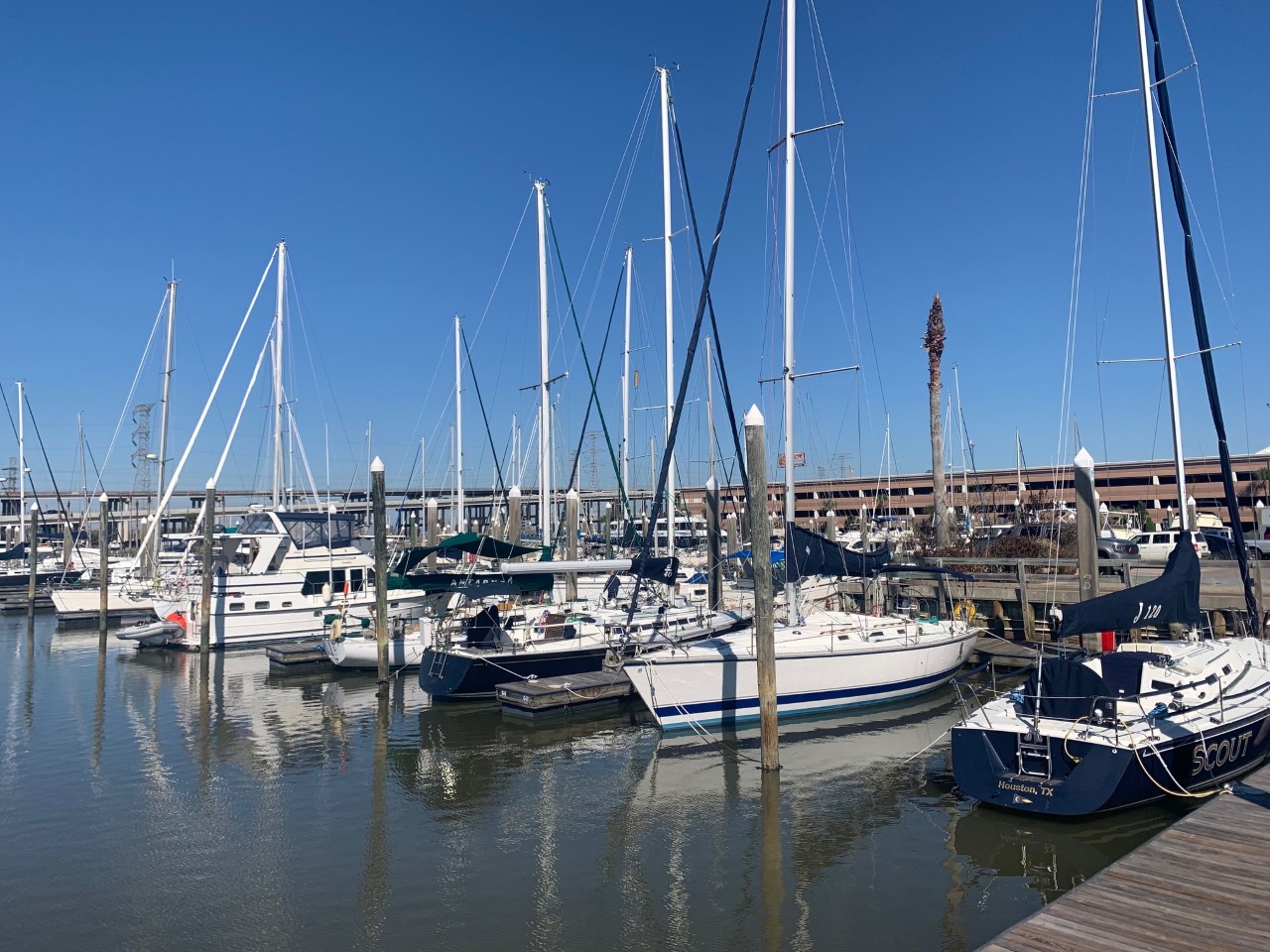 Kemah Boardwalk Marina Considers Guest Services an Important Piece of its Business Model
Published on April 29, 2021
Like many marinas around the country, during the height of the COVID-19 pandemic, the staff at Kemah Boardwalk Marina, located on the shores of Galveston Bay and Clear Lake in Texas, went above and beyond to make sure their boaters felt safe and secure. With more than one dozen restaurants located at Kemah Boardwalk, the marina started delivering lunch and dinner to the boaters who weren't comfortable leaving the safety of their vessels. "It was a win-win for all of us," said Brad Grace, marina manager at Kemah Boardwalk Marina. "We were able to provide additional revenue to the restaurants that were struggling to stay in business and offer delivery service to our boaters at no additional cost to us."
As the pandemic continued and state and local travel restrictions were put in place, guests weren't able to get to the marina as much as they wanted, so Grace and the staff had to develop inventive services to help both the boaters who were at the marina and those who weren't. "We came up with a basic boat washing service since people weren't able to get here and clean their boats. We would receive a request, clean the boat, take photos, and send them off to the owner," he said. "It provided a needed service to them and it generated additional revenue for the marina."
Taking Care of Guests
The Kemah Boardwalk Marina has 414 slips ranging in size from 30 feet to 65 feet with T-heads accommodating vessels up to 100 feet. Grace said that 90% of their guests are Texans, with roughly 70% coming from the immediate Galveston area. "Most of our boaters are seasonal or transient," he added. "During the peak of the pandemic we saw a lot of Texans who for years had kept their boats in Florida but since they couldn't get there, they relocated here."
Grace predicts that some will relocate back to Florida but said every slip is currently full and the waiting list continues to grow. He believes that by offering additional hospitality services the marina will be able to retain some of those new boaters.
Sign up for the Marina Dock Age newsletter.
Our newsletter delivers the latest news straight to your inbox including breaking news, our exclusive content covering the marina and boatyard industry, new products, and much more.
Offering additional guest services isn't new to Kemah Boardwalk Marina. Grace said they have been working on creating a more robust hospitality program since he arrived at the marina five years ago. "I have been lucky to stay in this industry for 25 years and I have worked at many marinas," he said. "Each marina has different boaters and different demographics, but everyone's leisure time is very valuable to them. So we want to make it as enjoyable as possible."
From small details such as complimentary pastries and coffee on Sunday mornings and fresh flowers in the guest restrooms, to larger services such as docking assistance and a comprehensive marina hurricane plan, Grace said these are the elements Kemah customers notice. There are also hospitality baskets filled with complimentary toiletries in all guest restrooms. "That idea came from our billing coordinator, who saw the baskets at her local gym. They are not that expensive and it is just one of the things our customers compliment us on," Grace said.
Grace believes Kemah Boardwalk Marina offers more hospitality services than any other marina in the area. To generate additional service ideas, he takes trips up and down the coast, stopping at marinas to observe their operations. "Every marina has an idea that you haven't thought about," he said. "We also look at hotels and resorts. It doesn't have to be another marina. If we think we can incorporate it, we will."
Staffing is a Priority
To accommodate these additional services and continue to successfully operate the marina on a daily basis, Grace said they have had to increase staff and adjust the schedule. The marina now has more staff members in the late afternoon and evening, when requests for food delivery and other services are more common. "We get those requests less frequently now that the restaurants are open, but I don't want to take a chance of not having the staff to accommodate any request we receive," he added.
Grace envisions the biggest challenge for 2021 will be to offer even more hospitality services. "We aren't going to settle with what we currently offer. Our guests now expect these services, so we are always on the lookout to improve and increase our offerings," he said.
This year, guests should expect to see some big changes in other areas of the marina as well. The facility is doubling the size of its outdoor deck to give customers more space to gather. Duffy Boats of Texas & Electric Regatta LLC is opening a location at the marina this year, offering boat rentals and sales, as well as wine and cheese charters. Grace said Duffy will likely start out small with a few boat rentals, but he expects the demand will lead them to double the size of their fleet by summer. Another broker will also be opening at the marina this year. "Having sales and brokerage firms at the marina is an additional revenue stream for us," Grace said. "If they sell boats, they need slips to keep them in, so it is mutually beneficial."
Grace says hospitality should play an important part in every marina's business operation plan. Kemah Boardwalk Marina has developed a reputation thanks to these extra guest services. "We all have docks, pumpout systems, and WiFi," he said. "But if you are in an area like we are with multiple marinas, you have to offer more to stand out from everyone else."