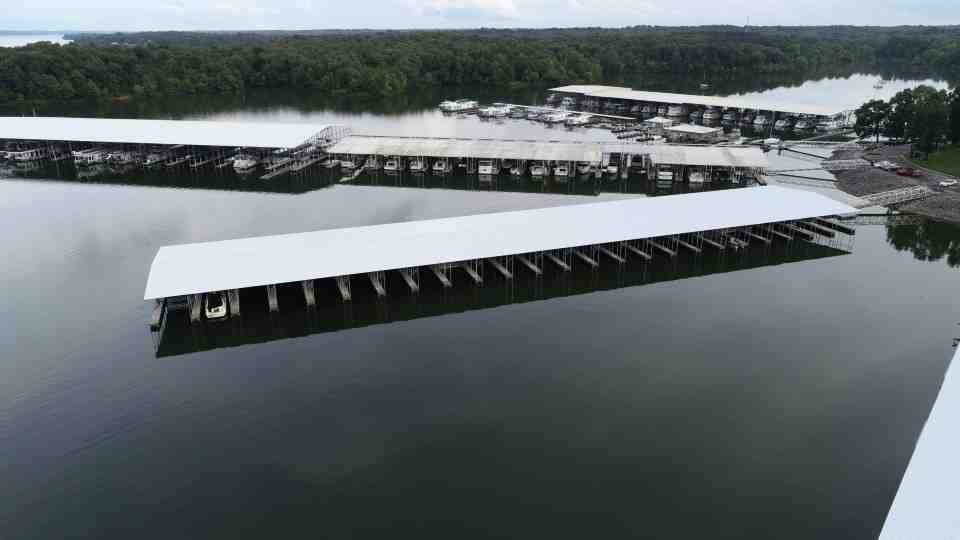 Kentucky Marina Rebuild
Published on August 20, 2020
Kentucky Dam Marina in Gilbertsville, Kentucky, began operations 46 years ago. It is the largest marina on Kentucky Lake, which was created in 1944 when the Tennessee Valley Authority impounded the Tennessee River.
The marina, which Suntex purchased in 2017, received heavy damage when a tornado hit the area in June 2019. Much of the facility was a total loss and other parts required structural repair.
Tiger Docks recently completed a multi-phase restoration project at the marina. The company began by repairing Dock 1B, which sustained heavy structural damage to the main dock, the roof and several fingers when the tornado ripped the winches from the docks. Half of the roof panels over the 80-foot houseboat slips were blown off and much of the galvanized box truss steel frames on the main dock were beyond repair.
Although this would usually have been considered a total loss, Tiger Docks was able to remove the damaged areas and replace them with new heavy-duty frames to cut the costs dramatically.
Sign up for the Marina Dock Age newsletter.
Our newsletter delivers the latest news straight to your inbox including breaking news, our exclusive content covering the marina and boatyard industry, new products, and much more.
The next phase included the construction of a new dock 2A, which features 48 slips measuring 16×40-feet. Tiger Docks then completed a new 4B dock, which consists of 24 double-berth docks, each 20×24-feet. Since severe storms have hit the marina several times over its four-plus decades, Tiger Docks installed heavy-duty frames in this area as well. They consisted of 2 ½-inch mains with double cross bracing on the inner fingers.
Kentucky Dam Marina has over 350 boat slips to accommodate boats as small as 20 feet and yachts or houseboats up to 120-feet in length. It offers a full-service fuel dock, 30 and 50 amp electric service, a fully stocked ship store and renovated bathhouses.