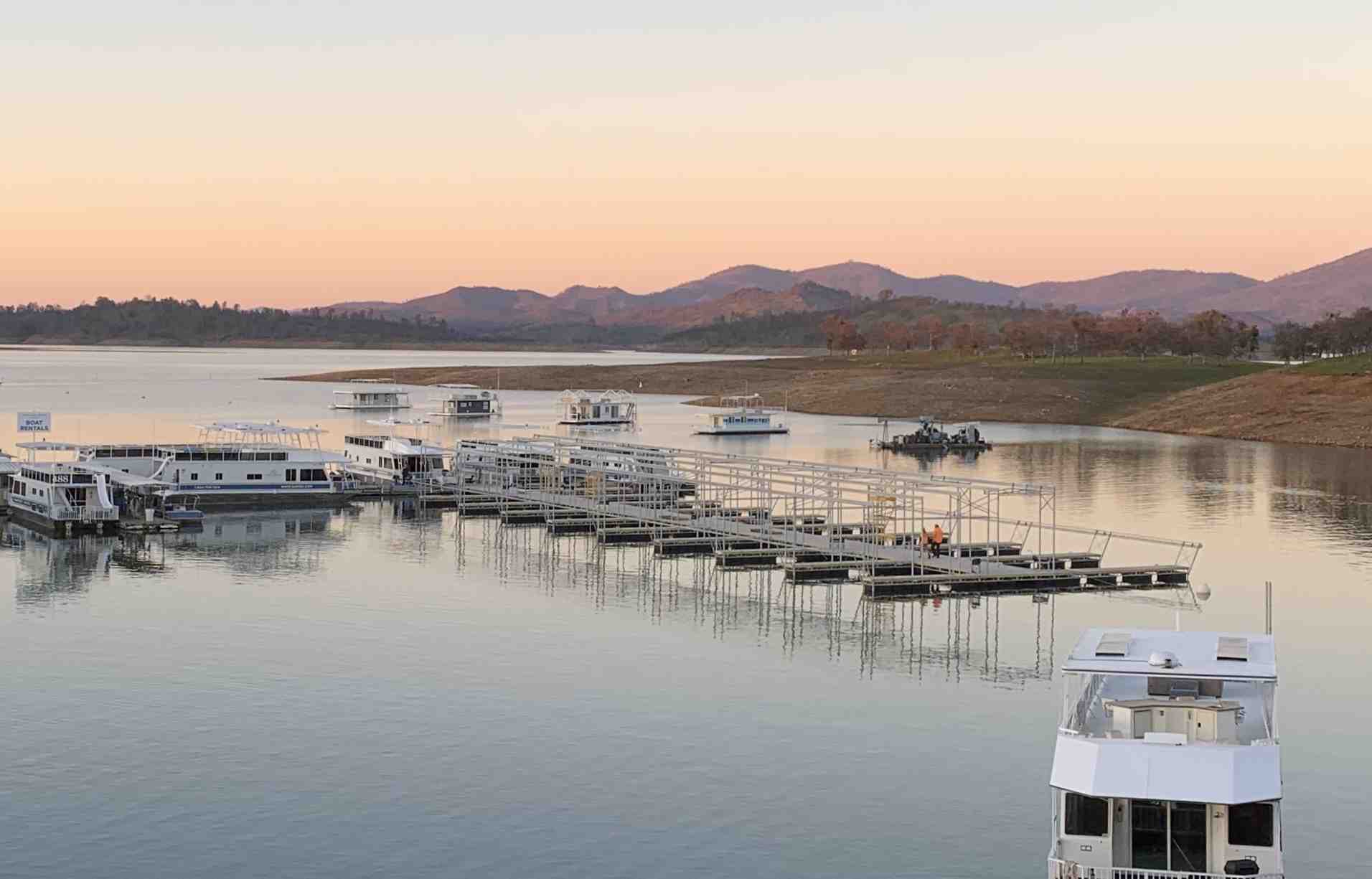 Lake Don Pedro Marina Adds Docks for Rentals
Published on May 1, 2019
Lake Don Pedro Marina in LaGrange, California, is undergoing its second phase of renovations by Tiger Docks.
Lake Don Pedro is a reservoir that is located in the Sierra Nevada Foothills and offers more than 160 miles of shoreline. The 43-year-old marina, which can accommodate boats up to 70 feet long, was purchased by Suntex in 2017. It has nearly 13,000 acres of water and is very popular with boaters.
To keep up with the demand, the marina is adding a new rental dock, replacing more of the existing marina slips to accommodate larger boats, and updating more of the infrastructure.
Construction on phase one renovations was completed by Tiger Docks last spring. It consisted of replacing B-Dock with a new 56-slip section and a new 12-foot by 290-foot floating ADA walkway. In this second phase, the marina is adding 60 new rental slips by installing a new 453-foot A-Dock. It will have 40 slips measuring 12 feet by 24 feet and 20 slips that are 12 feet by 26 feet.
Since house boat rentals are extremely popular on Lake Don Pedro, Suntex asked Tiger Docks to design a new rental dock for its boat club to accommodate both its houseboat fleet and a variety of other rentals. This rental dock is a 237-foot finger that includes uncovered double slips on one side for the larger rental house boats. The other side has approximately 7,700 square feet of covered dock section. This makes it much easier for clients and staff alike to access the fleet and keep things organized to one area.
Sign up for the Marina Dock Age newsletter.
Our newsletter delivers the latest news straight to your inbox including breaking news, our exclusive content covering the marina and boatyard industry, new products, and much more.
The biggest challenge on the project was working around the existing anchoring system while integrating all the new anchors in water more than 100 feet deep. Tiger Docks was able to remove the old outdated docks, assemble and install the two new dock sections, and integrate new anchoring, all while keeping the marina functional during construction.
In addition to the boat rentals, Lake Don Pedro Marina offers slip rentals, a repair shop, dry storage, a café and a convenience store. There is also a campground located on the west shore.