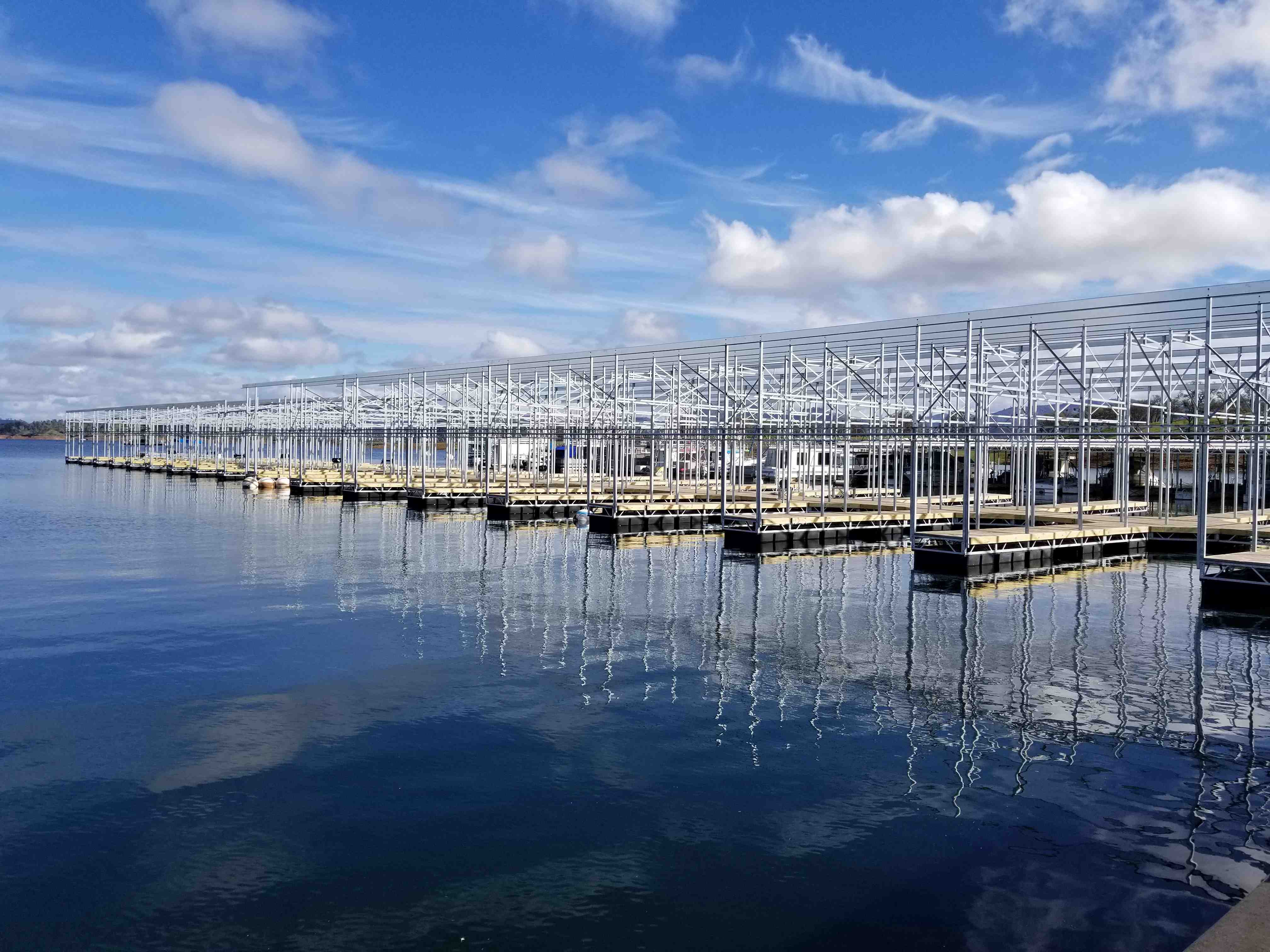 Lake Don Pedro Marina Gets New Slips in First Renovation Phase
Published on June 25, 2018
Tiger Docks has completed the first phase of renovations at Lake Don Pedro Marina in Lagrange, California, for Suntex Marina Investors, LLC.
Suntex purchased the 42-year-old marina in July 2017, knowing it needed updating. Most of the existing slips were only 9 feet wide, too small to accommodate the majority of modern boats. "Everything today is getting bigger, and the previous slips were old and uncovered. Suntex wanted to put a new product in place to better serve our customers and our customers' needs," said Tom Delotto, Suntex regional manager.
Phase 1 of the Don Pedro Marina renovations included replacing the B-Dock with a new 56-slip section. This section consists of sixteen 32-foot slips, twenty 26-foot slips, and twenty 24-foot slips with various roof clearances. The marina updated a  12-foot wide by 290-foot long floating ADA walkway to get the boats into deeper water, reducing the time spent adjusting the dock during low water stages.
Suntex was also concerned with environmental factors at the marina, so they removed the open foam and replaced it with the environmentally friendly enclosed floats.
Fabrication and installation went as planned, but weather did prove to be a challenge for the Tiger Docks team. During more than half of the installation, the company's crews had to battle through heavier-than-normal rainfall for this area of California. "Tiger Docks' installation crew worked diligently through muddy, wet conditions to keep on a strict timeline, completing the project before houseboat rental season started," the company's CEO Nick Davis said.
Sign up for the Marina Dock Age newsletter.
Our newsletter delivers the latest news straight to your inbox including breaking news, our exclusive content covering the marina and boatyard industry, new products, and much more.
Delotto said the marina's experience in working with Tiger Docks was outstanding. "Communication is difficult these days, and Tiger did a great job in communication, support, and flexibility to make the project happen despite site challenges," he said.
With nearly 13,000 acres of water, Lake Don Pedro is a reservoir located in the Sierra Nevada foothills with 160 miles of shoreline. Lake Don Pedro Marina is a full-service marina that includes boat rentals, slip rentals, repair shop, dry storage, café, and a convenience store. The marina can accommodate boats up to 70 feet in length. There is also a campground located on the west shore.
Phase two of renovations at Lake Don Pedro Marina is scheduled for next year. Suntex will be replacing more of the existing marina slips in an effort to continue accommodating larger boats, as well as updating more of the infrastructure.
"This was a great project to work on in an amazing area. Lake Don Pedro's staff takes great pride in their marina," Davis said.