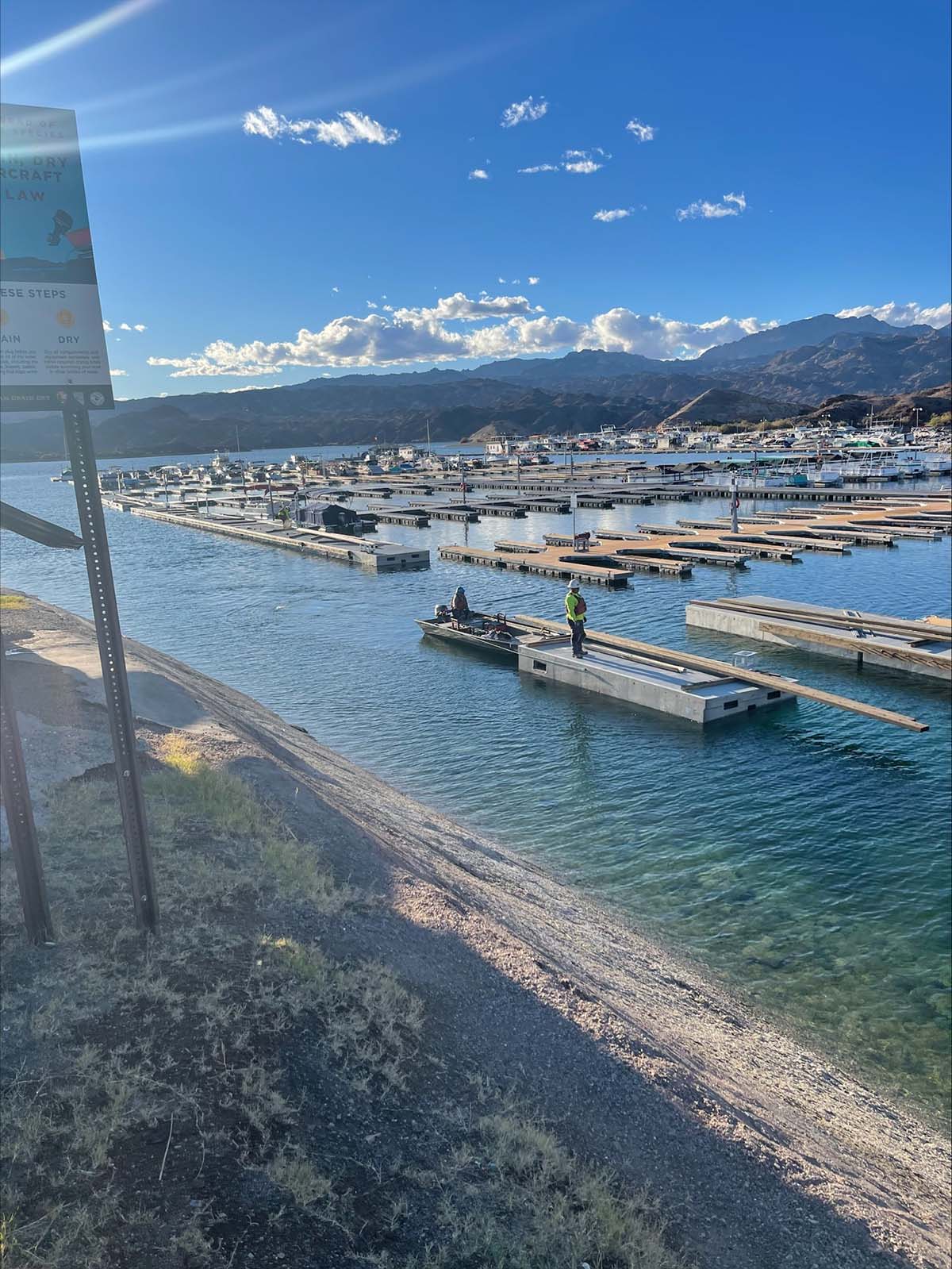 Lake Mohave Marina Renovation Completed
Published on March 5, 2023
Come spring, visitors to Arizona's Lake Mohave will have access to a new state-of-the-art concession building and dock system at Katherine Landing. Part of the Lake Mead National Recreation Area, Katherine Landing on Lake Mohave is about a two-hour drive south of Las Vegas in Bullhead City, Nevada.
Mohave is a popular stop for several recreational activities including boating, fishing, and even scuba diving. Bellingham Marine performed the recent project for Urban Park Concessionaires, the holders of a 15-year contract with the National Park Service (NPS) to provide visitor services at the landing, according to the NPS website.
The project provided a multitude of improvements including a new 659-foot headwalk, an 80-foot ADA gangway, (27) 26-foot-long rounded fingers, a fuel dock with three 8×32-foot fingers, and a pre-fabricated building with match-cast concrete floating platform. Slip-side amenities in the new dock system include electrical, sewage pumpout, fire suppression system, and potable water. Bellingham also designed and built the underwater anchoring/cable system suitable to accommodate 14-20 feet of water level variation, which is not uncommon for Lake Mohave.
"The client upgraded from a steel and wood dock system to our Unifloat/Match Cast system, which will offer more stability and longevity with less maintenance," said Brian Hylland, project manager for Bellingham Marine. "One of the challenges is tying in the new dock system to the existing steel system. However, we were able to match the existing infrastructure."
Sign up for the Marina Dock Age newsletter.
Our newsletter delivers the latest news straight to your inbox including breaking news, our exclusive content covering the marina and boatyard industry, new products, and much more.