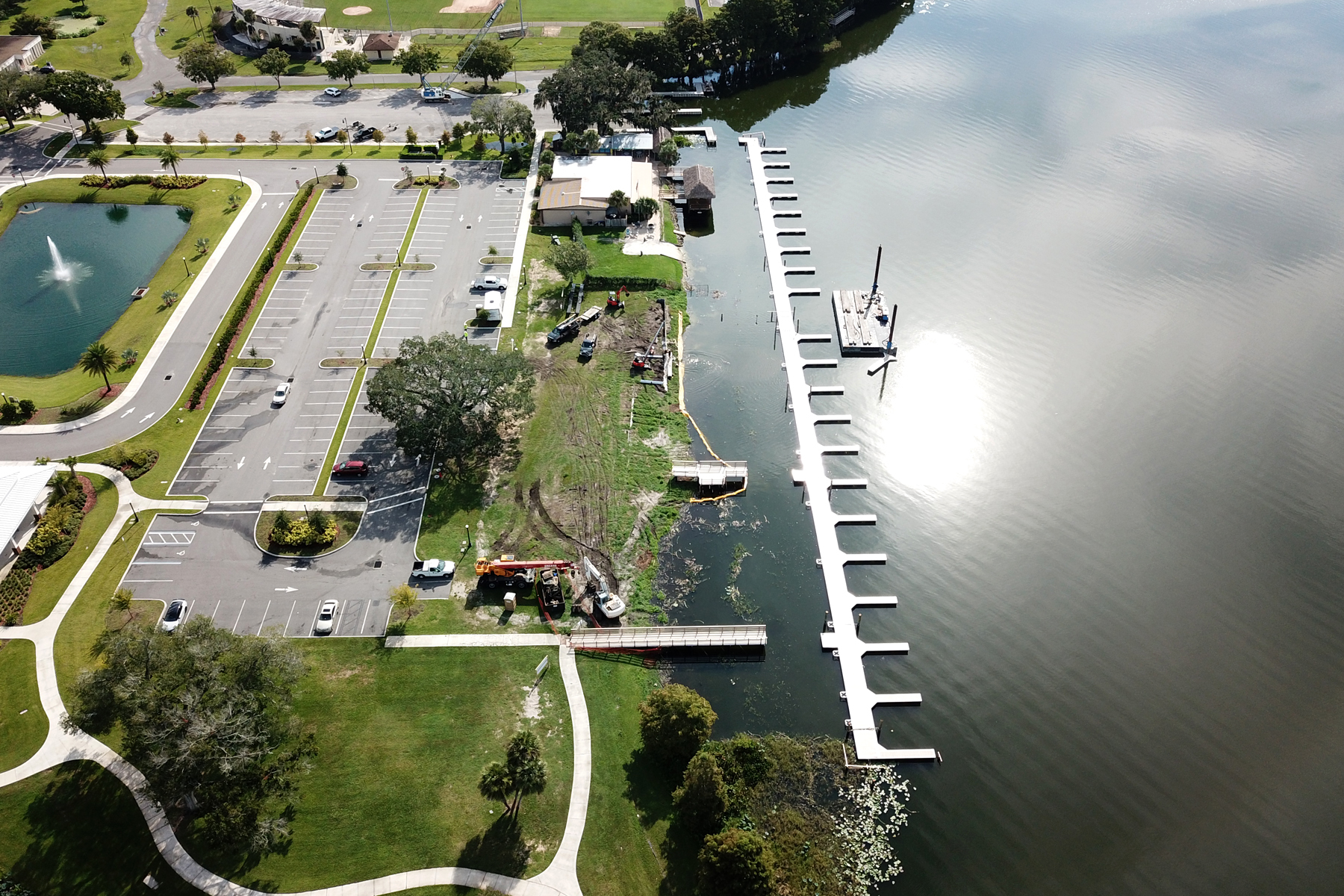 Leesburg Revitalization Includes New Docks for Marina
Published on November 15, 2021
The City of Leesburg, Florida, was in the final stages of an ambitious public waterfront revitalization in October. In order to expand public boating access and enhance recreational opportunities, the city added fixed and floating docks at Venetian Cove Marina, at the north end of Lake Harris.
The fixed aluminum dock system from Golden Marine Systems is designed for greater space between pilings than a comparable wooden structure. That not only saved the city money, but also made the docks more attractive to view from shore. The floating dock section, also from Golden, features adjustable pile guides, cleats and 22 finger piers with power pedestals, water service, and a fire suppression solution. Both docks have composite decking. Golden also supplied four heavy-duty gangways and a security gate.
Kelly Brothers, Inc. of Fort Myers installed the new docks. "The docks turned out great," said John Folker, City of Leesburg project manager. "We host several bass fishing tournaments that have a lot of boating and pedestrian traffic. Plus, the area ties into many popular islands within Lake Harris and its adjoining lakes. The revitalized waterfront with new docks will be a huge asset for the city."
Other improvements at the site include a new restaurant and extensive landscaping. The area offers walking trails and access to Rogers Park and Pat Thomas Stadium, both popular event venues.
Sign up for the Marina Dock Age newsletter.
Our newsletter delivers the latest news straight to your inbox including breaking news, our exclusive content covering the marina and boatyard industry, new products, and much more.
The Venetian Gardens renewal project was funded through grants from Lake County and the Florida Fish and Wildlife Conservation Commission.