Listening to Boaters is Key to Family-Owned Coinjock Marina & Restaurant in North Carolina
Published on November 15, 2021
While Louis Davis said many of his business decisions have been panic-driven, he and his wife, Wendy, have weathered the literal and figurative storms of owning and operating the family-owned Coinjock Marina & Restaurant for two decades.
Located at mile marker 50 on the Intracoastal Waterway (ICW) in North Carolina, Coinjock was owned by Davis's parents since 1978. Davis worked in the family business when he was growing up and has witnessed its growth, much of which he planned and implemented.
Coinjock was sold to a conglomerate briefly in 1999; Davis worked for them for a couple of years before he and his wife bought it, with partners, in 2001. The Davises bought out their partners in 2006.
Upgrades Improve Business
The Davis family has made many renovations and improvements to keep up with industry trends and changing customer needs.
Sign up for the Marina Dock Age newsletter.
Our newsletter delivers the latest news straight to your inbox including breaking news, our exclusive content covering the marina and boatyard industry, new products, and much more.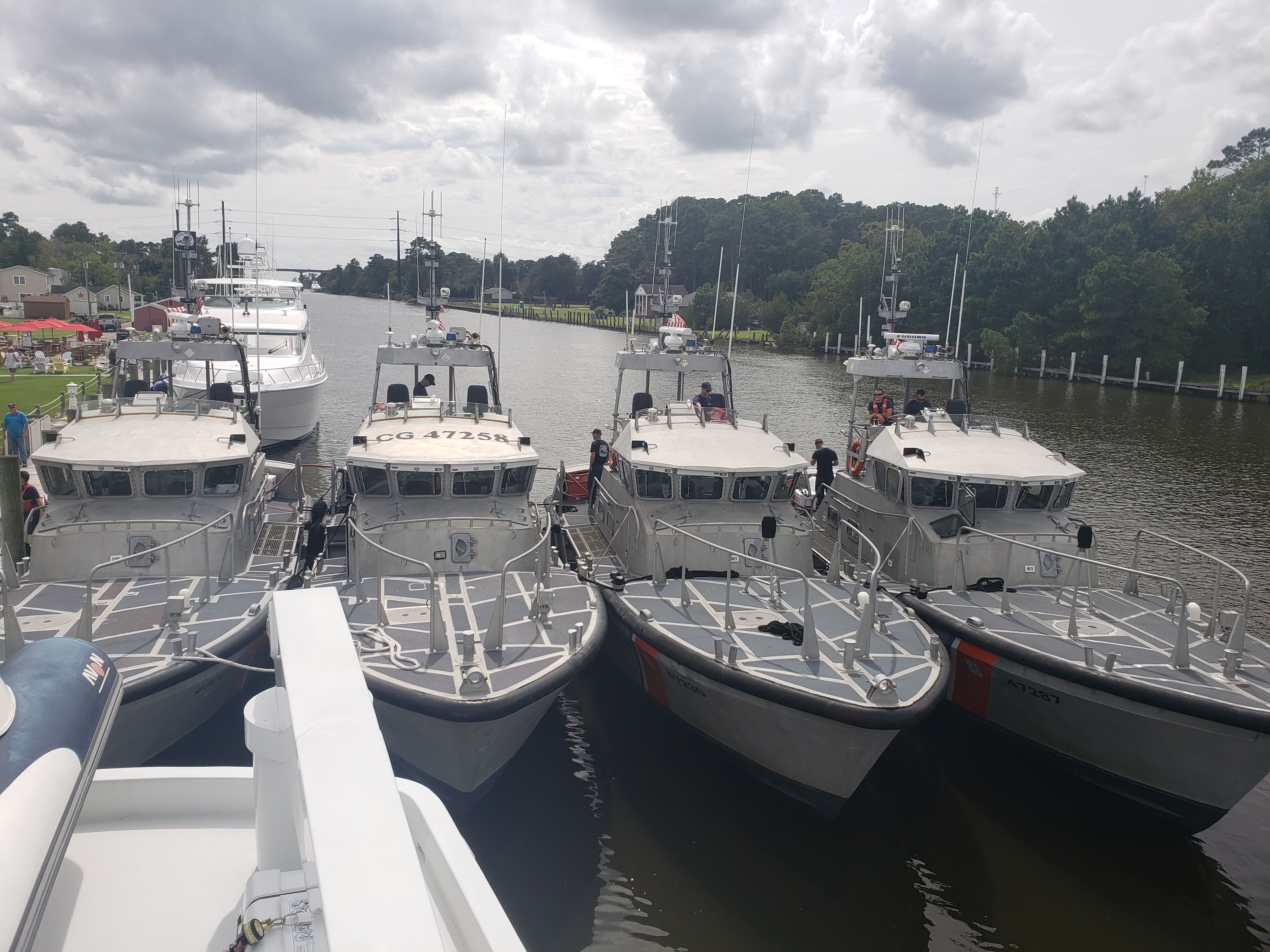 In 1978, there was about 600 linear feet of dock and a restaurant that seated 20 that was open only to boaters in the peak of boating season. They had an 800-square-foot ship's store and two sets of fuel docks.
Today, there is 1,400 linear feet of dock at the original Coinjock Marina. The Davis' recently purchased the Midway Marina across the water. It has a hotel with six units and more than 1,600 feet of additional dock space, although about half of it is in disrepair.
The Davis's have a restaurant at Midway that they use for catering and an event space. They also operate a few food trucks out of this building, that Davis calls the commissary kitchen.
The restaurant at Coinjock is now open is now open to the public year-round and seats 250 people. The ship's store is now 3,000 square feet and they are in the process of building a larger, newer one that doesn't get flooded during certain conditions. There are also housing rental units at Coinjock and duck hunting charters conducted by the staff.
Adapting to Customers' Needs
Coinjock's position on the ICW — just south of Virginia, where boaters have to time bridge openings — can be a big help for slower sailboats who can't cover the miles that the bigger, faster boats can.
"It's been an evolution, as the boats used to travel slow," Davis recalled. "The slower the boats were, the more advantageous our location was. As a sailboat you are limited at seven, eight knots, because you've got to go at least 30 to 50 miles beyond our facility in either direction, so that's the better part of a day at that speed. However, as the boats have gotten increasingly faster, it is much easier for them to blow past us."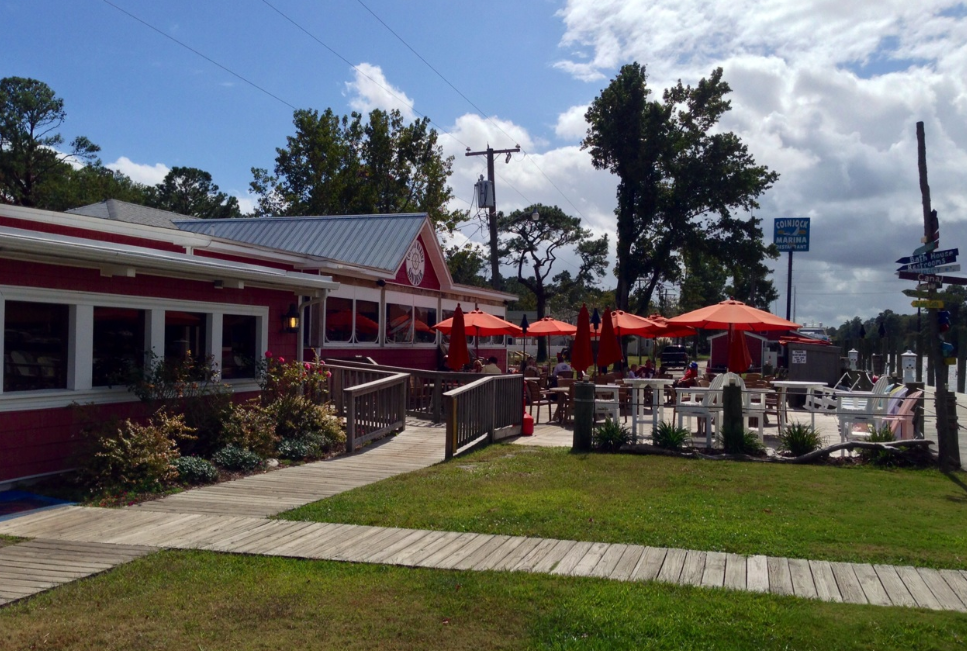 But combining easy dock access and a lot of on-site amenities, the customers keep coming back. Many come year after year or several times a year.
Aside from the structural offerings, Coinjock has another vital component to business operations—the staff. "I'm always going to brag on my dock guys," Davis said. "They do a fantastic job. They're phenomenal and friendly to each customer."
On the Job Training
Davis said he has learned much about business sustainability and improvement while on the job. He credits his training to "real world learning," living through the ups and downs, and most importantly, listening to their customers. He referenced the dock expansion as one of the many projects they have addressed after talking to their customers. The project entailed adding the greatest number of pedestals and the most amount of power possible to accommodate the increasing demands of bigger boats. They also now have tall, large pilings and extra fueling spots that allow boaters to fuel up while in their slips on about 90 percent of the docks.
"The restaurant has also been a major draw," he added. "At one time we were a large marina with a little restaurant. Now it's a large restaurant with a marina."
Last year, COVID-19 presented business challenges. First, they didn't know if customers would come. Then they had to learn how to staff and interact with customers if they did come.
They eventually had to close the restaurant. The dock staff went on the road to do food truck popups, which Davis said was incredibly successful. When the restaurant reopened, they had about 100 people tailgating in front, hoping to get a seat. To accommodate more customers, he put a large tent over their outdoor seating since they were at half capacity indoors. "That was wildly popular. The outdoor dining is still a big thing," Davis said.
Despite the challenges, Coinjock had the best year ever last year, and Davis expects better numbers this year, both at the marina and the restaurant, if they stay on track.
Boat Slip Choreography
In busy times, the marina will book 1,300 feet of dock. Occasionally, they'll have Midway Marina overflow, too. Those boaters can use a dinghy to cross the water and come to the restaurant at Coinjock.
People unfamiliar with the marina and its pivotal role on the Intracoastal Waterway are often surprised when they first arrive. "The first boater of the day will question why we put them all the way at the end. We explain to them that things will get busy, very quickly," Davis said.
By the end of the night, when that first boater of the day walks to dinner, they are amazed at the crowd. "You know, we're rafting boats together, every slip is full, there's a two-hour wait in the restaurant. Most people have no idea. There are locals that don't have any idea about what happens at Coinjock," Davis added.
Accommodating Transients and Locals
Locals are a big part of their customer base, but Davis said he never forgets the transients who have kept them in business through some of the leaner times. Sometimes that can cause a challenge.
Reservations may change 100 percent throughout the day, he said of the hectic schedule, particularly during the high season that lasts from about April to the Fourth of July. Business then picks up after Labor Day, based on the triggers for hurricane insurance and then again at the end of October and the beginning of November. "It's just a huge game of Tetris," Davis said of juggling the boats. "It goes on all day long, until the last boat is in place … and then the next morning, everyone's gone."
Coinjock is a hurricane hole, which is a tall order for a location that gets battered regularly with hurricanes. When a hurricane threatens, Davis said the fleet from the Outer Banks and the Coast Guard and their North Carolina assets tie up at Coinjock to ride out the storm.
The Business of Family Business
Looking back over a four-decade expanse of time in the family run business, Davis said learning to adapt has been a key component to their success. He pointed out that they didn't have any money when they bought the business, so the renovations and acquiring the adjoining properties was often done with borrowed money. "So, we had to continue to grow, we had to continue to make money," he added. "Being heavily leveraged will make you strive much harder."
The best advice Davis can offer to other marina owners and operators is to listen to their customers. "When we are busy at Coinjock, shoulder to shoulder with boaters and staff, that is when we listen to them. I've become good friends with a lot of my customers and that has helped us grow our business tremendously."