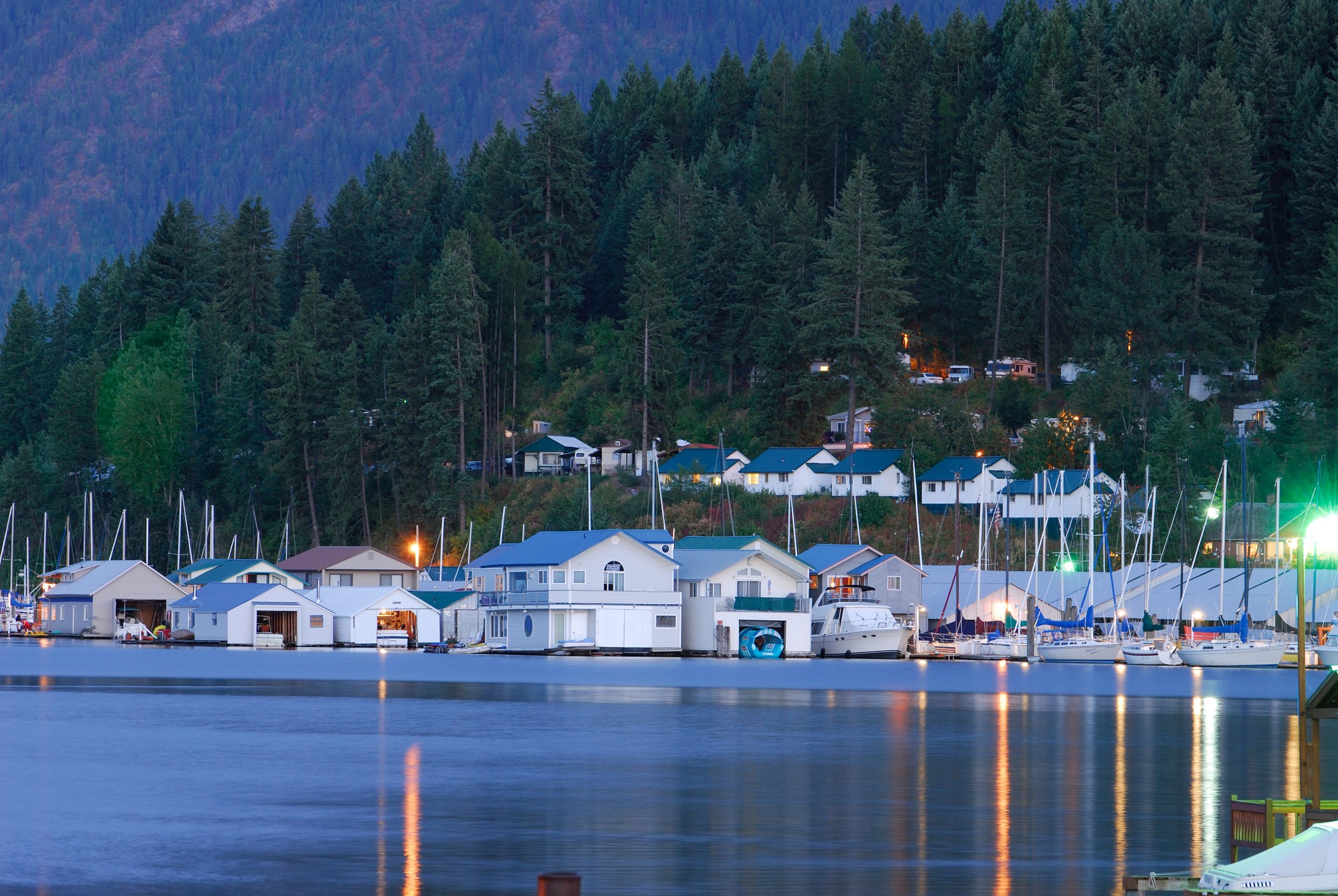 MacDonald's Resort Opens Its Doors to Winning Hospitality
Published on April 29, 2021
MacDonald's Resort on Lake Pend Oreille in North Idaho is marking its 70th year as a family-owned operation. The marina owners tout the success of the business as coming from their commitment to and long-lasting relationships with their customers, a few of whom have been with the marina since it opened. It is the dedication to its customers and visitors that resulted in the marina receiving the Marina Dock Age Hospitality Award at last year's virtual Docks Expo.
A Variety of Operations
MacDonald's is a busy facility, housing not just the marina operations but also boat rentals and sales, a boat ramp, cabin rentals and RV sites. The marina's fuel dock is responsible for over 90% of the fuel sales on the south end of the lake and they pump all the boat sewage as the only pumpout in the area. The customer base comes from Idaho, eastern Washington, and western Montana. Boaters patronize MacDonald's not just for slips, fuel, and service, but many attend the annual music festival each fall which is a free event for the town and customers near and far.
A unique feature to the marina is the office and store building that floats on the water in the center of the resort. Three years ago, the building that had been in place for 66 years, was torn down to its float in a complete renovation. The footprint was expanded to provide additional interior space, and a new store was constructed that includes a second-floor customer lounge and site for future beverage sales. The crowning achievement is the added third floor observation deck that offers commanding views of the entire marina.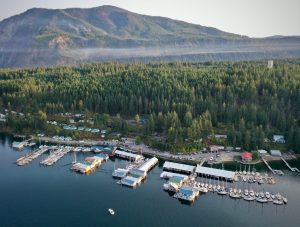 It's not just the building that floats. Gary MacDonald, who owns the marina with his wife Mary, says the entire operation floats on a natural lake that's regulated by a dam. The lake drops 11 feet from mid-November to April each year to help reduce flooding. The entire facility floats up and down on the steel and wood piles that are driven into the lakebed. MacDonald said that the slow pace of the drawdown, about one foot every week, means not many adjustments need to be made and if problems arise, there is plenty of time to fix them. But it is a situation that needs close monitoring.
Sign up for the Marina Dock Age newsletter.
Our newsletter delivers the latest news straight to your inbox including breaking news, our exclusive content covering the marina and boatyard industry, new products, and much more.
Customers Come First
MacDonald's provides a full complement of amenities for its guests but it's their philosophy on how to treat people that keeps their occupancy full and drives their exalted reputation within the community.
In an era when DIY yards are few and far between, MacDonald's encourages those who want to work on their own boats to come on in although MacDonald admits that most people who do their own work are not professionals and are slow so they generally hand off repairs to his staff. MacDonald's offers full service with a team of mechanics and service managers who work closely together to ensure each job is done to the owner's exact specifications and end satisfaction. Last year they also added a new paint shop and service area so boat refurbishment work can be done 12 months a year. Although it's more efficient for the crew at MacDonald's to do boat work themselves, they are happy to help a DIYer who is trying to save some money or who just wants to tinker on their own boat.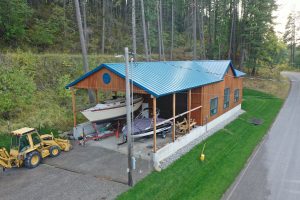 "Our relationships with our customers are very special to us. They make our living but they also make up our day-to-day happiness. It is truly rare to have an unhappy experience. We are regularly told, by our customers, how happy they are to be part of the "MacDonald Family." We treat our customers as family and it shows in the true loyalty they show to our family and our resort operation," said MacDonald.
A commitment to customer satisfaction has paid off. The marina maintains a 100% occupancy relying heavily on word-of-mouth advertising for slip rentals. "They frankly love our family and help promote our business," MacDonald said. He further commented that in any given year they have less than a 5% turnover with most dockage customers renewing year after year.
Commitment to Community
Beyond just its customers, MacDonald's is committed to public access, not just at their own marina, but across the state. MacDonald actively works with the local state park to provide better access to the park for the public as well as better access to "Bayview" for its customers. MacDonald, who calls limiting public access a crime, comments that around the country he has seen examples of access being limited and he saw it in Idaho as well which prompted him to get involved. "As a family we are very committed to offer public access to the water. We allow the public to visit our property. We truly welcome them to fish off our docks," he said.
For this reason, MacDonald is pushing the state to recognize and promote facilities like his that do allow the public to come in and he'd like to see the state incentivize more property owners to do the same. MacDonald's allows anyone to use their restrooms and they actively entice families to walk the docks and look at boats, even providing a supply of lifejackets to keep the kids on the dock safe. For MacDonald, aside from giving people the opportunity to see and recreate on the lake, anyone who walks onto the dock is a potential new customer. "In all the years I've been here we've offered full public access and we've never had an issue. Most visitors are genuinely appreciative of being able to come look around and we're very committed to allowing that," he said. "We regularly have people come down and ask if they can fish off the docks or just look at boats."
Customers are not the only ones who have appreciated the MacDonald family's "people first" attitude. The dedicated marina staff also shares in the benefits of having owners and bosses who maintain an open-door policy, encourage direct communication, and treat employees as one of the family. The relationships that are built pay off. Gary says that his main mechanic has been with him for 33 years and a fiberglass repairman is a 20-year veteran of MacDonalds. MacDonald credits the longevity and happiness of his employees with his mandate that there will be no yelling on the property, whether between co-workers or from customers.
It is no surprise that MacDonald commented, "I find people quite interesting and the best part of the job is getting to know them. Our real attitude is that the boaters could do a lot of things so we want them to be happy and glad they are here. Simply acknowledging them is the start and then the rest comes pretty easy."