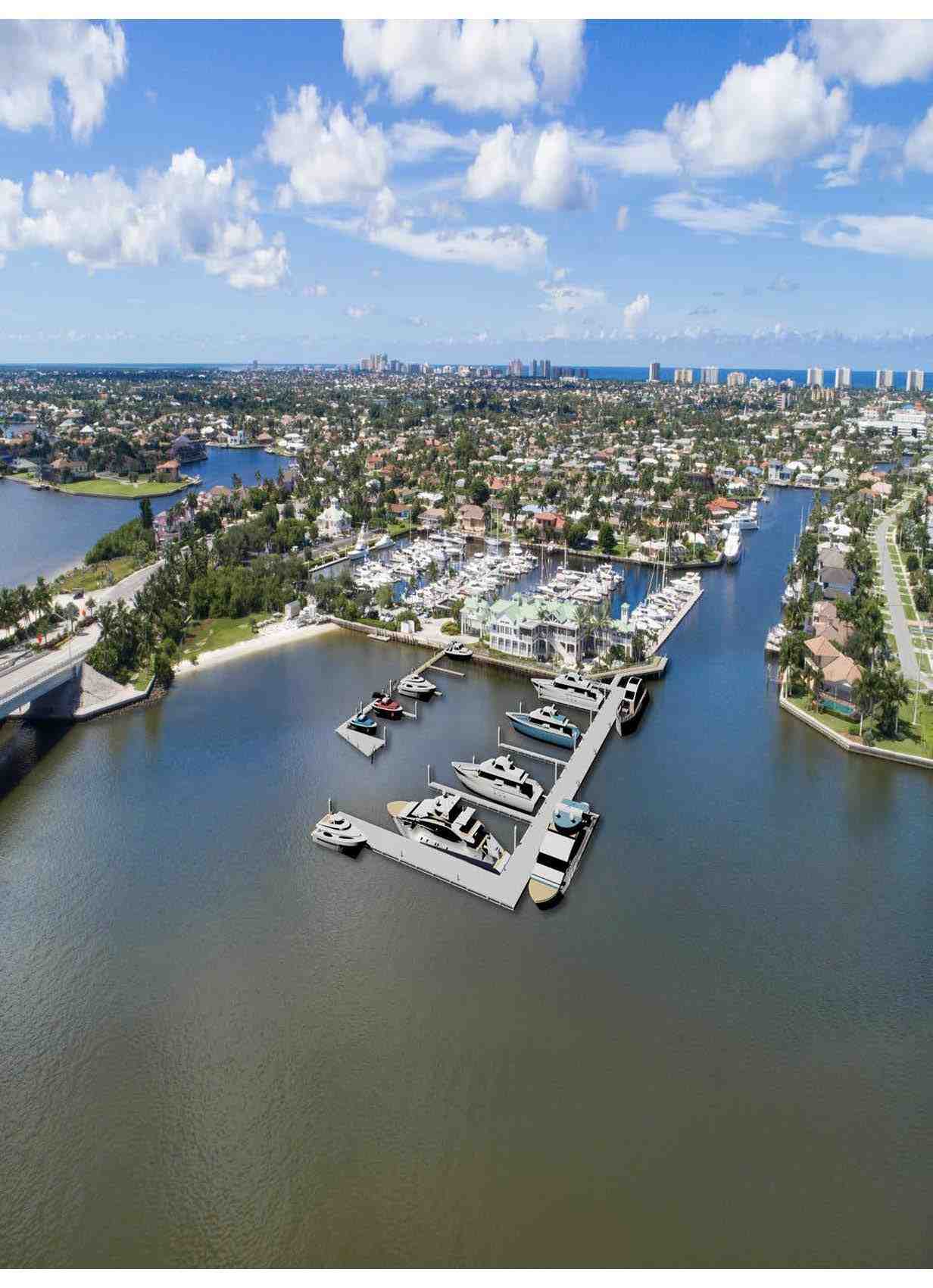 Marco Island Yacht Club Building New Marina
Published on February 24, 2021
Marco Island Yacht Club (MIYC) has started construction on a new marina designed to meet the growing need for larger slips in southwest Florida. The 27-slip marina will extend 362 feet into the Marco River waterway in front of the club's entrance.
"The marina was initially approved in 2008, but because of the economy it was never built out. So we looked at the plans again, got them more up to date with modern technology, and resubmitted them to the City of Marco Island. We received approval on January 4th," said Jon Holt, a MIYC member who serves on its project development committee.
The club originally had a wooden dock with some side ties in that location. It removed that dock and is replacing it with new docks that extend farther out into the harbor area. Most of the new slips will be on floating concrete docks on steel pilings, but there will be five slips with lifts on a fixed dock to accommodate boats with outboards.
The slip mix will consist of four 125-foot slips, one 100-foot slip, nine 70-foot slips, and eight 50-foot slips. All of the slips will be served by high-end electric, water service, pump-out facilities, lighting and security cameras. There will be a full-time dockmaster and valet service will be available as well.
Sign up for the Marina Dock Age newsletter.
Our newsletter delivers the latest news straight to your inbox including breaking news, our exclusive content covering the marina and boatyard industry, new products, and much more.
The docks will have a minimum width of 24 feet, which will help them survive hurricanes. "The docks will be able to withstand up to four feet of wave action, and will be built to sustain a Category 1 hurricane when there are boats in the marina and a Category 3 storm if the marina is unoccupied," said Holt.
Turrell, Hall & Associates is providing the engineering services for the project. Kelly Brothers Inc. of Fort Myers is doing the construction, and has already started reinforcing the seawall. "We are expecting to get the dock construction underway in February, and are hopeful that the project will be complete by the end of the year," Holt added.
Marco Island Yacht Club will offer wet slip memberships that entitle a member to exclusive use of one of the marina's slips. Five slips will be reserved for transient boaters.